它是世界上第一只仓鼠加密货币交易员。它的办公室是一个智能仓鼠笼,笼中滚轮代表约30种加密货币,当它在滚轮上停止奔跑时,即代表敲定选择。自 6 月 12 日开始交易以来,它的投资回报率为 24%,远远大于99%的基金收益! 它就是仓鼠高克斯先生!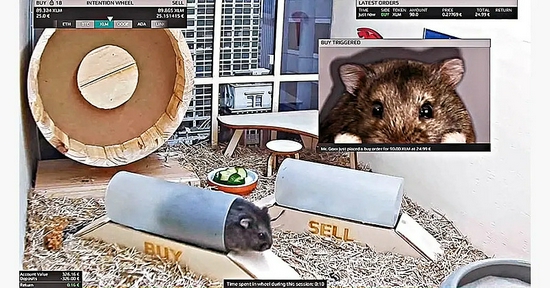 Mr. Goxx, the crypto-trading hamster beating human investors
Like many people, Mr. Goxx is dabbling in cryptocurrency, hoping to strike it rich. He's notable for two reasons: first, he is making money, with his lifetime career performance up about 20% - beating many professional traders and funds. Second, Mr Goxx is a hamster.
与众多的打工人一样,高克斯先生(Mr. Goxx)正投资加密货币,期望能够一夜暴富。高克斯先生之所以出名,主要原因有二:其一,极具投资天赋,出道以来平均投资回报率达到20%,轻松击败许多专业交易员和基金经理;其二,它不是人,而是一只仓鼠。
The business-minded rodent has a trading office attached to his regular cage. Every day, when he enters the office, a livestream starts on Twitch, and his Twitter account lets followers know: Mr Goxx has started a trading session.
这只具有商业头脑的啮齿动物在他平时起居的笼子里有一个交易办公室。每天,当他进入办公室时,Twitch 上就会开始直播,他的推特帐户就会通知粉丝:高克斯先生已经开始交易。
By running in his "intention wheel", he selects which cryptocurrency he'd like to trade, as the wheel spins through the different options. His office floor has two tunnels nearby: one for buy, one for sell.
通过在"意向轮"中奔跑,高克斯可以选择他想交易的加密货币。他的办公室楼层附近有两条隧道:一条是"买入",一条是"卖出"。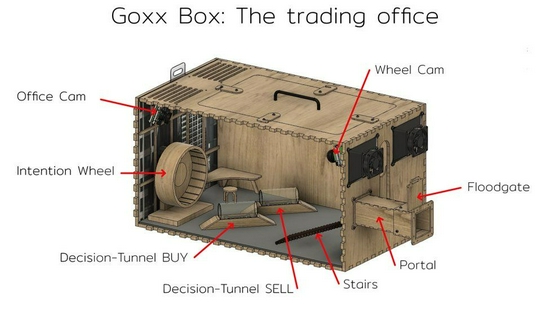 高克斯的办公室属于高科技,全自动,一应软硬件齐备,甚至有3D打印、激光切割,微控制器和电脑辅助设计软件,是两位主人自己设计、手工制作。
Every time he runs through a tunnel, the electronics wired to his office complete a trade according to Mr Goxx's desires.
高克斯每次从其中一条隧道里穿过,买或卖"意向轮"选定的加密币的指令便通过办公室里的电子仪器替它完成交易。
The minds behind the furry financier are two men in their 30s, from Germany.
这位毛茸茸的金融家背后的主导者是来自德国的两名 30 多岁的男子。
"We were joking about whether my hamster would be able to make smarter investment decisions than we humans do," they said.
"这只是我们的一个玩笑,我们想试试仓鼠是否能够做出比我们人类更明智的投资决策。"他们说到。
Mr Goxx's name is itself a nod to the potential disasters of the crypto market. A company called Mt Gox was once the biggest crypto exchange on the planet - until it was compromised and hundreds of thousands of bitcoin stolen, making the company file for bankruptcy.
高克斯先生的名字本身就是对加密市场潜在风险的提示。一家名为 Mt Gox 的公司曾经是全球最大的加密货币交易公司——最后它遭到入侵,数十万比特币被盗,导致该公司破产。
Goxx Capital
高克斯先生的投资业绩
The first month was rough. Mr Goxx started on 12 June with €326 (£278), placing an order for Stellar (XLM). One month and 95 orders later, Goxx Capital was down 7.3%. But as of 27 September, the intrepid trader's career performance is up 19.41%.
开始投资的第一个月不太顺利。2021年6月,高克斯先生开始交易,用326欧元(278英镑)买入Stellar(XLM),过了一个月,交易了95次之后,账上亏损7.3%。但是到了9月27日,仓鼠高克斯先生的加密币投资业绩提高了19.41%。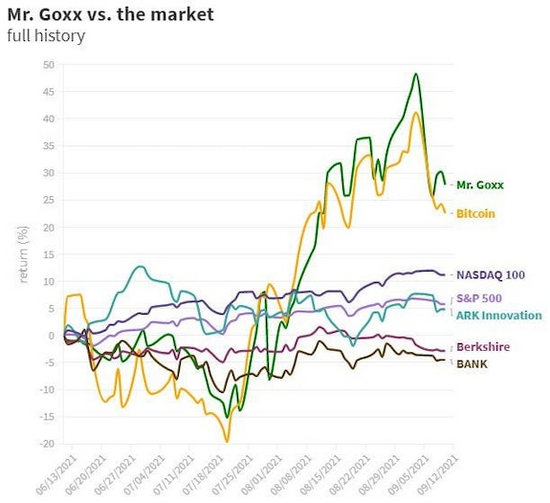 That beats not only the return on major stock markets such as the FTSE 100 or the Dow Jones but also the performance of investing supremo Warren Buffet's company, Berkshire Hathaway, according to calculations by crypto news site Protos.
这个表现让世界主要股指,比如富时100和道琼斯,甚至"股神"巴菲特的投资公司伯克夏·哈撒韦都显得逊色(数据来自加密数码币新闻网站Protos)。
And even in the crypto market itself, Mr Goxx has at times come out slightly ahead of Bitcoin, the biggest of the currencies.
高克斯和它的两位幕后主人多次强调,这一切都不能作为投资建议,纯属新冠疫情期间居家隔离郁闷之下想出来解闷的游戏。两人中,宠物仓鼠的主人是大学讲师,建模专家,另一位是他大学好友,电脑编程员。
To be clear, Goxx Capital is not a real investment firm - and Mr Goxx's human partners are keen to stress with every tweet it should not be taken as investment advice.
But the duo behind Mr Goxx prefer to stay anonymous.
需要明确的是,Goxx Capital 并不是一家真正的投资公司——高克斯先生的两位幕后主人多次在推特上强调,这一切都不能作为投资建议
但高克斯先生背后的二人组更愿意保持匿名。
Mr Goxx's owner, a lecturer and prototyping specialist, says he likes to spark people's interest in new technologies, sometimes with humour.
高克斯先生的幕后主人是一名讲师和建模专家,他说他喜欢激发人们对新技术的兴趣,有时这些尝试会带有幽默感。
The other human involved, a programmer, has been his best friend since university.
另一个主人是一名程序员,两人从大学开始就是他最好的朋友。
The rodent's random trades are receiving a lot of interest from people, both online and in real life.
啮齿动物的随机交易在网上和现实生活中都引起了人们的极大兴趣。
"Since my hamster took on his business, I got everyone around me asking for more information about this whole crypto thing," Mr Goxx's owner said, "mainly people that will normally run away if they'd hear the word 'blockchain'."
"自从我的仓鼠接手他的生意后,我身边的每个人都在询问有关整个加密货币的更多信息,"高克斯先生的主人说,"主要是那些听到'区块链'这个词通常会逃跑的人."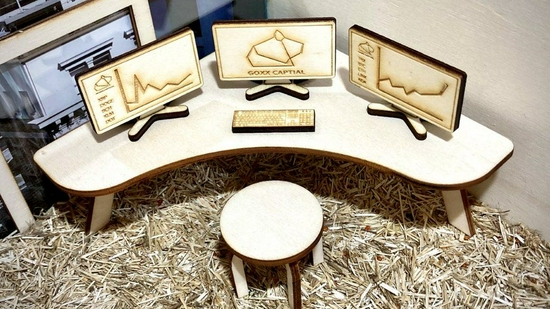 Goxx Box
高克斯的办公室
Almost everything on Mr Goxx's trading floor is homemade.
高克斯先生的交易大厅里,几乎所有东西都是自制的。
The office is fully automated, using a wide range of technology including software scripting, microcontrollers, single-board computers, computer-aided design, 3D printing, laser-cutting, and more.
办公室是完全自动化的,使用了各种高科技,包括软件脚本、微控制器、单板计算机、计算机辅助设计、3D 打印、激光切割等。
"We have many features in mind that would make the whole thing much more fun to watch and would mean even more space for Mr Goxx to play around in," they said.
"我们考虑了许多功能,这将使整个过程更加有趣,并且意味着高克斯先生有更多的空间可以玩耍。"
But Mr Goxx, like a true successful executive, keeps his own hours. The portal between his regular cage remains open except when he needs to stay put for cleaning, so he can clock off at any time.
但高克斯先生就像一位真正成功的高管一样,精准地管理着自己的时间。他平时起居的笼子与办公室之间的门保持打开状态,除非他需要留在原地进行清洁,因此他可以随时下班。
And avid watchers must wait for the next livestream notification: "Mr Goxx is in the office."
狂热的粉丝必须等待下一个直播通知:"高克斯先生在办公室。"