国际研究小组在一枚琥珀中发现距今1亿年前的最古老水生动物——一只身长仅5毫米的螃蟹。报道称,这是迄今最完整的螃蟹化石,将现代螃蟹历史向前推约2500万年。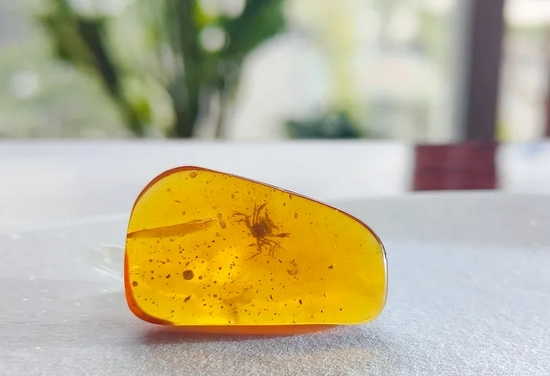 Fossil stuck in 100 million-year-old amber is oldest "true crab" ever discovered
国际研究小组在一枚琥珀中发现距今1亿年前的最古老水生动物——一只身长仅5毫米的螃蟹。报道称,这是迄今最完整的螃蟹化石,将现代螃蟹历史向前推约2500万年。
In 2015, two researchers stumbled across a piece of amber jewelry in a market in Tengchong, China, that was found by miners in Myanmar. The piece has a young, five-millimeter-long crab embedded in it.
2015 年,两名研究人员在中国腾冲的一个市场偶然发现了一件琥珀首饰,这枚琥珀最先是缅甸矿工发现的。琥珀中嵌入了一只 5 毫米长的幼蟹。
That crab would be a major discovery in the study of crab evolution. A research team dedicated to the little crab released their findings Wednesday after years of studying the fossil. The newly discovered species is named Cretapsara athanata, "the immortal Cretaceous spirit of the clouds and waters," after spirits from South and Southeast Asian mythology.
这只螃蟹是该物种进化研究的重大发现。一个研究小组经过几年对这件螃蟹化石的研究,于周三公布了他们的最新研究成果。新发现的物种被命名为 Cretapsara athanata,以南亚和东南亚神话中的神灵命名,意为"白垩纪不朽的云水之灵"。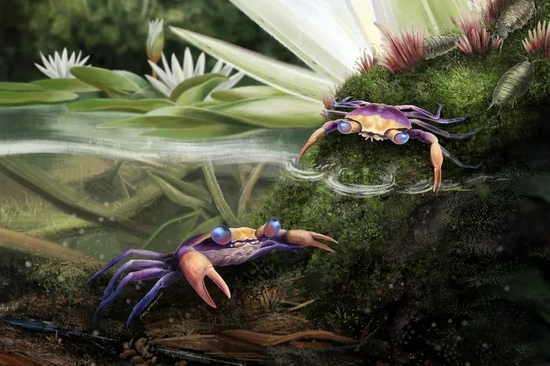 Before this discovery, scientists faced a conundrum: the known fossil record, consisting of just a few claws and carapaces, showed that crabs that lived on land and in fresh water split from their marine relatives between 50 to 75 million years ago. But the molecular record, which compares differences in DNA and RNA, said that the crab families split more than 125 million years ago.
在这一发现之前,科学家们面临着一个问题:已知的化石记录仅由爪子和碎片组成,表明生活在陆地和淡水中的螃蟹是在大约7500万到5000万年前从它们的海洋亲戚中分离出来。但是比较DNA和RNA差异的分子记录表明,螃蟹家族早在超过1.25亿年前就已经分离出来了。
That's why scientist Javier Luque, a Research Associate at Harvard University and co-author of the research team, was so surprised to discover the crab, that looks similar to other marine crabs, in amber, which is solidified tree sap.
这就是为什么哈佛大学的研究助理,也是该研究小组的合著者哈维尔·卢克 (Javier Luque)对这件螃蟹化石的发现如此惊讶的原因。他发现这种螃蟹看起来与其他海洋螃蟹相似,呈琥珀色,被凝固在树液中。
"In a way, it's like finding a shrimp in amber," said Luque in a press release。
"从某种程度上说,这就像在琥珀中找到一只虾,"卢克在一份新闻稿中说。
Using micro-CT scans, the team was able to capture tiny appendages like the crab's antennae, legs, the hairs on its mandible, compound eyes and even its gills that had all been perfectly preserved by the amber.
使用显微 CT 扫描,该团队能够捕捉到微小的附属物,如螃蟹的触角、腿、下颌毛、复眼,甚至是被琥珀完美保存的鳃。
The amber, dated to the dinosaur era, or 100 million years ago, bridges the gap between the two previously-known family splits and is, to this date, the oldest example of a "true crab" venturing onto land and the most complete fossil crab ever discovered, and indicates that crabs became terrestrial or amphibious around that time, much earlier than previously thought.
可追溯到1 亿年前的恐龙时代的琥珀弥合了先前已知的两个螃蟹家族分离时间上的鸿沟,并且是迄今为止最古老的"真正的螃蟹"冒险登陆陆地的例子,也是最完整的螃蟹化石,它的发现表明螃蟹在那个时候已经进化成陆生或两栖,比人们已知的要早得多。