Tencent founders top list of mainland's most generous
2016-06-08 02:40:35 GMT
2016-06-08 10:40:35(Beijing Time)
Shanghai Daily
TWO founders of Tencent, one of the world's largest Internet companies, feature on this year's Hurun Philanthropy List as the most generous individuals on the Chinese mainland.
Pony Ma, 45, rose 51 places from last year to top the list with total donations of US$2.15 billion, which included US$2.1 billion in Tencent shares.
In April, Ma pledged 100 million shares, about an eighth of his personal holdings, to a new charity foundation which will support medical, educational and environmental protection projects on the mainland.
Second on the list is fellow Tencent founder Chen Yidan, 45, who donated US$615 million to Wuhan College and is setting up an award. The Yidan Prize aims to recognize and support innovators in the education system.
In third place is He Qiaonu, the Orient Landscape founder whose US$$450 million in donations to her personal foundation, which benefits women, makes her the most generous female philanthropist on the mainland. She is one of 14 women on the list.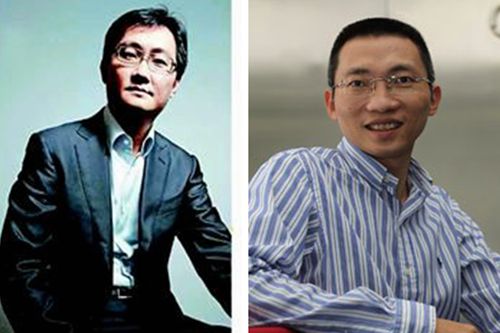 A combination photo of Pony Ma and Chen Yidan
The list ranks the 100 most generous people on the mainland, in terms of their donations between April 1 last year and March 31 this year.
Over these 12 months, total donations reached US$4.6 billion, up 50 percent compared to the 2014-2015 period.
Donations in the education sector came top again, taking up 46 percent of the total, especially to the philanthropists' alma maters.
Of the universities which benefited, Shanghai's Fudan University received the most — US$122 million. Almost 90 percent of that was donated by Lu Zhiqiang, the 64-year-old chairman of China Oceanwide, who ranks seventh on the list.
The most generous man in the past two years, Jack Ma, Alibaba's 51-year-old chairman, ranks 19th this year after donating around US$16 million to his alma mater, Hangzhou Normal University.
Last year, his donations totaled US$2.36 billion.
Sixty-nine new faces made this year's list. They include 26-year-old model, actress and singer Yang Ying, better known as Angelababy, who is the youngest person on the list. She and her husband Huang Xiaoming rank 87th by donating US$2.6 million to a charity program initiated by Huang to help university graduates start a business or seek employment.