Singles Day spree: US$1.5b in 7 minutes
2016-11-11 00:15:45 GMT
2016-11-11 08:15:45(Beijing Time)
Shanghai Daily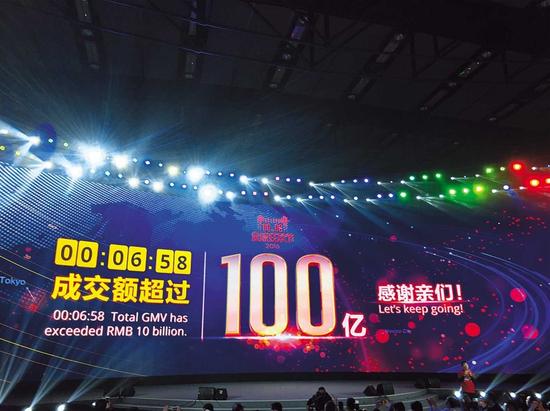 An electronic screen shows sales on Alibaba's retail platforms hit 10 billion yuan (US$1.5 billion) at a gala staged by Alibaba for the Singles Day shopping festival in Shenzhen. — Ding Yining
Gross merchandise volume on Alibaba's retail platforms flew past 10 billion yuan (US$1.5 billion) with just six minutes 58 seconds after the Singles Day shopping spree kicked off at midnight.
Last year, it took 12 minutes 28 seconds to break the threshold.
Alibaba staged a star-studded countdown gala last night in Shenzhen, Guangdong Province, with celebrities such as David Beckham, Kobe Bryant, Scarlett Johansson taking to the stage to promote the biggest shopping event in China.
New York-based research firm Fung Global Retail & Technology estimated this year's sales will exceed US$20 billion, compared with last year's US$14.3 billion. Purchases using mobile devices will continue to climb and the performance gap between Singles Day and US shopping holidays is set to widen, it said.
"As Singles Day evolves beyond just offering discounts, vendors should think about how to improve shopping strategies and more diversified product offerings to bring consumers more excitement," said Veronica Wang, associate partner at OC&C Strategy Consultant in China.
"Tmall's shopping festival gala is a great tool for Alibaba to try out its digital media assets. With awareness of Singles Day among mainstream online users already high, it hopes to capture more users from online video sites or live-streaming applications," she said.
Alibaba held its countdown gala for the second year as the e-commerce giant takes another step forward in merging gamification with online shopping to further leverage its media and entertainment assets to drive online consumption.
Several brands were making an appearance for the first time, including Burberry, Target, Maserati, Apple and Guerlain.
Online shopping is playing an important role in daily life, said Adam Xu, of PwC's Strategy& consulting unit.
"More and more brands will be investing heavily in promotional activities and more product categories will join online campaigns such as the Singles Day to further sustain transaction growth," he said.
Vendors seeking to sell to overseas shoppers need to reevaluate the new competition landscape they are entering, he said.
Xu Huanchun, vice president at Shanghai-based e-commerce software and service provider ShopEx, said: "Big promotions such as Singles Day give brands and retailers a good chance to review their online strategy and execution since it's such a big occasion with visitors soaring and orders pouring in."
As online shopping sprees become accepted by consumers, more retailers will want to combine online and offline resources, he added.