Apple CEO Tim Cook defends globalization during latest Beijing visit
2017-03-19 05:15:04 GMT
2017-03-19 13:15:04(Beijing Time)
Global Times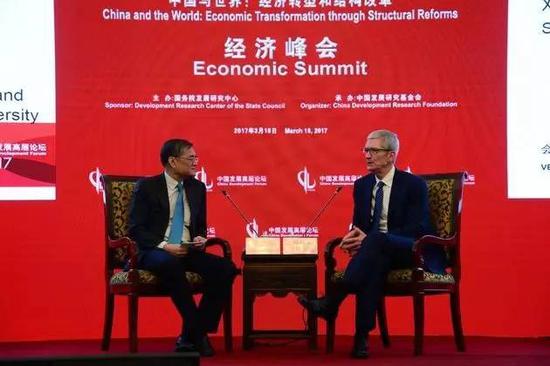 Apple CEO Tim Cook (R) talked with Qian Yingyi, head of the School of Economics and Management in Tsinghua University at the summit.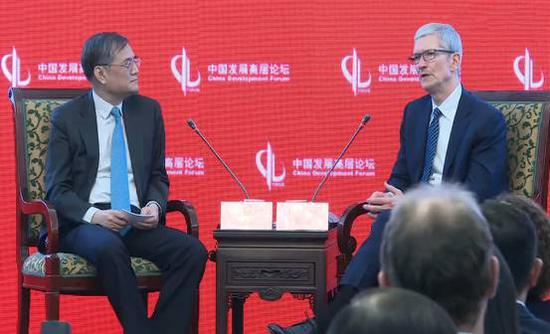 Apple CEO Tim Cook (R) talked with Qian Yingyi, head of the School of Economics and Management in Tsinghua University at the summit.
China should continue its reforms and encourage foreign enterprises to invest, Apple CEO Tim Cook said on Saturday at a forum in Beijing where he also defended globalization.
"It's important that China continues to open itself and widen the door," Cook said during the annual China Development Forum hosted by the Development Research Center of the State Council, a top government think tank. He will meet with Chinese leaders in the next few days.
Cook made the remarks a day after the Cupertino-based firm announced two new research and development hubs in China to be set up in Shanghai and Suzhou. Last year, Apple announced its plans to open research centers in Beijing and Shenzhen.
At the forum, the helmsman of the US tech giant with operations across the world also made his case for globalization.
"Most people would conclude that the problem is that globalization hasn't helped everyone, and it's hurt some people. But it doesn't follow that globalization is bad. It follows that we haven't done a good job of lifting up everyone and we think we have to put an intense amount of effort in doing that, because the world is so much better off."
Unlike his predecessor Steve Jobs, Cook has in recent years paid frequent visits to the Chinese mainland where the iPhone maker has profited but nevertheless has been losing market share to local brands in recent years.
From November to January, Apple held 16.6 percent of the Chinese smartphone market, down from 25 percent from the previous year, while Chinese rivals such as Huawei were seen advancing at Apple's expense, according to the latest data from market consultancy Kantar Worldpanel.
When asked his opinion on Chinese phone manufacturers such as Huawei and Xiaomi, Cook said they "do really good work and I think the competition is more fierce in China not only in this industry, but in many industries than it is in anywhere in the world. And I think that's a credit to a number of local companies that put their energies into making really good products."
As for Apple's dominance in the smartphone arena in terms of profits, he commented that "There's a lot there I've seen, Apple's market share of smartphones I think in that way could be classified monopoly, [but] I don't see that at all."
He went on to say "What we tried to do is just we focus on making the best products ...and we'll have a pretty good business. But we don't try to make the most. Our objective has never been to make the most. So we do not have a market share objective or a unit objective."
It's not only the cut-throat competition that has impressed Cook, but also the prevalence of mobile payment in China. "China is way ahead here," he said.
"I rarely go somewhere in China that doesn't accept mobile payment ... If I go out in the heartland of the US, too often mobile payment is not in the vernacular at all."
The reasons behind the stark contrast, as the Apple CEO put it, are partly due to the prevailing use of credit cards in the US and slow adoption of mobile payment terminals among merchants. In China, however, "there's just a high willingness to change and to move to what's new and what's obviously better."