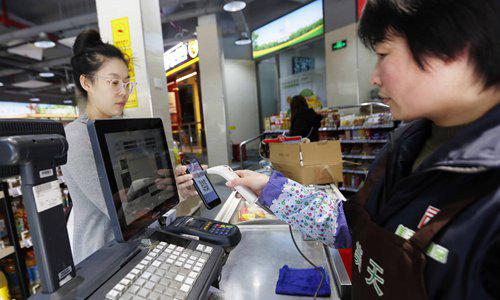 An employee scans the QR code on the smartphone of a customer (left) at a market in Shanghai in March 2017. Photo: IC
Experts said on Sunday that China's lead in mobile payments is a key driver for consumer spending and pushes developments in various sectors such as the credit system, following Apple CEO Tim Cook's comments on the country's lead in the sector.
Saying that these days, "a Chinese granny selling watermelons" would use mobile payment tools to conduct her business, Cook on Saturday said the prevalence of mobile payments in China is impressive.
"China is way ahead here," he said during the annual China Development Forum hosted by the Development Research Center of the State Council, a top government think tank.
The CEO of the world's most valuable company said seemingly small matters such as this have huge significance and China is visionary in the field [of mobile payment] and is making quick progress, according to a transcript of Cook's speech published on news portal 163.com.
Transactions via third-party mobile payment tools in China reached 38 trillion yuan ($5.5 trillion) in 2016, according to iResearch.
The scale of the Chinese mobile payment market is 50 times larger than that of the US, media reports said.
According to a report Beijing-based consultancy Analysys released in December, Alipay, backed by Alibaba Group Holding, held the largest market share for payments in the third quarter in 2016, accounting for 50.4 percent. Alipay was followed by Tencent Holdings-backed Tenpay with 38.1 percent and domestic financial platform lakala.com with 3.3 percent.
UnionPay, which works with Apple Pay, only had 1.08 percent during the same period.
The willingness of Chinese consumers to adopt financial technology is just as striking, according to a December 2016 report jointly released by consultancy firm EY and Singapore-based bank DBS.
The report said that 40 percent of consumers in China use new payment methods compared with 4 percent in Singapore, and 35 percent are using financial technologies to access insurance products compared with 1 percent to 2 percent in many Southeast Asian markets. There are also significantly higher rates of financial technology participation in wealth management and lending.
Zhang Yi, CEO of Guangzhou-based market consultancy iiMedia Research, said that China's lead in mobile payment tools, or for that matter, the lead in mobile applications, has huge significance.
"It's about the efficiency brought by mobile payments to retailing as a whole. The velocity of consumer goods is also improved by the wide adoption of mobile payment tools," Zhang told the Global Times Sunday.
"Efficiency improved when people moved from cash to credit cards. The efficiency is further improved when people move from credit cards to mobile payment tools," Zhang said, comparing the arrival of the mobile payment age with the dawn of the computer age.
Experts said China's lead in mobile payments is helping the development of the credit system in the country, in addition to bringing opportunities to countless small and medium-sized enterprises.
In places such as a building materials wholesale mall, all small vendors accept payment by Alipay or Tenpay, but many don't accept credit cards, as the latter charge a fee, which small businesses on thin margin don't like, experts said.
Fu Liang, a Beijing-based IT expert, said due to its large population base, China is the largest mobile-payment market in Asia by the number of users.
Given Chinese people's love of traveling and shopping abroad, Chinese companies have also made forays into surrounding markets, Fu said. "For example, in South Korea, the prevailing mobile payment (systems based in China) can be used seamlessly at many stores.
"Via innovations, Chinese companies have solved the problem of an inadequate consumer credit system and the need to process many small payments," Fu told the Global Times Sunday. "In a sense, payment tools actually did the job for banks or related institutions in building up a credit system."
Zhang said that expanding overseas remains a challenge, as the behavior patterns of domestic and foreign consumers are quite different, noting that the two payment tools were born out of their respective platforms and it can be difficult for them to make a dent in new markets without social or online shopping functions.
As of December 2016, users could conduct transactions in more than 70 countries and regions via Alipay