More scrutiny to prevent illicit money outflow: experts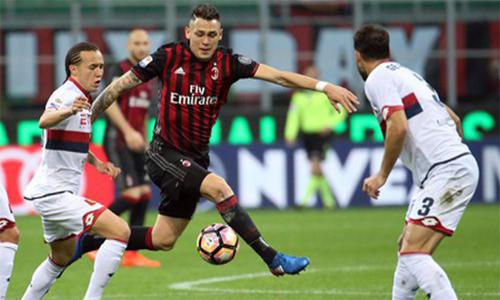 A player at AC Milan (center) challenges for the ball during a match between AC Milan and Genoa CFC at Giuseppe Meazza stadium in Milan, Italy on March 18. Photo: IC

Chinese firms buy soccer clubs overseas
China will continue to encourage companies going out, but will supervise the quality of outbound direct investment (ODI), experts said on Monday after a senior official discussed capital outflow during the China Development Forum.
Although the double-digit growth of ODI in recent years contributed to China's economic restructuring as well as global economic growth, there were some "irrational" and "abnormal" investment activities, Pan Gongsheng, head of the State Administration of Foreign Exchange (SAFE) said during the forum on Monday.
"For example, a steel factory bought a food company overseas, and a Chinese restaurant purchased a foreign Internet gaming firm, and Chinese companies bought many soccer clubs overseas," he noted.
The official said he doubted the real reason behind those deals, especially when companies, which had recorded high debt ratios, still invested in overseas markets. "Some have actually transferred their assets by using the excuse of ODI," he added.
Chinese authorities tightened the rules on overseas mergers and acquisitions (M&As) at the end of last year, the post noted. For instance, the National Development and Reform Commission, the Ministry of Commerce (MOFCOM), the People's Bank of China (PBC), the country's central bank, and SAFE jointly announced that they would watch for irrational ODI occurring in sectors including real estate, hotel, cinema, entertainment and sports.
In 2016, Chinese investments in the non-financial ODI sector grew 53.7 percent year-on-year to 1.13 trillion yuan ($163.67 billion), according to the MOFCOM's website.
However, the momentum for investing overseas has cooled down since the beginning of the year. In January, the volume of non-financial ODI declined 32.4 percent to 53.27 billion yuan compared with the same period in 2016 , the MOFCOM report showed.


Stricter scrutiny

Pan's comment sent a clear message that Chinese authorities will crack down on illicit capital outflow, Dong Dengxin, director of the Finance and Securities Institute at the Wuhan University of Science and Technology, told the Global Times on Monday. "For example, some companies might have exaggerated their investment volumes in declarations and deliberately moved some of their assets to foreign countries for the purpose of money laundering or tax evasion," he said.
While authorities have stepped up scrutiny on individual foreign exchange purchases since December 2016, more effort should be made in supervising companies' investment purposes, Dong noted. "Some loose rules and regulations for companies have created loopholes for capital flight, which will be further tackled this year," he added.
Starting January 1, 2017, the PBC stepped up scrutiny on individual foreign exchanges and strengthened punishment for illicit money outflows. The $50,000 annual individual quota, however, remains unchanged, according to the PBC's website.
At earlier stages in investing overseas, Chinese companies focused more on quantity. However, they have to work more on enhancing quality to better integrate into the global value chain, noted Bai Ming, a research fellow at the Chinese Academy of International Trade and Economic Cooperation under the MOFCOM. "The scale of the overseas investment should not be the only advantage… and some companies have been moving capital out of the country due to the lack of confidence in the real economy," he noted.
The surge in Chinese outbound M&As has been driven by the domestic economic transformation as well as the scarcity of attractive domestic assets, according to J.P. Morgan's report on China's increasing outbound M&As from 2015 to 2016.
A wave of consolidation among small- and medium-sized companies in China has reduced the number of domestic targets for Chinese buyers, the report noted, adding that independent companies in China often prefer public market transactions or have high-value expectations, given local valuation benchmarks, which has pushed Chinese buyers to look abroad for targets.
There are measures to prevent illegal capital outflows. For example, authorities could thoroughly look into a company's feasibility study for its project overseas, Bai noted. "Also, the follow-up on companies' investments are equally important," he said.
By cooperating with local taxation bureaus and investment authorities in foreign countries, Chinese authorities could also provide guidelines to domestic investors while monitoring their business operations to prevent potential risks, Bai noted.