Analysts see convergence of online, brick-and-mortar worlds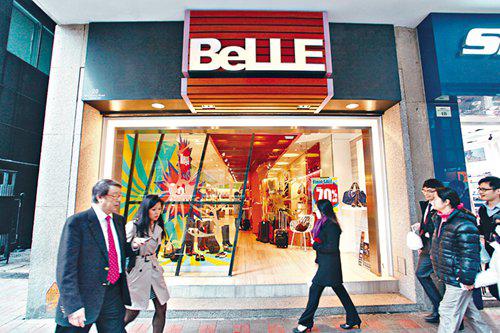 Pedestrians walk past a Belle store in Hong Kong. File photo: IC
Brick-and-mortar retailing outlets in China have struggled in recent years amid rising competition from e-commerce and a domestic economic slowdown, experts said on Thursday.
But they added that the convergence of off-line and online sales channels is becoming the norm for the nation's retail sector, allowing more customized service and quick response to fast-changing market trends.
Hong Kong-listed shoe producer and retailer Belle International Holding has been working with CDH Investments Fund Management Co for "a potential deal" to buy the company, Bloomberg News reported Wednesday. An agreement may be signed by the end of this week, the report said, citing a source close to the matter.
Belle's shares were suspended on Tuesday, according to a statement the company sent to the Hong Kong stock exchange. Before the suspension, Belle had a market value of $5.7 billion. Its share price stood at HK$5.27 ($0.68), less than one-third of its highest level and about 15 percent below its IPO price in 2007, according to media reports.
As the largest footwear producer in China, Belle has more than 20,000 stores in the Chinese mainland. It was once valued at hundreds of billions of Hong Kong dollars, according to statement on the company's website. It has been the top-selling domestic shoe brand in the mainland for 14 years.
Given these factors, the buyout is interpreted as a "fire sale" of Belle's assets, and has prompted market concern about the general outlook for Chinese retail outlets' future as e-commerce grows.
"Belle's strategy [to sell its business] sheds light on China's waning physical retailing industry," Li Xingmin, a marketing expert at consulting firm Topmarketing, told the Global Times on Thursday, noting that Belle is one of the few giants that have managed to avoid massive store shutdowns and profits declines in recent years.
In a filing to the Hong Kong exchange on March 19, Belle estimated that its net profit fell 15 percent to 25 percent in the fiscal year ended on February 28 "due to a weak performance in the footwear business."
Belle's main competitor, Daphne, shuttered 999 outlets last year, bringing the total to 4,598, and its sales per store fell by an average of 11.7 percent, domestic news portal sohu.com reported in April. Other clothing retailers such as Jeanswest and Baleno have had similar lackluster sales.
"The growth of most retail companies like Belle in China is driven by rapid store-opening … (which allows companies) to quick gain a strong position without simultaneously building strong brand awareness," Wang Xinmiao, a Beijing-based consumer products industry analyst, told the Global Times on Thursday. "Such expansion was fueled by China's booming economy in the past decade."
However, slowing domestic economic growth, coupled with the rise of e-commerce platforms that offer consumers more fashion options and transparent pricing, have gradually squeezed the traditional players' market shares, Li said. In 2016, China's e-commerce sales jumped 26.2 percent to a record of 5.1 trillion yuan ($740.99 billion), the Xinhua News Agency reported in January. Items such as clothes and food, which are the main items sold in physical retail outlets, accounted for 81 percent of total e-commerce sales.
Although the rise of online shopping is taking a toll on physical stores, it doesn't mean that brick-and-mortar outlets will vanish, experts said. Rather, the combination of sales channels will gain momentum in the long term.
"There are some traditional advantages [associated with brick-and-mortar outlets], such as offering a physical shopping experience, which cannot be replaced by online platforms," Li said. He noted that physical stores will be places for vendors to show their merchandise and collect consumer data, based on which more customized service can be devised.
Retail stores should learn from their online counterparts and trim their inventories, Wang suggested.
"Retail venues should adopt a new model - less production volume, more affordable fashion options - so that they can react to market demand," said Wang.