China announces schedule for ride-hailing industry overhaul
2018-09-12 02:20:43 GMT
2018-09-12 10:20:43(Beijing Time)
Sina English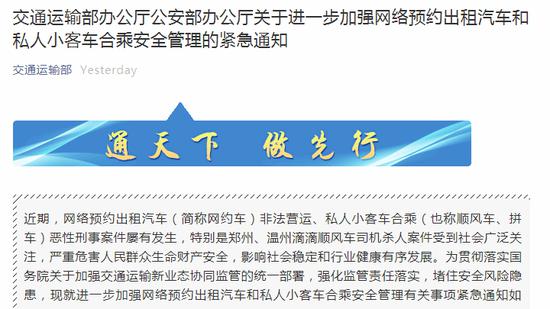 Chinese regulators have launched a nationwide safety overhaul campaign targeting ride-hailing platforms amid concerns that the web-based services may bring more risks than convenience.
The Chinese Ministry of Transport and the Ministry of Public Security issued a joint statement on Monday evening regarding measures to strengthen the regulations over ride-hailing and car-pooling services.
They devised a clear schedule for the implementation of a step-by-step safety inspection plan that will last till the end of 2018.
Ride-hailing services have come under scrutiny after two recent high-profile cases involving the murder of passengers at the hands of their drivers.
The Chinese Ministry of Transport and the Ministry of Public Security issued a joint statement on September 10, 2018.
Industry-wide safety checks
Local transport authorities and police must remove vehicles and drivers which fail to meet standards, check multiple times the background information of the employed drivers, and improve the reporting system of customer services.
Businesses are asked to limit the orders picked by the car-pooling drivers, shut down its social-platform-like function, and block passengers' information from drivers in case of private data leaks.
The statement also urged quick responses from authorities to crime-related cases and demanded technological support from ride-hailing platforms for police investigations.
Clear schedule to conduct inspection
The first stage, starting from September 10 to the end of the month, will require all parties from the top-down departments and police stations to draft plans accordingly.
Based on relevant plans, the second stage will ask regulators to conduct random online and offline checks on the platforms and drivers.
According to the statement, relevant departments will keep a close eye on ride-hailing services during national holidays and daily rush hours, in traffic hubs, busy streets, tourist attractions, and shopping malls.
By the end of the year, a sound and effective system would be fully implemented with unqualified vehicles and drivers banned from all ride-hailing apps.
The tough supervision came after the deaths of two passengers in less than 100 days, both of whom were using the same car-hailing app, Didi Chuxing.
The company has halted late-night services on the Chinese mainland, including taxi and ride-hailing operations between September 8-15, as part of its own plan to improve safety.
Agencies