China's icebreaker Xuelong completes 8th Arctic expedition
2017-10-11 02:15:42 GMT
2017-10-11 10:15:42(Beijing Time)
Xinhua English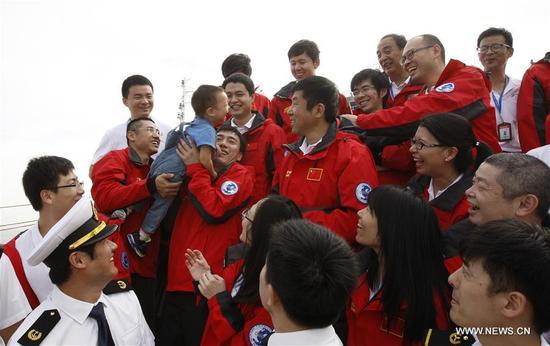 Shi Xing'an (2nd R, rear), a member of the Chinese scientific expedition team, is welcomed by his son upon his return in Shanghai, east China, Oct. 10, 2017. China's ice breaker, the Xuelong (Snow Dragon) returned to base in Shanghai Tuesday after 83 days on the Arctic rim, completing its eighth Arctic expedition. (Xinhua/Fang Zhe)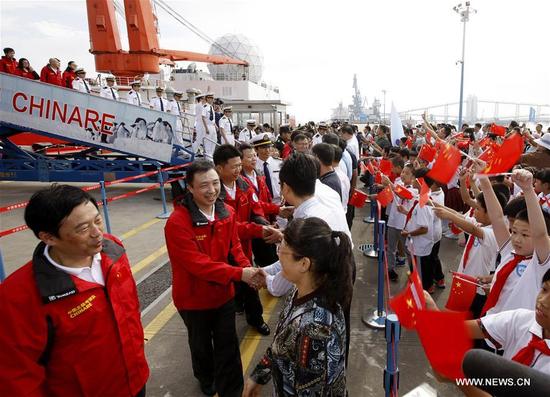 Members of the Chinese scientific expedition team are welcomed upon their return in Shanghai, east China, Oct. 10, 2017. China's ice breaker, the Xuelong (Snow Dragon) returned to base in Shanghai Tuesday after 83 days on the Arctic rim, completing its eighth Arctic expedition. (Xinhua/Fang Zhe)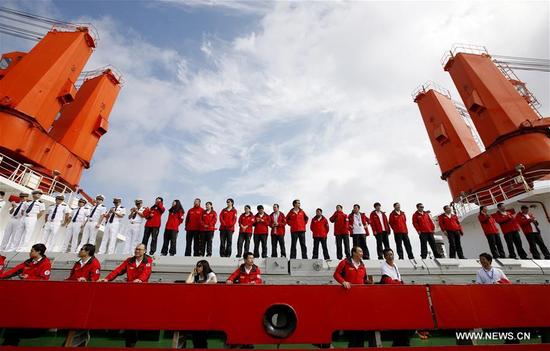 Members of the Chinese scientific expedition team stand on Chinese icebreaker "Xuelong" as they return to Shanghai, east China, Oct. 10, 2017. China's ice breaker, the Xuelong (Snow Dragon) returned to base in Shanghai Tuesday after 83 days on the Arctic rim, completing its eighth Arctic expedition. (Xinhua/Fang Zhe)
After an expedition of 83 days, China's icebreaker Xuelong, which means Snow Dragon, is scheduled to return to its base in Shanghai on Tuesday.
The expedition marks China's first circumnavigation of the Arctic rim, when the team travelled through the Central Route and the Northwest Passage of the Arctic for the first time.
The exploration of the Northwest Passage, which links the Atlantic and Pacific oceans, will pave the way for China's commercial use of the Arctic passage.
"For example, the transport time from Shanghai to New York will be cut by 20 percent over the traditional route (via the Panama Canal), " said Xu Ren, chief scientist of the expedition team. The shortened maritime journey is expected to lower trade costs across the ocean.
Lin Shanqing, deputy director of the State Oceanic Administration, said China will steadily promote regular expeditions to the Arctic.
"From this year we will launch Arctic expeditions annually," said Lin. He added that before, Arctic expeditions were undertaken once every two or three years.
Regular Arctic expeditions will focus on areas including environmental issues, such as micro plastics in the oceans, and resources in the North Pole. The expeditions will also enhance international cooperation.
A total of 96 team members travelled more than 20,000 nautical miles during the expedition.