SpaceX launches satellite with 3rd reused rocket
2017-10-12 01:25:37 GMT
2017-10-12 09:25:37(Beijing Time)
Xinhua English
WASHINGTON, Oct. 11 (Xinhua) -- U.S. space firm SpaceX on Wednesday launched a commercial communications satellite into space with its third partly reused rocket.
The EchoStar 105/SES-11 satellite took off on a Falcon 9 rocket from Launch Complex 39A at Kennedy Space Center in southern state of Florida at 6:53 p.m. EDT (2253 GMT), a live webcast showed.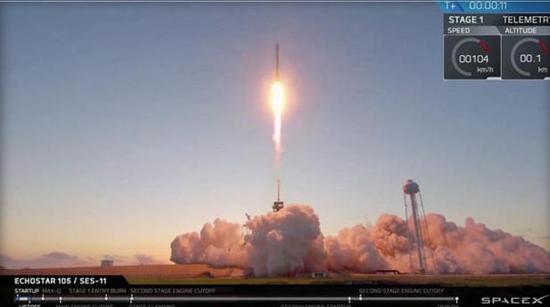 SpaceX launches satellite with 3rd reused rocket
The rocket's first stage for the mission previously supported previously supported SpaceX's 10th resupply mission to the International Space Station in February of this year.
It was the third time SpaceX has used a "flight-proven" first stage on a mission.
Roughly eight minutes after launch, the rocket's first stage completed a vertical landing on the "Of Course I Still Love You" droneship stationed in the Atlantic Ocean.
"Falcon 9 first stage has landed on Of Course I Still Love You - third successful mission with a flight-proven orbital class rocket," the company tweeted minutes after the landing.
Rocket recovery was part of an ongoing effort by SpaceX to bring down spaceflight costs.
The satellite launched Wednesday will be used by both US-based operator EchoStar and Luxembourg-based operator SES.
It will operate in a Geostationary Transfer Orbit, providing high-definition broadcasts to the U.S., the Gulf of Mexico and the Caribbean.