British scientist Stephen Hawking dead at age 76, family spokesman says
2018-03-14 05:39:45 GMT
2018-03-14 13:39:45(Beijing Time)
Sina English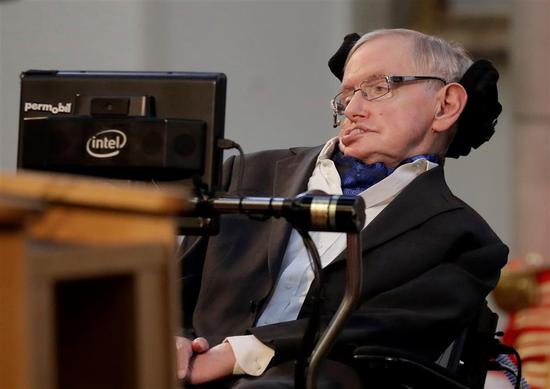 In this file photo, Britain's physicist Stephen Hawking delivers a keynote speech as he receives the Honorary Freedom of the City of London during a ceremony at the Guildhall in the City of London on March 6, 2017.
Renowned British physicist Stephen Hawking, whose mental genius and physical disability made him a household name and inspiration across the globe, has died at age 76, a family spokesman said on Wednesday.
"We are deeply saddened that our beloved father passed away today," professor Hawking's children, Lucy, Robert and Tim said in a statement carried by Britain's Press Association news agency.
"He was a great scientist and an extraordinary man whose work and legacy will live on for many years."
Hawking defied predictions he would only live for a few years after developing a form of motor neurone disease that left him confined to a wheelchair.
"His courage and persistence with his brilliance and humour inspired people across the world," the family said.
"He once said, 'It would not be much of a universe if it wasn't home to the people you love.' We will miss him forever."
(Agencies)