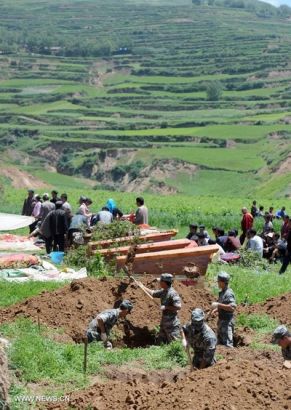 Rescuers dig holes to place coffins during the funeral held for victims killed in the deadly earthquake in Yongguang Village, Meichuan Township, Minxian County, northwest China's Gansu Province, July 23, 2013. Twelve bodies buried in ruins in the village were digged out, and their relatives held funerals for them on Tuesday. (Xinhua/Luo Xiaoguang)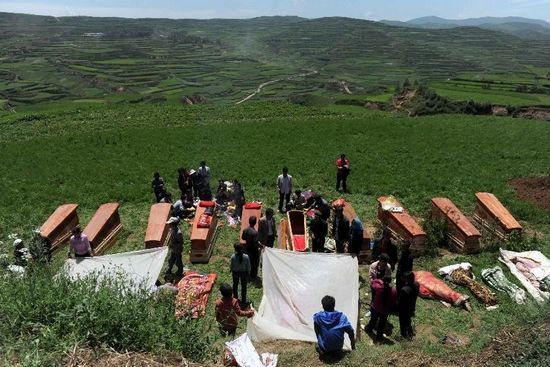 Coffins are seen at the funeral held for victims killed in the deadly earthquake in Yongguang Village, Meichuan Township, Minxian County, northwest China's Gansu Province, July 23, 2013. Twelve bodies buried in ruins in the village were digged out, and their relatives held funerals for them on Tuesday. (Xinhua/Luo Xiaoguang)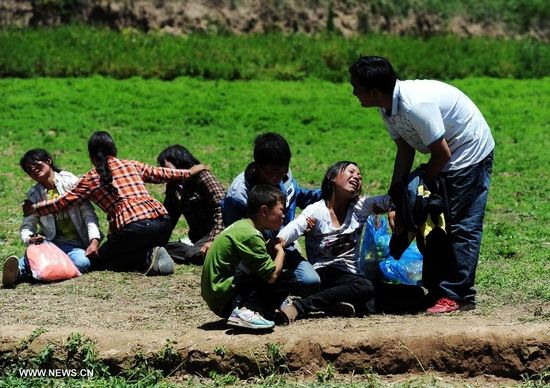 People weep during the funeral held for their relative killed in the deadly earthquake in Yongguang Village, Meichuan Township, Minxian County, northwest China's Gansu Province, July 23, 2013. Twelve bodies buried in ruins in the village were digged out, and their relatives held funerals for them on Tuesday. (Xinhua/Luo Xiaoguang)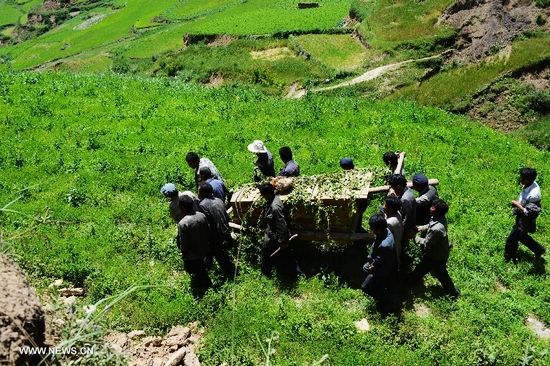 People carry a coffin during a funeral held for an 84-year-old villager killed in the dealy earthquake in Lalu Village, Hetuo Township, Minxian County, northwest China's Gansu Province, July 23, 2013. The death toll in the 6.6-magnitude earthquake that hit Gansu has risen to 94, local authorities said Tuesday. (Xinhua/Jin Liangkuai)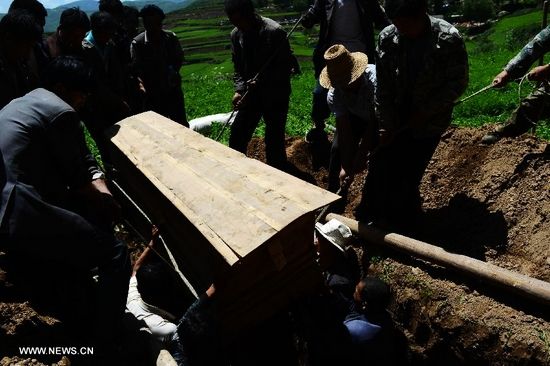 People place a coffin in to a hole during a funeral held for an 84-year-old villager killed in the dealy earthquake in Lalu Village, Hetuo Township, Minxian County, northwest China's Gansu Province, July 23, 2013. The death toll in the 6.6-magnitude earthquake that hit Gansu has risen to 94, local authorities said Tuesday. (Xinhua/Jin Liangkuai)
The traumatized survivors of a strong earthquake that killed at least 95 people in northwest China began burying their dead yesterday.
Across the disaster zone in Gansu Province, houses crumbled into rubble when the tremor struck on Monday morning.
The tremor had magnitude of 6.6, said the China Earthquake Networks Center.
At least 95 people were killed, with 1,000 more injured and 51,800 homes destroyed, the rescue headquarters said.
On a hill overlooking a valley just outside Lula village in Meichuan, the worst-affected township, about 25 men carried the coffin of Li Xueye.
The 22-year-old was crushed to death when his stone and mud house collapsed as he slept.
"The parents are both at home crying," one of the villagers told reporters, as the others placed the coffin in a freshly dug grave.
In the village, a seven-year-old boy lay in a coffin surrounded by incense and candles as his migrant worker parents made their way home from Shanghai.
"Of course she cried when I told her he had died," said Dong Kong's uncle Wang Pengfei, of the moment he relayed the news to his sister.
Officials said more than 60 people were killed in Meichuan.
In another village in the area Bo Yonghu, 25, stared solemnly at the remains of her family's mud and stone home.
The back wall had been caved in by boulders crashing down the hillside behind it.
"I thought it was going to be completely swallowed by the mountain," she said. "I will not be entering the house again. Not ever."
Bo, her parents, brother and sister have one bed to sleep on in their courtyard, under plastic sheeting nailed to four poles.
Neighbor Yang Suxiao, 18, the only family member at home when the earthquake struck, ran outside and turned to see her room reduced to rubble.
"I know I had a lucky escape," she said. "I am glad we are all not injured, but we don't know how we are going to repair the damage."
Roads in the area were peppered with boulders fallen from the surrounding mountains, and relief workers used shovels to clear a large landslide.
Around 6,000 rescuers, among them armed police, firefighters, militiamen and local government officials, had been sent to the region.
Hundreds of aftershocks were recorded in the disaster zone, an area of dusty, jagged mountains. CCTV showed soldiers digging through earth and sand and seriously injured patients being taken to hospital in Lanzhou, the provincial capital, by helicopter.
Tent relief centers were being set up with water, instant noodles and blankets.
The China Earthquake Administration said the same fault zone was linked to an 8.0-magnitude quake on July 21, 1654.
Much of western China is prone to earthquakes. Around 230,000 people were killed in an 8.5-magnitude tremor in Gansu in 1920.
A 6.6-magnitude earthquake in neighboring Sichuan Province killed about 200 people earlier this year, five years after almost 90,000 people were killed by a huge tremor in the same province.
(Agencies)