Zoo's tiger-human tug-of-war game condemned by netizens
2013-09-30 01:43:12 GMT
2013-09-30 09:43:12(Beijing Time)
Shanghai Daily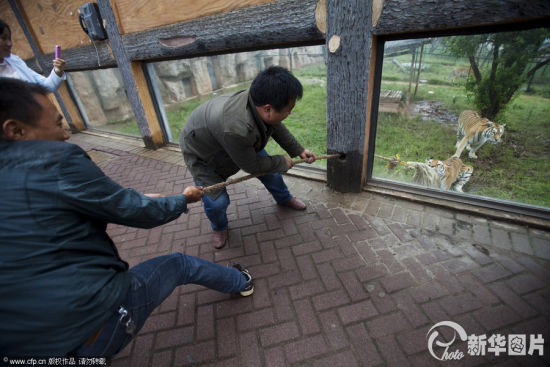 (Photo: Xinhua)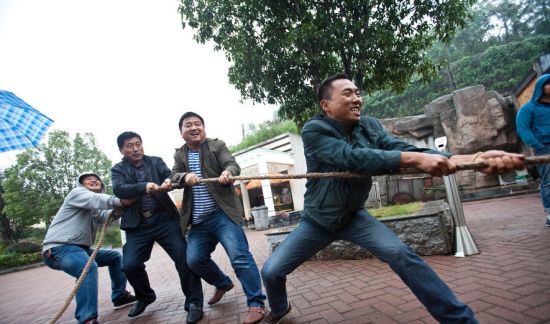 (Photo: Xinhua)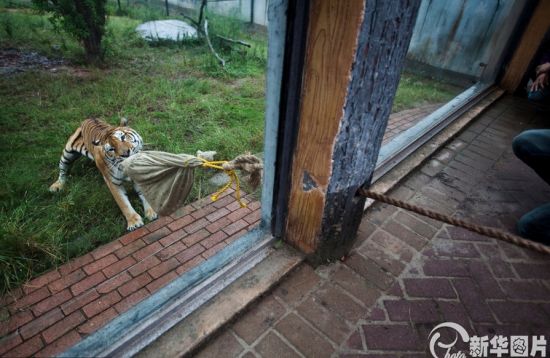 (Photo: Xinhua)
(Photo: Xinhua)
(Photo: Xinhua)
A tug-of-war game between tourists and an Amur tiger in the Changsha Ecological Zoo has caused controversy among netizens as to whether it breaches national regulations.
Several human-tiger tug-of-war games were held in Changsha Ecological Zoo at 11am on Friday as a trial of the activity, which will be officially launched during the upcoming weeklong National Day holiday, according to Beijing Youth Daily.
Changsha is the capital city of Hunan Province, in south-central China.
To get the tiger to participate, a live chicken was placed in a sack tied to a rope. The rope was threaded through a hole in the tiger enclosure. While the tiger bit the bag and tugged at it, the other end of the rope was pulled by tourists. It is reported that in one such game, seven tourists lost to a four-year-old Amur tiger.
Yi Ting, a media staffer at the zoo, said yesterday that the tug-of-war game aims to train the wild Siberian tigers and stimulate them, avoiding sickness that could be caused by their long-term captivity in the zoo. Tourists who buy a ticket for 45 yuan (US$7.36) can participate in the game.
According to a regulation released by the Ministry of Housing and Urban-Rural Development of the People's Republic of China in July, all kinds of animal shows are banned in zoos.
But Yi said, such games should not be included in animal performances such as those held by circuses.
However, animal rights activist Guo Geng, a Beijing local political advisor, said human-tiger games are surely included in the animal performances, which also seem an insult to animals.
Many netizens thought the games between human beings and tigers are inappropriate. One netizen worried that a tooth of the tigers might be pulled out.