Expelling leader's uncle is DPRK's "internal affair": FM
2013-12-09 23:20:45 GMT
2013-12-10 07:20:45(Beijing Time)
Xinhua English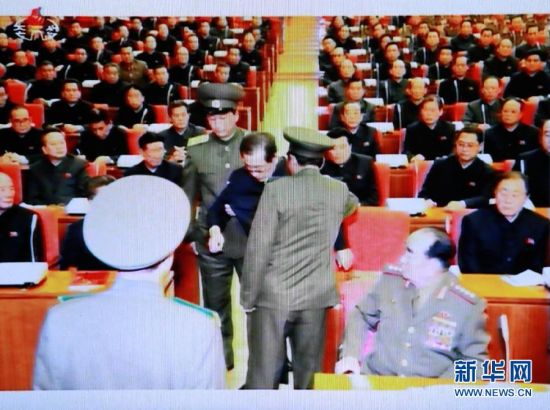 A screen capture from North Korea's Korean Central Television (KCTV) Broadcasting Station shows North Korean leader Kim Jong-Un's uncle Jang Song-thaek being arrested during an enlarged meeting of the Political Bureau of the Central Committee of the Workers' Party in Pyongyang, North Korea. [Photo: Xinhua]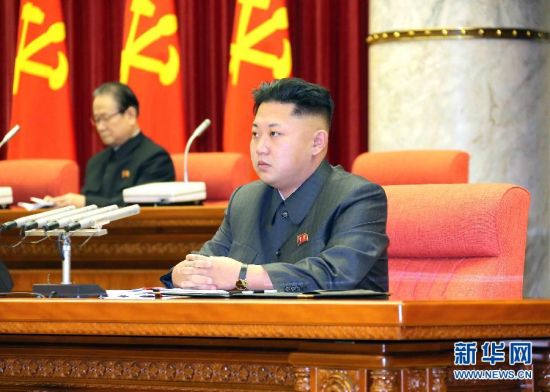 This picture taken by North Korean paper Rodong Sinmun on December 8, 2013 and released by KCNA on December 9 shows North Korean leader Kim Jong-Un (C) attending the enlarged meeting of the Political Bureau of the Central Committee of the Workers' Party of Korea (WPK) in Pyongyang. The Political Bureau convened its enlarged meeting and discussed the issue related to the anti-party factional acts committed by Kim Jong-Un's uncle Jang Song-Thaek. North Korea confirmed that the powerful uncle of the nation's young leader Kim Jong-Un has been purged, accusing him of being a corrupt, drug-using womaniser in a move analysts said cements Kim's grip on power. [Photo: Xinhua]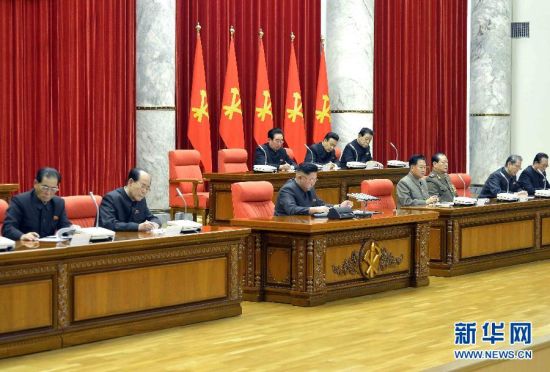 This picture taken by North Korea's official Korean Central News Agency (KCNA) on December 8, 2013 and released on December 9 shows North Korean leader Kim Jong-Un (C) attending the enlarged meeting of the Political Bureau of the Central Committee of the Workers' Party of Korea (WPK) in Pyongyang. The Political Bureau convened its enlarged meeting and discussed the issue related to the anti-party factional acts committed by Kim Jong-Un's uncle Jang Song-Thaek. North Korea confirmed that the powerful uncle of the nation's young leader Kim Jong-Un has been purged, accusing him of being a corrupt, drug-using womaniser in a move analysts said cements Kim's grip on power. [Photo: Xinhua]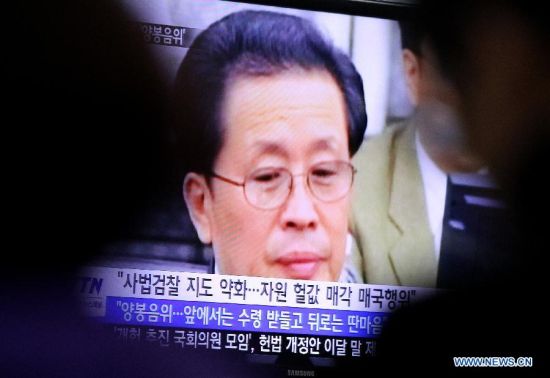 People watch a TV news program showing Jang Song-thaek, uncle-in-law of DPRK leader Kim Jong Un, at the Seoul Railway Station in Seoul, South Korea, Dec. 9, 2013. The Democratic People's Republic of Korea (DPRK) announced Monday Jang Song-thaek, uncle-in-law of DPRK leader Kim Jong Un, was removed from all posts and expelled from the Workers' Party of Korea (WPK) for his "anti-Party and counterrevolutionary crime," the official news agency KCNA reported. [Photo: Xinhua/Park Jin-hee]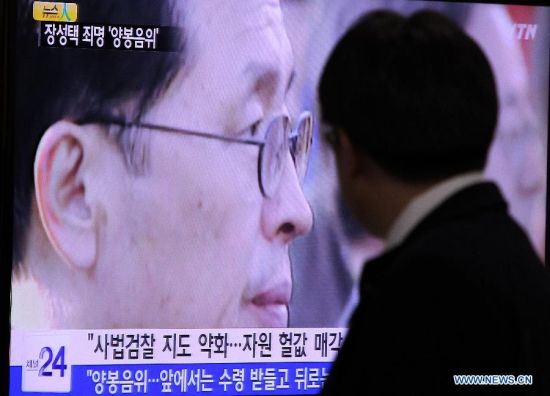 A man watches a TV news program showing Jang Song-thaek, uncle-in-law of DPRK leader Kim Jong Un, at the Seoul Railway Station in Seoul, South Korea, Dec. 9, 2013. The Democratic People's Republic of Korea (DPRK) announced Monday Jang Song-thaek, uncle-in-law of DPRK leader Kim Jong Un, was removed from all posts and expelled from the Workers' Party of Korea (WPK) for his "anti-Party and counterrevolutionary crime," the official news agency KCNA reported. [Photo: Xinhua/Park Jin-hee]
The removal of Jang Song-thaek, uncle-in-law of the Democratic People's Republic of Korea (DPRK) leader Kim Jong Un, from all posts is an "internal affair" of the DPRK, a Chinese Foreign Ministry spokesman said on Monday.
The DPRK announced Monday that Jang had been removed from all posts and expelled from the Workers' Party of Korea (WPK) for his "anti-Party and counterrevolutionary crimes," the official news agency KCNA reported.
"As a friendly neighbor, China hopes the DPRK to have national stability, economic growth and for its people to enjoy happiness. China will stay committed to pushing forward the traditional friendship and cooperation with the DPRK," Hong Lei told a daily news briefing.
Jang, 67, who was married to Kim's biological aunt, was senior general and vice chairman of the National Defense Commission, and secretary of the administration department of the WPK.
"Jang and his followers committed criminal acts baffling imagination and they did tremendous harm to our party and revolution," KCNA said.