Doctor admits trafficking babies
2013-12-30 23:26:02 GMT
2013-12-31 07:26:02(Beijing Time)
Shanghai Daily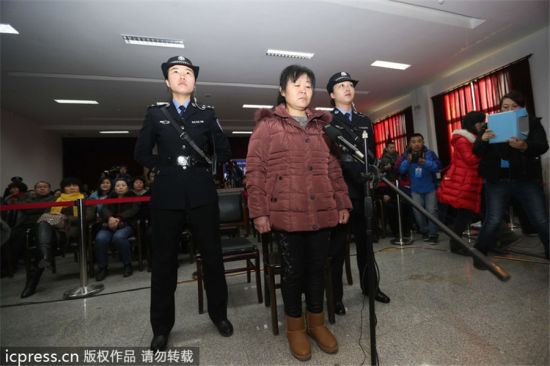 Zhang Shuxia, a gynecologist accused of trafficking newborn babies stands trial at the Weinan City Intermediate People's Court, Shaanxi province on Dec 30. Prosecutors said during the period from November 2011 to July 2013, Zhang, deputy director of a local maternal and child healthcare hospital in Fuping county, was involved in trafficking six newborn babies, and one of them died. Zhang was detained on suspicion of human trafficking in August. The court opens the trial via its weibo account in real time. [Photo/icpress.cn]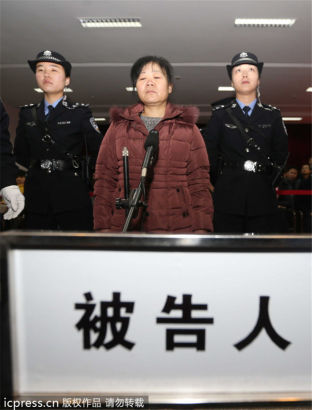 Zhang Shuxia, a gynecologist accused of trafficking newborn babies stands trial at Weinan City Intermediate People's Court, Shaanxi province on Dec 30. Prosecutors said Zhang, deputy director of a local maternal and child healthcare hospital in Fuping county, was involved in trafficking six newborn babies, and one of them died. Zhang was detained on suspicion of human trafficking in August. The court opens the trial via its weibo account in real time. [Photo.icpress.cn]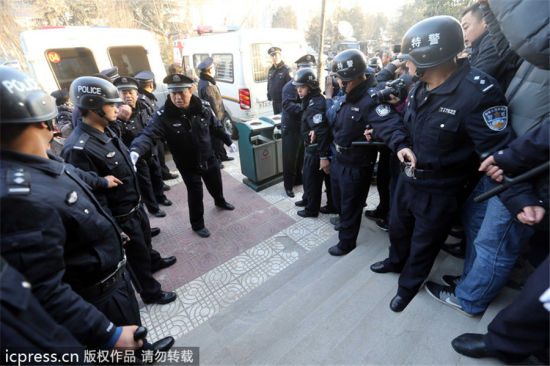 Polcie on guard outside Weinan City Intermediate People's Court, where Zhang Shuxia, a gynecologist accused of trafficking newborn babies is on trial, in Shaanxi province on Dec 30. Prosecutors said Zhang, deputy director of a local maternal and child healthcare hospital in Fuping county, was involved in trafficing six newborn babies, and one of them died. Zhang was detained on suspicion of human trafficking in August. The court opens the trial via its weibo account in real time. [Photo/icpress.cn]
An obstetrician admitted trafficking seven infants, including a baby who died after she was sold, when she appeared in court in Shaanxi Province yesterday.
Zhang Shuxia, 55, persuaded several parents to give up their newborn babies by convincing them they had "fatal congenital diseases." Then she sold babies to traffickers, prosecutors said.
She made at least 59,600 yuan (US$9,834) from baby trafficking, the Weinan Intermediate People's Court heard.
"I fell guilty. I am sorry to newborns' parents and my family as well," a tearful Zhang told the court as she bowed and kneeled down before the public gallery.
"For economic interests, I sold babies who were given up by their parents to others. I would like to accept the law's punishment."
No verdict was announced at the end of the trial yesterday.
The baby trafficking scandal in Fuping County was exposed after a couple told police they suspected Zhang at the Fuping Maternal and Child Health Care Hospital had lied.
Lai Guofeng said Zhang told him his wife was infected with syphilis and hepatitis B just two hours before she gave birth on July 16. Believing the doctor, the couple decided to give up their son.
Zhang lied to Lai saying she had asked someone to bury him.
Zhang sold the boy for 21,600 yuan and he was sold on to a couple in Henan Province for 59,800 yuan, prosecutors said.
Lai became suspicious when a request to see his son's body was repeatedly denied. His wife was also declared healthy after tests at Fuping People's Hospital.
On July 19, Lai called the police. The publicity surrounding the couple's reunion with their baby son prompted other parents to come forward.
Prosecutors confirmed six cases involving seven children from November 2011.
Six children, including twins, have been rescued and returned to their families, but the other child, a baby girl, died.
Zhang got her from a sanitation worker in her hospital and sold her for 1,000 yuan in April. But the girl died soon after.
On August 9, police detained nine suspects, including Zhang.
Five officials have been sacked in Fuping, including the director of the county's health department and the head of the hospital where the children were born.
The Shaanxi health department has issued regulations to strengthen safety management in obstetrics departments, including not allowing hospitals to hand infants to a third party without the parents being present.