Online outcry after police beat homeless man's dog to death
2014-03-06 23:44:07 GMT
2014-03-07 07:44:07(Beijing Time)
Shanghai Daily
POLICE have been accused of brutal behavior after officers battered to death a homeless man's pet dog on a busy street while its master looked on.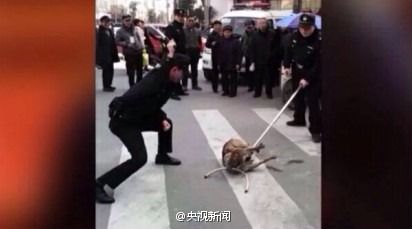 Police beat homeless man's dog to death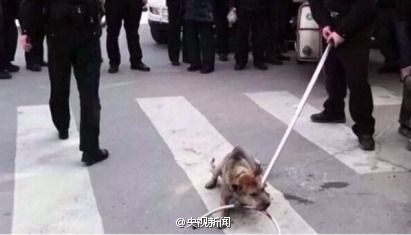 Police beat homeless man's dog to death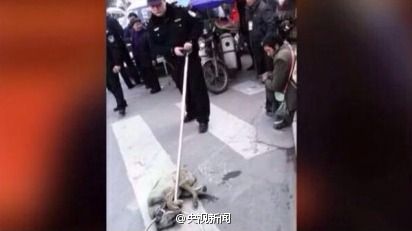 Police beat homeless man's dog to death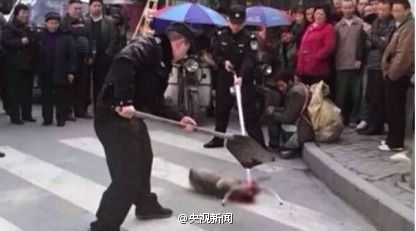 Police beat homeless man's dog to death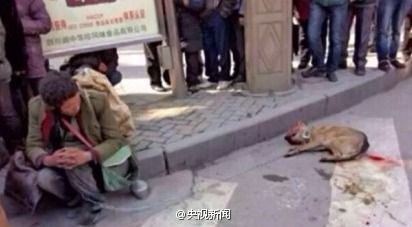 Police beat homeless man's dog to death
Officers in Langzhong City, in southwest China's Sichuan Province, killed the animal on Tuesday afternoon, after receiving reports that it could have rabies.
In the face of criticism, police said they acted to protect the public, but promised to improve the way they dealt with such situations.
It was reported that two police officers with a spade and fork bludgeoned to death the dog, which was on a lead with its owner. The homeless man is said to have sat silently while his pet was killed.
A witness, surnamed Wang, said the homeless man didn't answer police when they asked where he came from and where he had obtained the dog.
Officers then started beating the dog, striking it for about 10 minutes until it was lying motionless, Wang told West China Metropolis Daily.
Many web users on Sina Weibo, China's equivalent of Twitter, accused police of acting brutally.
"That dog might have been the only comfort the homeless man had. He must have suffered terribly seeing his companion being killed," one comment read.
"Maybe this dog did carry a virus, but I don't think it was proper to kill it in a public place," Wang said. "What if children saw it?"
Police said they had received a tip-off about a dog with red eyes — a symptom of rabies — behaving aggressively near a busy crossroads.
He Yue, deputy director of the Xicheng police station, said the dog barked whenever anyone went near it.
"The homeless man was reluctant to speak and when I approached the dog it suddenly stood up and came at me," said Chen Yao, one of the officers who killed the dog.
"For the safety of others, I killed it," he added.
While Chen said he had carried out his duty, he admitted feeling uncomfortable about killing the man's pet.
"I'd be lying if I said I didn't feel a sense of injustice," Chen said.
He said he hoped the public could understand why the officers killed the dog.