Li Keqiang addresses 2014 World Economic Forum on Africa
2014-05-09 01:39:01 GMT
2014-05-09 09:39:01(Beijing Time)
Xinhua English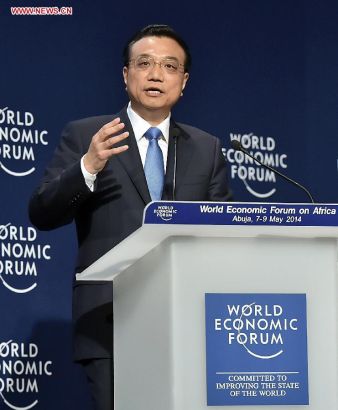 Chinese Premier Li Keqiang delivers a speech at the World Economic Forum on Africa in Abuja, Nigeria, May 8, 2014. (Xinhua/Li Tao)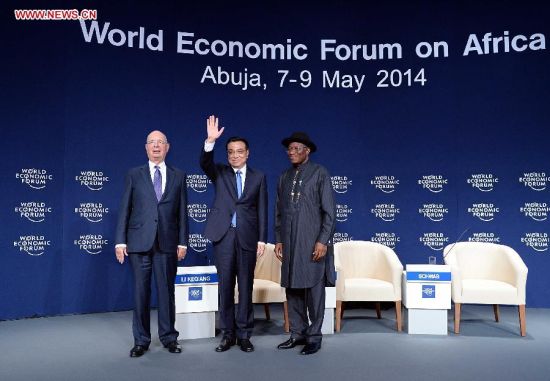 Chinese Premier Li Keqiang (C) attends the World Economic Forum on Africa in Abuja, Nigeria, May 8, 2014. (Xinhua/Li Tao)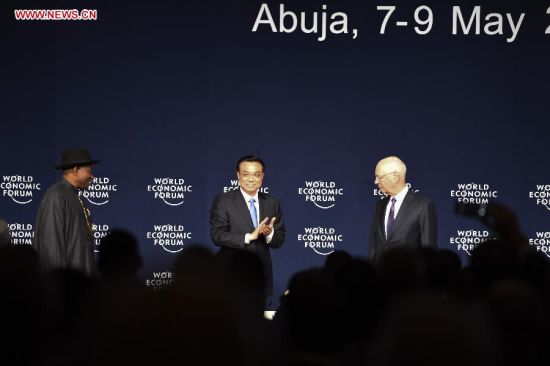 Chinese Premier Li Keqiang (C) attends the World Economic Forum on Africa in Abuja, Nigeria, May 8, 2014. (Xinhua/Li Xueren)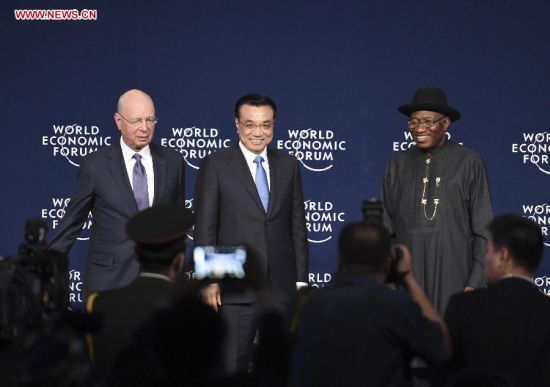 Chinese Premier Li Keqiang (C) attends the World Economic Forum on Africa in Abuja, Nigeria, May 8, 2014. (Xinhua/Li Xueren)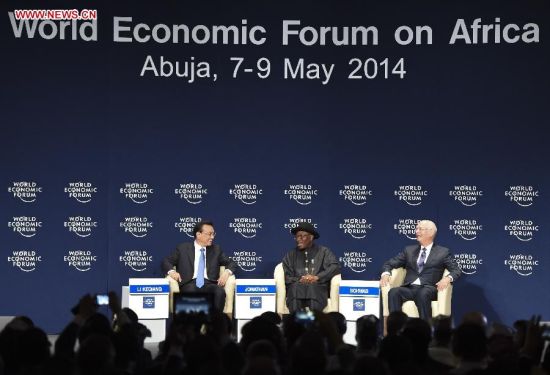 Chinese Premier Li Keqiang (L) attends the World Economic Forum on Africa in Abuja, Nigeria, May 8, 2014. (Xinhua/Li Xueren)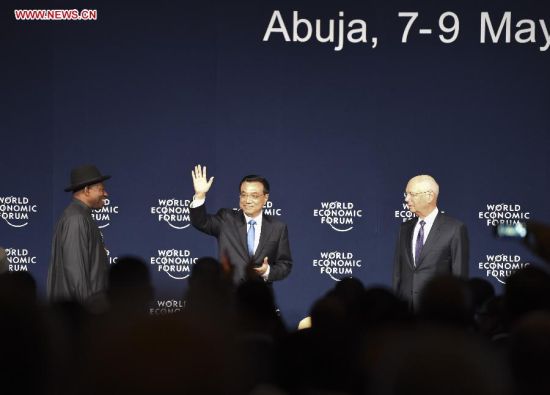 Chinese Premier Li Keqiang (C) attends the World Economic Forum on Africa in Abuja, Nigeria, May 8, 2014. (Xinhua/Li Xueren)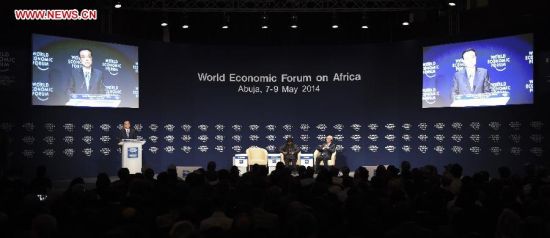 Chinese Premier Li Keqiang (L) delivers a speech at the World Economic Forum on Africa in Abuja, Nigeria, May 8, 2014. (Xinhua/Li Xueren)
Chinese Premier Li Keqiang (L) attends the World Economic Forum on Africa in Abuja, Nigeria, May 8, 2014. (Xinhua/Li Xueren)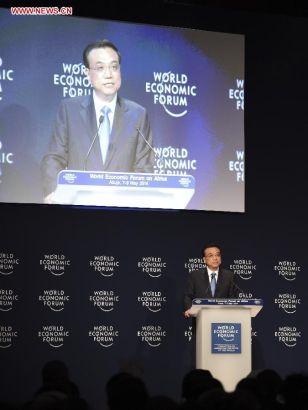 Chinese Premier Li Keqiang delivers a speech at the World Economic Forum on Africa in Abuja, Nigeria, May 8, 2014. (Xinhua/Li Xueren)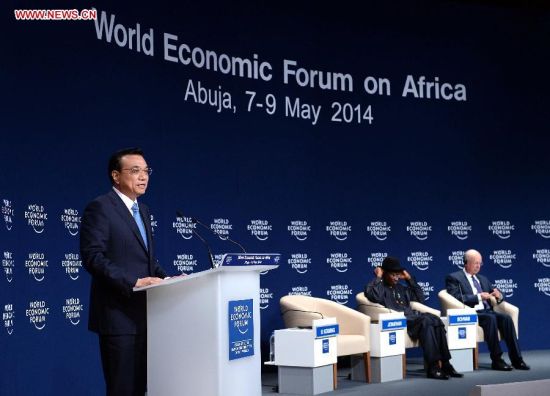 Chinese Premier Li Keqiang (L) delivers a speech at the World Economic Forum on Africa in Abuja, Nigeria, May 8, 2014. (Xinhua/Li Tao)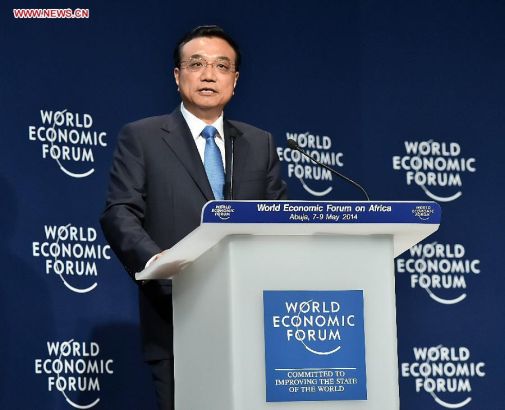 Chinese Premier Li Keqiang delivers a speech at the World Economic Forum on Africa in Abuja, Nigeria, May 8, 2014. (Xinhua/Li Tao)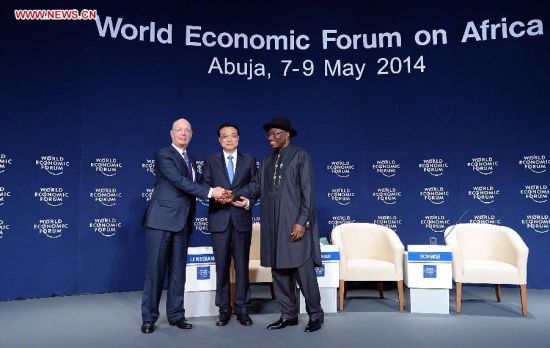 Chinese Premier Li Keqiang (C) attends the World Economic Forum on Africa in Abuja, Nigeria, May 8, 2014. (Xinhua/Li Tao)
BEIJING, May 8 (Xinhuanet) -- Chinese Premier Li Keqiang has given a keynote speech at the 2014 World Economic Forum on Africa in the Nigerian capital, Abuja. He says China and Africa face similar issues, and stronger cooperation will benefit both sides.
"China and Africa face many similar issues, and the development of each side is an opportunity for the other. Since entering the new century, the strong growth in China has generated more exports from Africa and given strong support to Africa's rapid growth. The immense development potential of Africa has attracted Chinese companies to invest and do business here. This also expanded the pace of China's economic development. Africa has the practical need for infrastructural and industrial development, whereas China has surplus capacity in investment, construction, and production in this regard. Our economies are highly complementary, and by conducting mutually-beneficial cooperation and drawing upon each other's strength, we will definitely inject greater momentum into our economic and social development," Li Keqiang said.
Premier Li also stressed the importance of the China-Africa cooperation framework. He called for intensifying cooperation in such areas as finance, poverty-alleviation, peace and security, and people-to-people exchanges. He said China will step up its assistance to Africa. And he specified boosting infrastructure construction in building a high-speed railway network, an expressway network and an African aviation system. The premier also promised that China will scale up its assistance scale to Africa.