Criminals sentenced in front of huge crowd
2014-10-23 07:23:51 GMT
2014-10-23 15:23:51(Beijing Time)
Global Times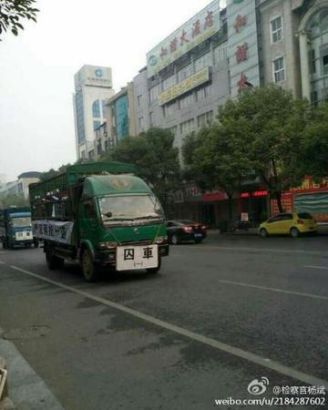 Photo:weibo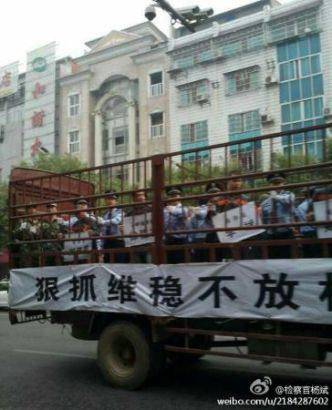 Photo:weibo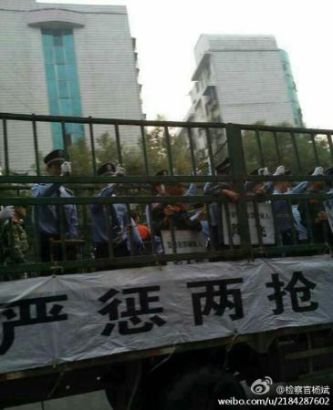 Photo:weibo
Officials in Hunan Province disregarded legal procedures and sentenced eight criminals in front of a crowd of 5,000 local residents, and publicly humiliated 16 people suspected of crimes, a local television station reported.
The move has drawn severe criticism from the public as the public sentencing brought back painful memories of the Cultural Revolution (1966-76) and was against the spirit of the rule of law as stressed by Chinese President Xi Jinping.
According to local news outlets, the heads of Huarong county's judicial departments, including the public security bureau and the procuratorate, attended the public sentencing.
Eight people were sentenced to various jail terms in front of the crowd, and it was announced that 16 suspects were detained or arrested. They were all forced to wear signs that bore their names around their necks.
Photos released by local news portal huarong.cc show suspects, flanked by police, being driven around Huarong county in an open truck covered with banners that read "firmly punish robbery and theft." Footage of the event was also posted on the Huarong government's website.
"It is like a tradition," a local official told the Global Times on condition of anonymity. "When I was young, there were open sentencing sessions like this with more than 10,000 people."
A similar public sentencing was also held in 2013. Nearly 5,000 officials and local residents witnessed the sentencing of eight people for drug offences, assault and theft, among other crimes. At this event the arrest or detention of 21 suspects was also announced, according to the local government's website.
Many netizens questioned the Huarong government's actions, asking "does this conform to our nation's policy on the rule of law?"
One netizen said that "the suspects [if they are convicted] should be punished in jail, however, they do not deserve to be humiliated in public."
Mo Shaoping, a criminal defense lawyer and professor at the Central University of Finance and Economics, told the Global Times that "the local government's actions were clearly illegal as the judicial authorities issued an announcement in 1988, stipulating that parading suspects or the convicted through the streets is illegal."
Mo added that the suspects' personal dignity and rights should also be respected.
Despite this, it would seem that some locals were in favor of the public sentencing.
According to a 34-year-old local resident surnamed Jiang, "although it was illegal and violated human rights, many residents in my hometown supported it as it intimidated criminals and fulfilled their wishes for peace and stability. This is a voice that we cannot ignore."