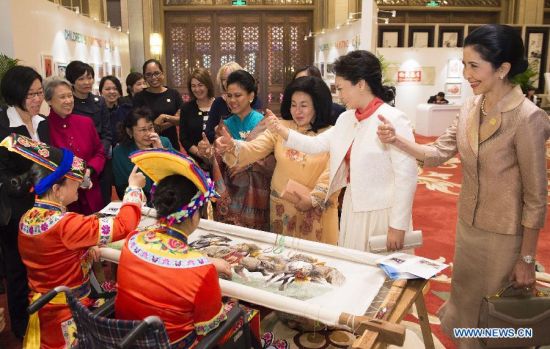 Peng Liyuan (2nd R), wife of Chinese President Xi Jinping, demonstrates to spouses of some leaders of the Asia-Pacific Economic Cooperation (APEC) member economies how to communicate with a deaf-mute girl by sign language during an activity focusing on development issues concerning disabled people, in Beijing, China, Nov. 10, 2014. (Xinhua/Huang Jingwen)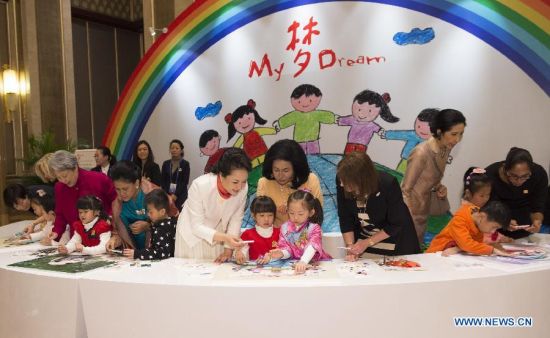 Peng Liyuan (in white dress), wife of Chinese President Xi Jinping, plays jigsaw puzzle with children with hearing impairment together with spouses of some leaders of the Asia-Pacific Economic Cooperation (APEC) member economies during an activity focusing on development issues concerning disabled people, in Beijing, China, Nov. 10, 2014. (Xinhua/Huang Jingwen)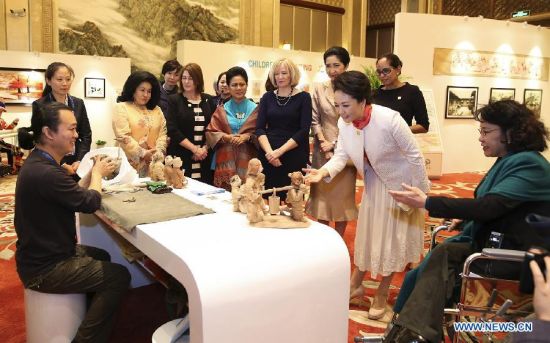 Peng Liyuan (in white dress), wife of Chinese President Xi Jinping, views the pottery created by deaf-mute artist Kang Zhimin together with spouses of some leaders of the Asia-Pacific Economic Cooperation (APEC) member economies during an activity focusing on development issues concerning disabled people, in Beijing, China, Nov. 10, 2014. (Xinhua/Huang Jingwen)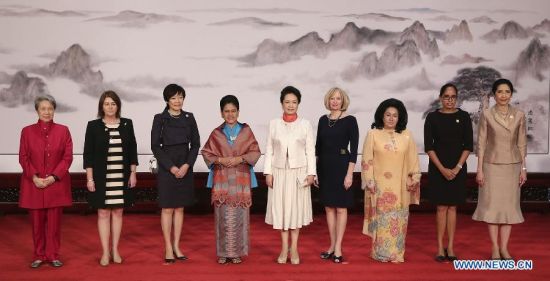 Peng Liyuan (C), wife of Chinese President Xi Jinping, poses for a group photo with Ho Ching (1st L), wife of Singapore's Prime Minister Lee Hsien Loong, Bronagh Key (2nd L), wife of New Zealand's Prime Minister John Key, Akie Abe (3rd L), wife of Japanese prime minister Shinzo Abe, Iriana Widodo (4th L), wife of Indonesian President Joko Widodo, Laureen Harper (4th R), wife of Canada's Prime Minister Stephen Harper, Rosmah Mansor (3rd R), wife of Malaysia's Prime Minister Najib Razak, Lynda Babao (2nd R), wife of Papua New Guinea Prime Minister Peter O'Neill, and Naraporn Chan-ocha (1st R), wife of Thailand's Prime Minister Prayuth Chan-ocha, during an activity focusing on development issues concerning disabled people, in Beijing, China, Nov. 10, 2014. Peng Liyuan (C), wife of Chinese President Xi Jinping, poses for a group photo with Ho Ching (1st L), wife of Singapore's Prime Minister Lee Hsien Loong, Bronagh Key (2nd L), wife of New Zealand's Prime Minister John Key, Akie Abe (3rd L), wife of Japanese prime minister Shinzo Abe, Iriana Widodo (4th L), wife of Indonesian President Joko Widodo, Laureen Harper (4th R), wife of Canada's Prime Minister Stephen Harper, Rosmah Mansor (3rd R), wife of Malaysia's Prime Minister Najib Razak, Lynda Babao (2nd R), wife of Papua New Guinea Prime Minister Peter O'Neill, and Naraporn Chan-ocha (1st R), wife of Thailand's Prime Minister Prayuth Chan-ocha, during an activity focusing on development issues concerning disabled people, in Beijing, China, Nov. 10, 2014.(Xinhua/Huang Jingwen)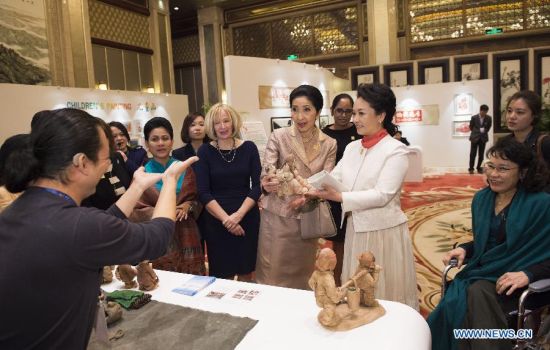 Deaf-mute artist Kang Zhimin (L) presents his pottery work to Naraporn Chan-ocha, wife of Thailand's Prime Minister Prayuth Chan-ocha, when Peng Liyuan (in white dress), wife of Chinese President Xi Jinping, and other spouses of some leaders of the Asia-Pacific Economic Cooperation (APEC) member economies take part in an activity focusing on development issues concerning disabled people, in Beijing, China, Nov. 10, 2014. (Xinhua/Huang Jingwen)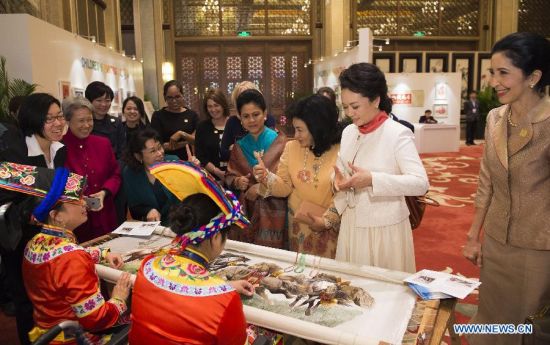 Peng Liyuan (2nd R), wife of Chinese President Xi Jinping, demonstrates to spouses of some leaders of the Asia-Pacific Economic Cooperation (APEC) member economies how to communicate with a deaf-mute girl by sign language during an activity focusing on development issues concerning disabled people, in Beijing, China, Nov. 10, 2014. (Xinhua/Huang Jingwen)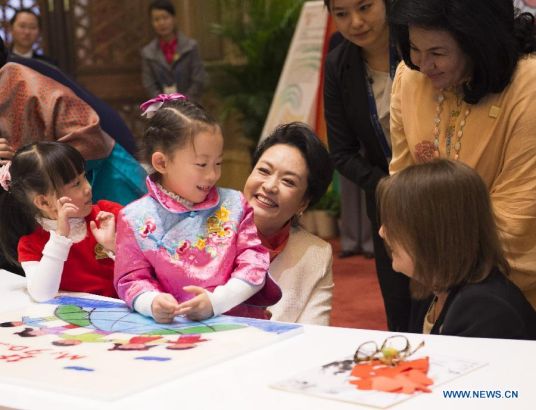 Peng Liyuan (C), wife of Chinese President Xi Jinping, reacts while playing jigsaw puzzle with children with hearing impairment together with spouses of some leaders of the Asia-Pacific Economic Cooperation (APEC) member economies during an activity focusing on development issues concerning disabled people in Beijing, China, Nov. 10, 2014. (Xinhua/Huang Jingwen)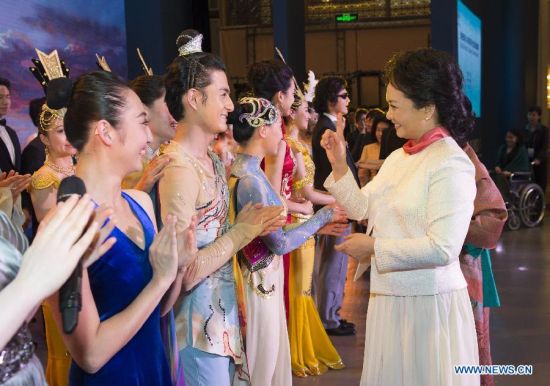 eng Liyuan (R front), wife of Chinese President Xi Jinping, expresses her thanks to disabled performers after watching their performance together with spouses of some leaders of the Asia-Pacific Economic Cooperation (APEC) member economies after a meeting focusing on development issues concerning disabled people in Beijing, China, Nov. 10, 2014. (Xinhua/Huang Jingwen)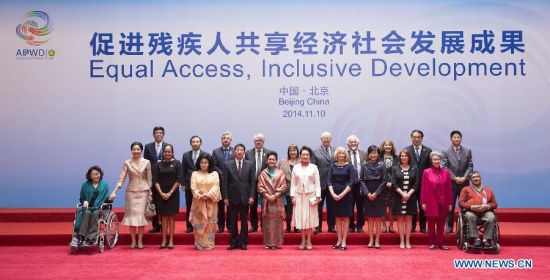 Peng Liyuan (6th R front), wife of Chinese President Xi Jinping, poses for a group photo with spouses of some leaders of the Asia-Pacific Economic Cooperation (APEC) member economies and guests after a meeting focusing on development issues concerning disabled people in Beijing, China, Nov. 10, 2014. (Xinhua/Ding Lin)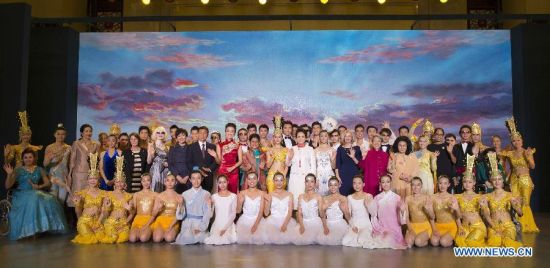 Peng Liyuan (C), wife of Chinese President Xi Jinping, poses for a group photo with disabled performers after watching their performance together with spouses of some leaders of the Asia-Pacific Economic Cooperation (APEC) member economies after a meeting focusing on development issues concerning disabled people in Beijing, China, Nov. 10, 2014. (Xinhua/Ding Lin)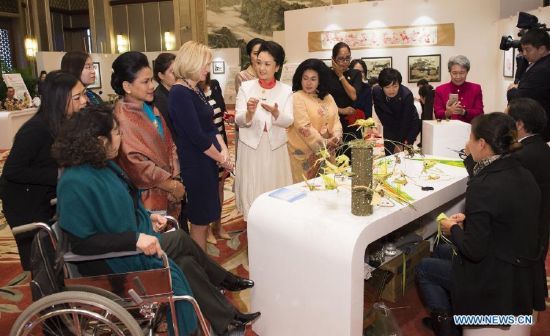 Peng Liyuan (in white dress), wife of Chinese President Xi Jinping, watch two blind artists make palm weavings while attending an activity focusing on development issues concerning disabled people along with spouses of some leaders of the Asia-Pacific Economic Cooperation (APEC) member economies, in Beijing, China, Nov. 10, 2014. (Xinhua/Ding Lin)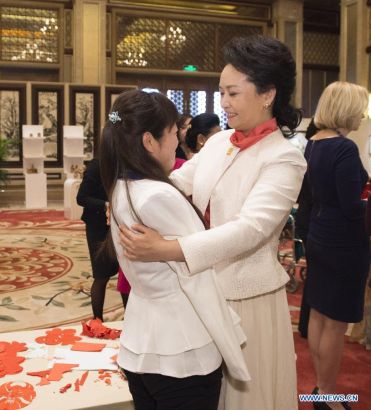 Peng Liyuan (R), wife of Chinese President Xi Jinping, embraces Xia Hong, a young woman who lost her arms, while attending an activity focusing on development issues concerning disabled people along with spouses of some leaders of the Asia-Pacific Economic Cooperation (APEC) member economies, in Beijing, China, Nov. 10, 2014. (Xinhua/Huang Jingwen)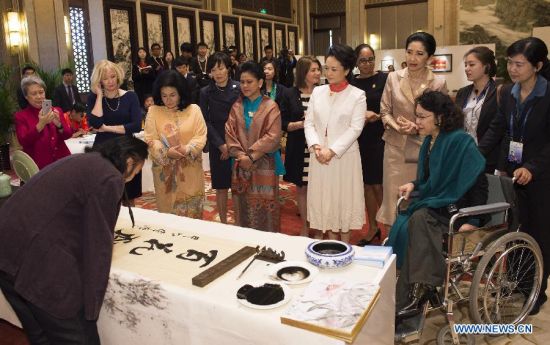 Peng Liyuan (in white dress), wife of Chinese President Xi Jinping, watch the performance by a disabled calligrapher while attending an activity focusing on development issues concerning disabled people along with spouses of some leaders of the Asia-Pacific Economic Cooperation (APEC) member economies, in Beijing, China, Nov. 10, 2014. (Xinhua/Ding Lin)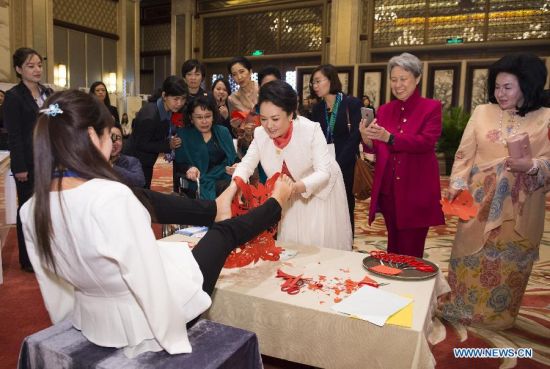 Peng Liyuan (3rd R, front), wife of Chinese President Xi Jinping, receives a papercutting work created by Xia Hong, a young woman who lost her arms, as a present, while attending an activity focusing on development issues concerning disabled people along with spouses of some leaders of the Asia-Pacific Economic Cooperation (APEC) member economies in Beijing, China, Nov. 10, 2014. (Xinhua/Huang Jingwen)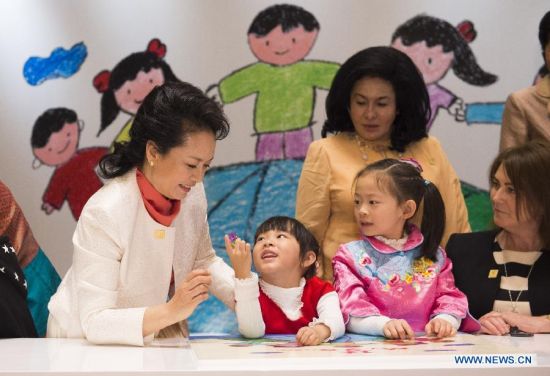 Peng Liyuan (L), wife of Chinese President Xi Jinping, receives a flower ring from a girl while playing jigsaw puzzle with children with hearing impairment together with spouses of some leaders of the Asia-Pacific Economic Cooperation (APEC) member economies during an activity focusing on development issues concerning disabled people in Beijing, China, Nov. 10, 2014.(Xinhua/Huang Jingwen)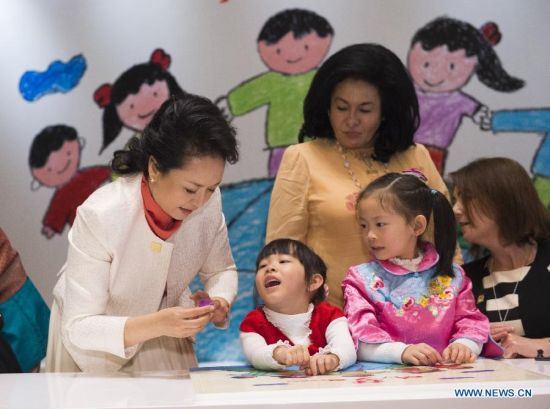 Peng Liyuan (L), wife of Chinese President Xi Jinping, receives and wears a flower ring from a girl while playing jigsaw puzzle with children with hearing impairment together with spouses of some leaders of the Asia-Pacific Economic Cooperation (APEC) member economies during an activity focusing on development issues concerning disabled people in Beijing, China, Nov. 10, 2014. (Xinhua/Huang Jingwen)
BEIJING, Nov. 10 (Xinhua) -- Peng Liyuan, wife of Chinese President Xi Jinping, has called for a more just, tolerant and sustainable environment for the development of disabled people.
Much more understanding, respects and care should be given to the group to make sure that they are entitled to fruits of social and economic development, which is the responsibility of the entire society, she said on Monday.
Peng made the remarks while attending a meeting focusing on development issues concerning disabled people, together with wives of some leaders of the Asia-Pacific Economic Cooperation (APEC) member economies, who are in Beijing for the 22nd APEC Economic Leaders' Meeting.
Peng accompanied the guests to visit an exhibition of art works of Chinese people with disabilities, where they interacted with a group of hearing-impaired children by playing puzzle games.
State Councilor Wang Yong said China is willing to work with other countries and regions in the Asia Pacific to help disabled people better participate the regional cooperation while enjoying the results from the cause.
The event received a videotaped speech of the United Nations Secretary-General Ban Ki-moon, who urged more Asia-Pacific economies to include the development of disabled people into their overall development strategies.