Relaxed stroll sets mood for Xi, Obama
2014-11-12 00:55:50 GMT
2014-11-12 08:55:50(Beijing Time)
China Daily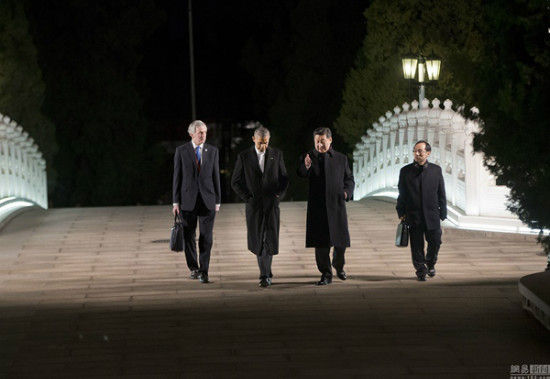 President Xi Jinping and US President Barack Obama go on a stroll in Zhongnanhai, the area of Beijing known as the heart of the government, on Tuesday evening, Nov 11, 2014.[Photo/Xinhua]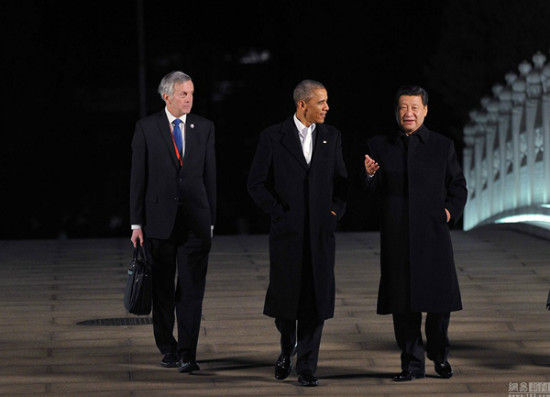 President Xi Jinping and US President Barack Obama go on a stroll in Zhongnanhai, the area of Beijing known as the heart of the government, on Tuesday evening, Nov 11, 2014.[Photo/Xinhua]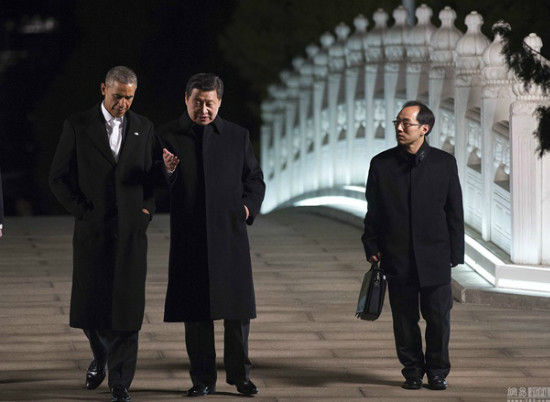 President Xi Jinping and US President Barack Obama go on a stroll in Zhongnanhai, the area of Beijing known as the heart of the government, on Tuesday evening, Nov 11, 2014.[Photo/Xinhua]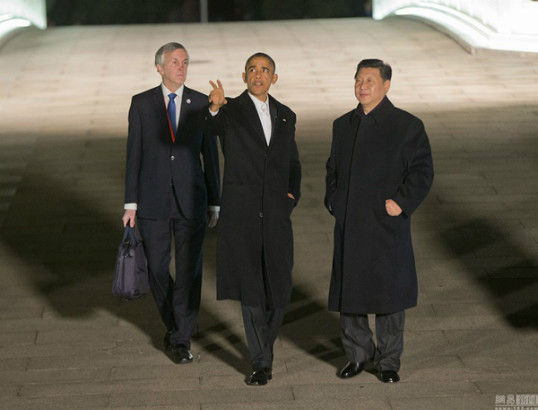 President Xi Jinping and US President Barack Obama go on a stroll in Zhongnanhai, the area of Beijing known as the heart of the government, on Tuesday evening, Nov 11, 2014.[Photo/Xinhua]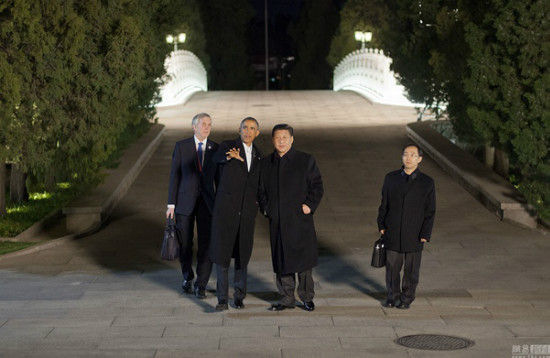 President Xi Jinping and US President Barack Obama go on a stroll in Zhongnanhai, the area of Beijing known as the heart of the government, on Tuesday evening, Nov 11, 2014.[Photo/Xinhua]
US President Barack Obama, on his first visit to China since 2009, went on a relaxed stroll with President Xi Jinping on Tuesday in Zhongnanhai, the area of Beijing known as the heart of the government.
The stroll after the APEC Economic Leaders' Meeting was followed by a brief meeting and dinner, and gave rise to expectations that the unusually informal atmosphere would help the two leaders tackle high stakes issues at a formal meeting on Wednesday.
Standing on a traditional Chinese bridge, Xi introduced Obama to the history of Ying Tai, an ancient imperial palace where they later met. Knowing China's modern history is important for understanding Chinese people's current aspirations and path forward, Xi told Obama.
Observers said the economy, security, climate change and efforts to fight terrorism will be high on the agenda, and the meetings are likely to offer a blueprint for a new model of ties between major countries.
Niu Xinchun, a senior expert at the China Institutes of Contemporary International Relations, said both countries are expected to manage differences over maritime and territorial issues in Asia, and deal with the relationship between the looming Trans Pacific Partnership agreement and the Free Trade Area of the Asia Pacific.
IT tariff cuts
The two countries reached a breakthrough on Tuesday in Beijing to accelerate the expansion of the World Trade Organization Information Technology Agreement, which could help cut $1 trillion in tariffs on high tech product sales globally.
Obama said it was APEC's work that led to the ITA, for which an expansion is now being negotiated.
"So it is fitting that we are here with our APEC colleagues to share the news that the United States and China have reached an understanding that we hope will contribute to a rapid conclusion of the broader negotiations in Geneva," Obama said.
The deal would allow the "swift conclusion" on talks to enlarge the ITA at the WTO meeting in Geneva later this year.
Michael Froman, the US trade representative, said this is encouraging news for US companies that are keen to see global tariffs further cut on products such as medical equipment, GPS devices, video game consoles and next generation semiconductors.
The ITA took effect in 1997. The agreement now covers more than $4 trillion in annual trade.
"As many countries are still struggling to seek economic recovery and new areas for market growth, the new ITA breakthrough will encourage more trade between the world's largest and second largest economies," said Zhang Jianping, director of the International Economic Cooperation Institute of the National Development and Reform Commission.