Strong earthquake hits Sichuan province
2014-11-22 11:23:15 GMT
2014-11-22 19:23:15(Beijing Time)
China Daily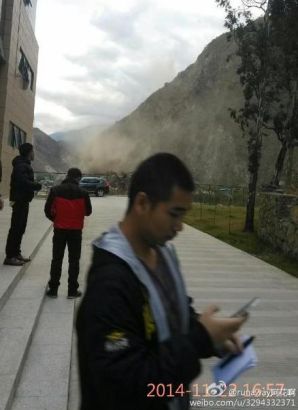 A local resident sends messages after an earthquake hit Kangding. [Photo provided on Weibo]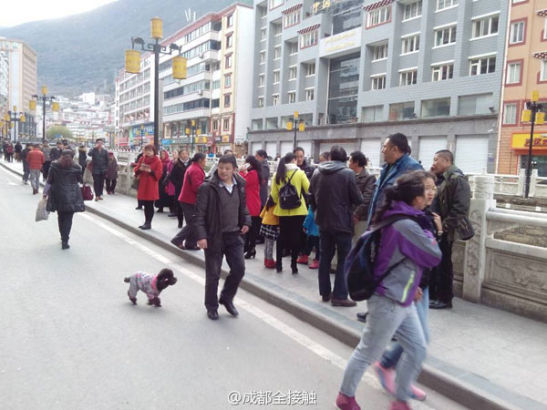 Residents stay outside after an earthquake in Kangding county. [Photo provided from Sina Weibo]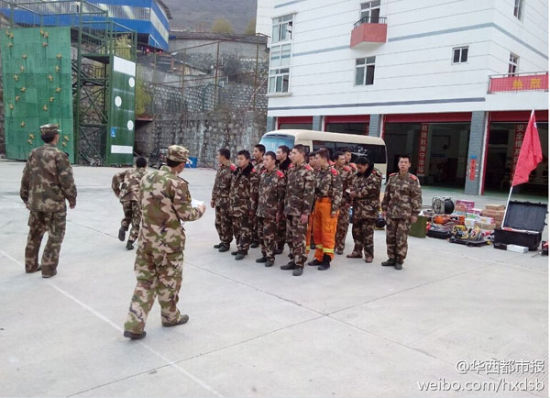 The rescue team get prepared after an earthquake in Kangding.[Photo provided from Sina Weibo]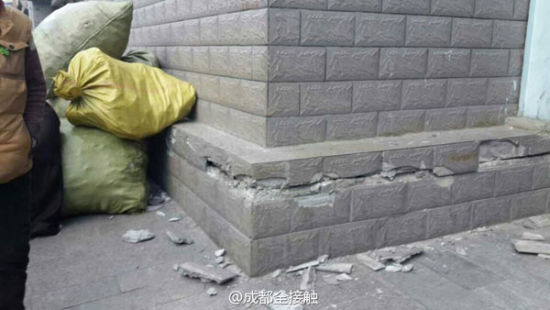 The debris falling from the buidling after an quake.[Photo provided from Sina Weibo]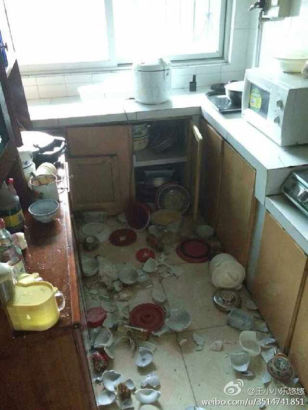 The mess in a home kitchen.[Photo provided from Sina Weibo]
18:40 Rescuers rushed to epicenter
Wang Dan, a spokesman for the Kangding county government, said rescue teams had already been dispatched to the epicenter. He said the local electricity supply hadn't been knocked out, there were no disruptions to transport or communications, and there was no major damage to buildings in the town of Kangding.
18:15 Woman hit by glass in Garze, dead
An old woman was reported hit by a glass on the head and died immediately, authorities in the Garze People's Hospital said. The glass was believed to have fallen because of the quake.
18:08 Early warning system sends alert
Residents in downtown Chengdu received an alert for earthquake about 53 seconds in advance, chinanews.com.cn reported. An early warning system developed by Institute of Care-Life in Chengdu was used in the forecast.
17:56 Construction worker hit by glass in Chengdu
A construction worker was reportedly hit injured by a glass that was believed to have fallen because of a strong tremor in Chengdu, 15 minutes after a 6.3-magnitude earthquake struck Kangding county.
Sichuan -- An earthquake measuring 6.3 on the Richter scale jolted Kangding county, a lightly populated, mountainous area of Garze Tibetan autonomous prefecture in Southwest China's Sichuan province at 4:55 pm on Saturday, the China Earthquake Networks Center reported.
The epicenter, at a depth of 18 km, was initially determined to be at a latitude of 30.3 degrees north and longitude of 101.7 degrees east.
Residents said they felt a strong tremor in Chengdu, capital of Sichuan province, about 325 km north of the epicenter, according to reporters from chinanews.com.
"The house window was shaking fiercely. Some people rushed out of the building," said a woman in Chengdu.
A Kangding resident surnamed Guo said the tremor was powerful and many articles fell to the floor in his home, but he said he did not see any houses collapsed, Xinhua reported.
A duty officer at the Kangding county government, who gave his surname as Xia, told Associated Press the quake lasted only a few seconds, and that there had been no aftershocks or reports of injuries or damage. The area is frequently struck by quakes, and Xia said strict construction standards require buildings to be able to withstand those of up to 8 in magnitude.