India's Modi posts on Weibo while visiting Xi's hometown
2015-05-14 09:41:31 GMT
2015-05-14 17:41:31(Beijing Time)
China Daily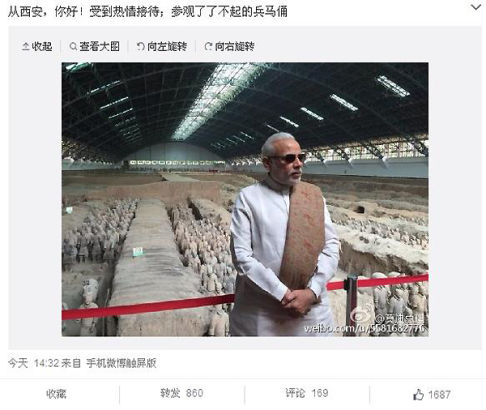 Indian Prime Minister Narendra Modi updated his first Weibo post in China at 2:32, saying "Hello Xi'an. I received warm hospitality and visited the amazing Terracotta warriors." The post has attracted 169 comments and more than 1600 people liked it by 3:50 pm.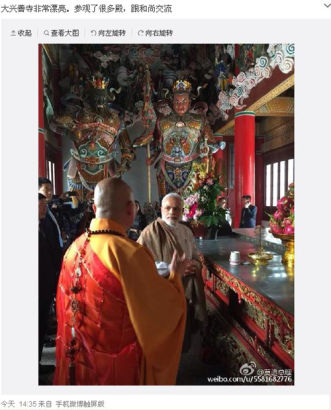 Indian Prime Minister Narendra Modi updated his second Weibo post in China, saying "Daxingshan Temple is beautiful. I visited many temple halls and had a chat with the monks."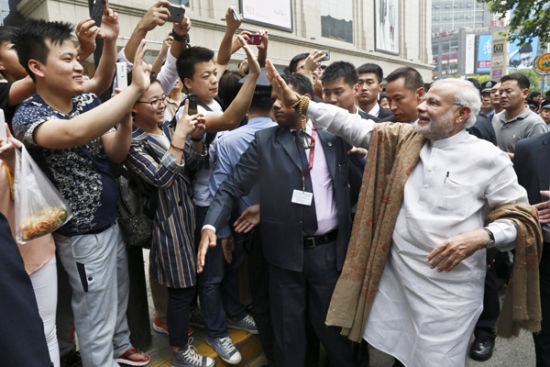 India's Prime Minister Narendra Modi waves to local residents in Xi'an, Shaanxi province. [Photo by Feng Yongbin/China Daily]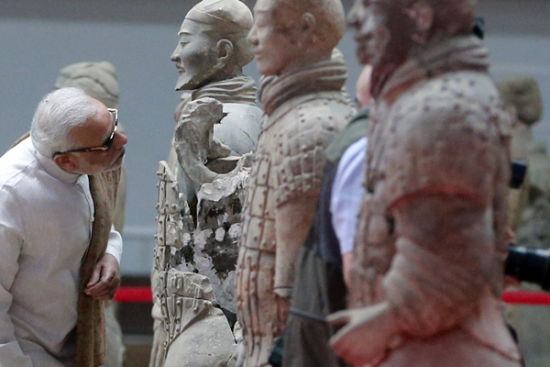 Indian Prime Minister Narendra Modi visits the terra-cotta warriors in Xi'an, Northwest China's Shaanxi province, May 14, 2015. [Photo by Feng Yongbin/Asianewsphoto]
China's social media users had a chance to learn of Indian Prime Minister Narendra Modi's activities during his trip to China via Weibo, the popular Chinese Twitter-like platform.
Modi updated his social media status on Weibo hours after he arrived in Xi'an, capital of Northwest China's Shaanxi province,the hometown of President Xi Jinping.
He began updating his Weibo accounts at about 2:30 pm with five new posts in Chinese.
In the newest post he said, "I am very happy to experience Chinese hospitality and there is a very special cultural bond (between China and India)."
Modi also posted photos showing his visit to the Terracotta Warriors Museum and the Daxingshan Temple – a Buddhist temple housing works translated from Sanskrit – in Xi'an. In one of the photos, he was seen communicating with a monk.
The Indian prime minister received a warm welcome in Xi'an with local residents rushing to the street to get a face-to-face "hello" with Modi, according to a China Daily correspondent in Xi'an.
In the afternoon, Modi was scheduled to visit Big Wild Goose Pagoda (Dayan Pagoda), a well-preserved ancient building and a holy place for Buddhists. President Xi was slated to hold a meeting with him later and they will have dinner together.
By hosting Modi in his home province of Shaanxi, Xi is reciprocating the Indian leader's invitation to visit his own hometown of Ahmadebad last year.
The visit highlights warming ties between the rising Asian powers, the world's two most populous nations, with a combined population of 2.6 billion.
Modi opened an account on Weibo, one of China's most popular social media platforms, ahead of his visit to the country this month.
He has attracted more than 55,000 followers as of Thursday. "I wish I could read more interesting stories about Prime Minister Modi's Chinese visit through his Weibo account," said a user called "haplife".