Xi meets visiting Indian PM
2015-05-14 09:43:47 GMT
2015-05-14 17:43:47(Beijing Time)
ecns.cn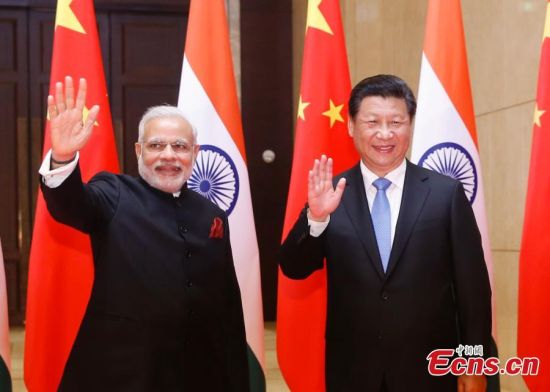 Chinese President Xi Jinping (R), meets Indian Prime Minister Narendra Modi on Thursday, May 14, 2015 in Xi'an, capital of Northwest China's Shaanxi Province. Thursday is the first day of Modi's three-day visit to China. (Photo: China News Service/ Du Yang)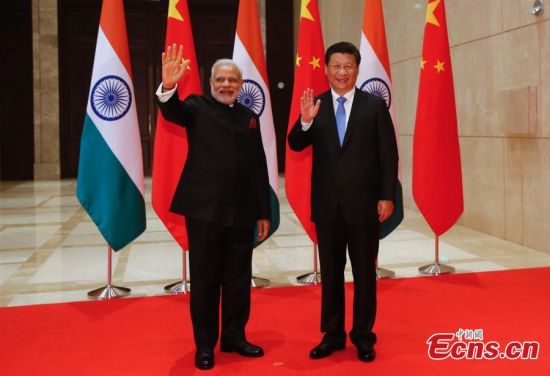 Chinese President Xi Jinping (R), meets Indian Prime Minister Narendra Modi on Thursday, May 14, 2015 in Xi'an, capital of Northwest China's Shaanxi Province. Thursday is the first day of Modi's three-day visit to China. (Photo: China News Service/ Du Yang)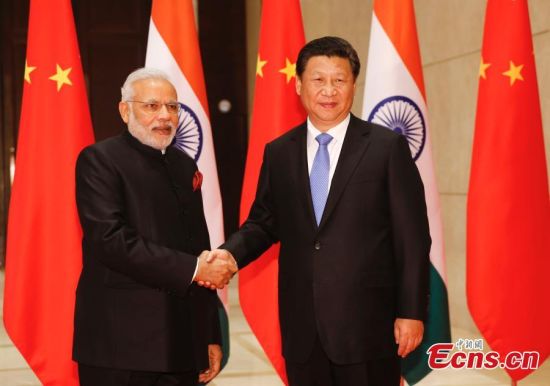 Chinese President Xi Jinping (R), meets Indian Prime Minister Narendra Modi on Thursday, May 14, 2015 in Xi'an, capital of Northwest China's Shaanxi Province. Thursday is the first day of Modi's three-day visit to China. (Photo: China News Service/ Du Yang)
Chinese President Xi Jinping met with visiting Indian Prime Minister Narendra Modi in Xi'an, capital city of Shaanxi Province and Xi's hometown, on Thursday afternoon.
"This is the first time I have treated a foreign leader in my hometown and I hope you have a happy stay," Xi said when the meeting started.
Xi welcomed Modi and thanked him for the warm reception he received in his India visit in last September, during which Modi accompanied him to visit his home state of Gujarat.
"That left me with deep and good impression," Xi said.
Xi said during his September visit they reached an important consensus on promoting the bilateral strategic partnership of cooperation and forging a closer partnership of development.
Both sides maintained frequent high-level contact and engagement, promoted cooperation in priority areas including construction of railway and industrial park, strengthened exchanges, controlled the bordering areas and kept good communication on international and regional affairs, Xi said.
China-India relations are experiencing stable development and facing broad prospects, the president added.
He said he believed Modi's visit will push forward the bilateral strategic partnership to achieve new progress, which has potential for greater development.
Modi said he was glad to visit China. He cited his trip in some historical places of interest in Xi'an and spoke highly of the cultural exchanges between the two ancient civilizations.
This is the first China visit for Modi, who made a vow to visit during his first year as prime minister.
On Friday, Chinese Premier Li Keqiang and top legislator Zhang Dejiang will also meet Modi in Beijing. Invited by Li, Modi's tour will last three days.