Chinese premier arrives in Chile for official visit
2015-05-24 23:46:56 GMT
2015-05-25 07:46:56(Beijing Time)
Xinhua English
Chinese Premier Li Keqiang arrives in Santiago, Chile, May 24, 2015. Li Keqiang arrived here Sunday for an official visit to Chile. (Xinhua/Liu Weibing)
SANTIAGO, May 24 (Xinhua) -- Chinese Premier Li Keqiang arrived here Sunday for an official visit to Chile, the first South American country with which China forged diplomatic ties and also the first Latin American nation with which China signed a free trade agreement.
Upon his arrival, Li hailed Chile as a spearhead in developing relations with China in the region.
He said the main goal of his visit is to consolidate traditional friendship, deepen mutual trust, and comprehensively promote bilateral cooperation in such fields as free trade area, finance, industrial capacity, equipment manufacturing, and infrastructure construction.
"(My visit also aims at) transferring the potential of mutually beneficial cooperation into the impetus for speeding up common development, so as to lift China-Chile strategic partnership to a new height from a new starting point," said the premier.
During his stay here, Li is expected to hold talks with Chilean President Michelle Bachelet and attend a joint press conference. They will also attend an economic and trade symposium on the occasion of the 45th anniversary of the establishment of bilateral diplomatic ties.
He is scheduled to deliver a speech at the United Nations Economic Commission for Latin America and the Caribbean (ECLAC) in Santiago.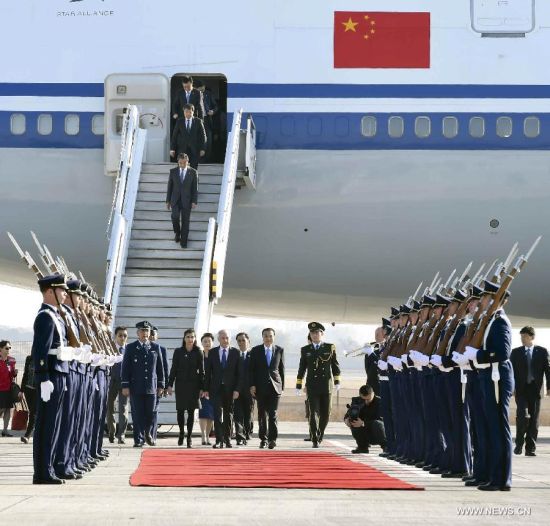 Chinese Premier Li Keqiang and his wife Cheng Hong arrive in Santiago, Chile, May 24, 2015. Li Keqiang arrived here Sunday for an official visit to Chile. (Xinhua/Zhang Duo)
Ahead of Li's trip, Bachelet told Xinhua in an exclusive interview that she has "a very good estimation of the ties between Chile and China."
Chile and China have maintained friendly ties of cooperation for 45 years since the establishment of their diplomatic relations, she said.
"We want to continue along this same path, strengthening and expanding our ties, our exchange, and our knowledge of each other," said the president.
Chile is the last leg of Li's four-nation tour to Latin America, which has already taken him to Brazil, Colombia and Peru.