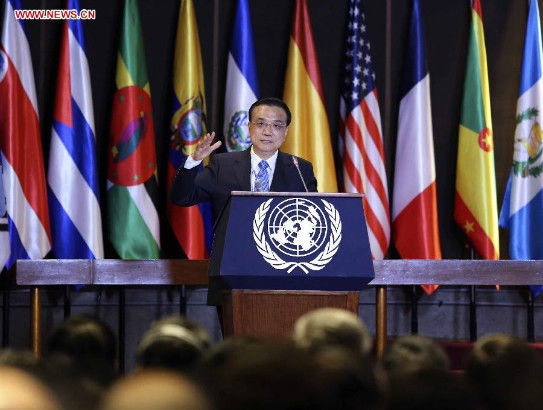 Chinese Premier Li Keqiang delivers a speech at the Economic Commission for Latin America and the Caribbean (ECLAC), in Santiago, Chile, May 25, 2015. (Xinhua/Ding Lin)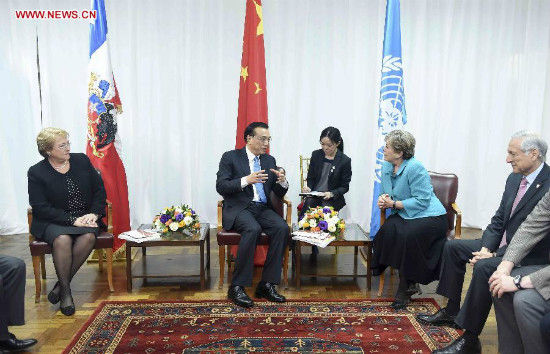 Chinese Premier Li Keqiang (back, 2nd R) meets with Alicia Barcena, executive secretary of the Economic Commission for Latin America and the Caribbean (ECLAC), in Santiago, Chile, May 25, 2015. Chilean President Michelle Bachelet (1st L) attended the meeting. (Xinhua/Zhang Duo)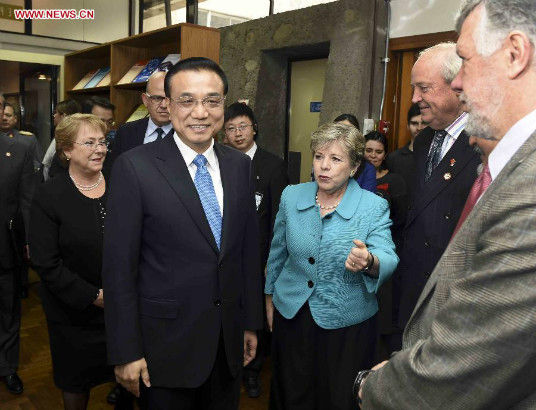 Chinese Premier Li Keqiang (L, front) meets with Alicia Barcena, executive secretary of the United Nations Economic Commission for Latin America and the Caribbean (ECLAC), in Santiago, Chile, May 25, 2015. Chilean President Michelle Bachelet (1st L) attended the meeting. (Xinhua/Zhang Duo)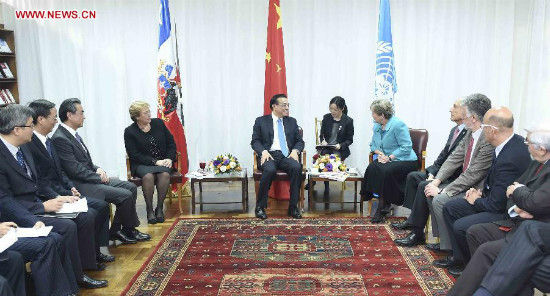 Chinese Premier Li Keqiang (back, C) meets with Alicia Barcena, executive secretary of the United Nations Economic Commission for Latin America and the Caribbean (ECLAC), in Santiago, Chile, May 25, 2015. Chilean President Michelle Bachelet (back, L) attended the meeting. (Xinhua/Zhang Duo)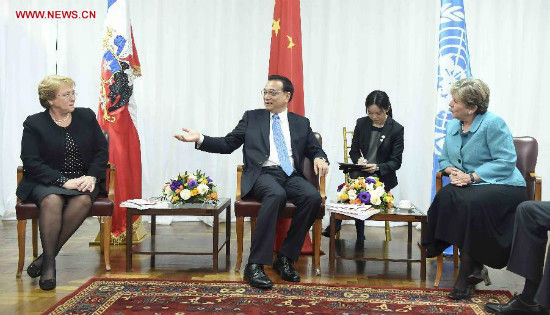 Chinese Premier Li Keqiang (C) meets with Alicia Barcena (R), executive secretary of the United Nations Economic Commission for Latin America and the Caribbean (ECLAC), in Santiago, Chile, May 25, 2015. Chilean President Michelle Bachelet (L) attended the meeting. (Xinhua/Zhang Duo)
SANTIAGO, May 25 (Xinhua) -- Chinese Premier Li Keqiang on Monday called on China and Latin America to enhance cooperation on production capacity and people-to-people exchanges.
The move came as the visiting premier addressed the Santiago-based Economic Commission for Latin America and the Caribbean (ECLAC) after he briefly met with Alicia Barcena, executive secretary of the UN body.
In his speech, Li made a four-point proposal which he described as "the four pillars" of the China-Latin America cooperation.
They include reinforcing traditional friendship and mutual trust, mutual benefit and win-win cooperation, mutual learning between civilizations as well as China's overall cooperation with regional organizations in the area.
PRODUCTION CAPACITY COOPERATION
Against the backdrop of the slow recovery of the global economy, countries should make use of their complementary advantages and strive to develop real economy, Li said, encouraging countries to expand infrastructure construction to lever the development of the equipment manufacturing and related service sector, in order to boost economic growth.
International production capacity cooperation, which involves bringing in facilities, production lines, technology and management experience from other countries according to one nation's own needs, will effectively reduce infrastructure construction cost, create jobs for the local communities, and promote the diversified development of domestic industries, he said.
"It is the right time for the Sino-Latin American production capacity cooperation, as China has cost-effective equipment and technology while Latin America needs infrastructure construction and industrial upgrading", Li said.
The cooperation, which is also open to the United States and Europe that enjoy developed technologies, is expected to achieve win-win results and mutual development, Li said, pointing out that production capacity cooperation is a new approach for deepening the North-South cooperation.
He pledged that China stands ready to invest in this area's production lines to roll out more building materials needed by the local iron and steel, power and infrastructure sectors.
Li also touched on China's economic growth in his speech, saying that the world's second largest economy is capable of keeping its economic growth within a proper range, though the country is facing considerable downward pressure.
During his trip to Brazil last week, Li announced that Beijing will establish a 30-billion-U.S.-dollar special fund for promoting China-Latin America cooperation in production capacity and equipment manufacturing. The premier said the fund will be channeled directly to cooperation projects with no political strings attached.
"THREE TIMES THREE" NEW COOPERATION MODEL
Li said that China and Latin America should consolidate political mutual trust amid reaffirmed traditional friendship, vowing to have more frequent high-level exchanges with the region.
The premier called for the upgrading of economic and trade cooperation between China and Latin America, and reiterated his proposal of the new mode of production capacity cooperation dubbed "three times three."
Li proposed the joint construction of three passages for logistics, electric power and information so as to achieve interconnection on the South American continent.
He said the new mode of China-Latin America production capacity cooperation should follow the rules of the market economy, in a bid to achieve sound interaction among the three entities of private sector, society and the government.
Li called on the two sides to facilitate the construction of their cooperative projects by expanding three financing channels, namely funding, credit loans and insurance.
Li also stressed the importance of people-to-people exchange, one of the indispensable pillars supporting the cooperation between China and Latin America.
He urged the two sides to enhance youth exchanges and promised that China will increase the number of its university scholarships for Spanish and Portuguese speaking countries.
Li said that China is willing to continue to enhance dialogue and cooperation with regional organizations in Latin America to push forward its overall cooperation with the area.
Meeting with Barcena, Li said that China is willing to expand cooperation with ECLAC in areas including production capacity, equipment manufacturing, infrastructure construction and finance to achieve mutual benefits and a win-win situation.
On her part, Barcena said that she expects that the practical cooperation between Latin America and China could go beyond general trade in the future and develop in areas including two-way investment and financial cooperation.
China is the second largest trade partner of Latin America. In 2014, two-way trade between them hit 263.6 billion U.S. dollars, a 20-fold increase from the total value in 2000. China's investment in the region also surged to more than 80 billion dollars last year.
Li's visit came four months after the first ministerial meeting of the Forum of China and the Community of Latin American and Caribbean States in Beijing, where China and Latin American countries agreed to increase their trade to 500 billion dollars by 2025. China also pledged to bring its accumulative investment in the region to 250 billion dollars by then.
Chile is the last leg of Li's four-nation tour to Latin America, which has already taken him to Brazil, Colombia and Peru.