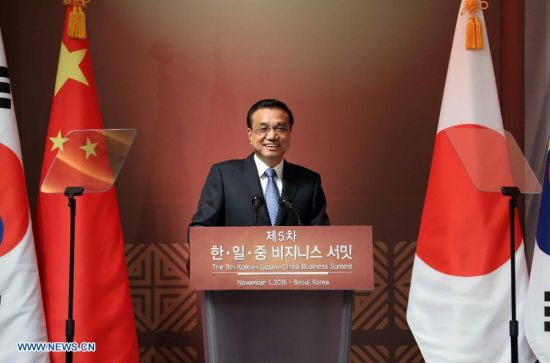 Chinese Premier Li Keqiang addresses the 5th Korea-Japan-China Business Summit in Seoul, South Korea, Nov. 1, 2015. (Xinhua/Liu Weibing)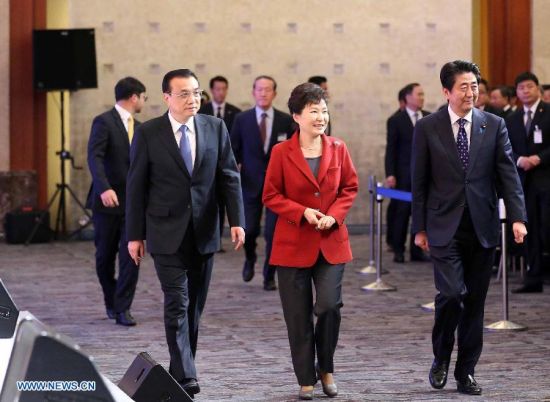 Chinese Premier Li Keqiang (L), Japanese Prime Minister Shinzo Abe (R) and South Korean President Park Geun-hye attend the 5th Korea-Japan-China Business Summit in Seoul, South Korea, Nov. 1, 2015. (Xinhua/Liu Weibing)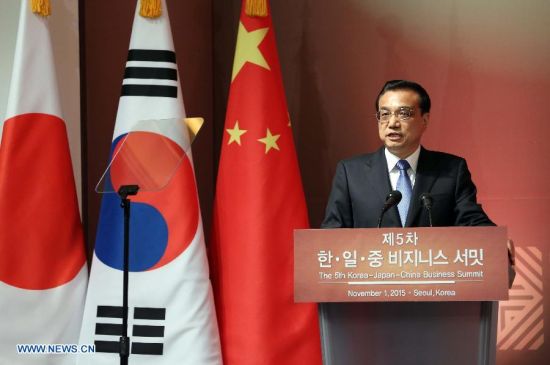 Chinese Premier Li Keqiang addresses the 5th Korea-Japan-China Business Summit in Seoul, South Korea, Nov. 1, 2015. (Xinhua/Yao Dawei)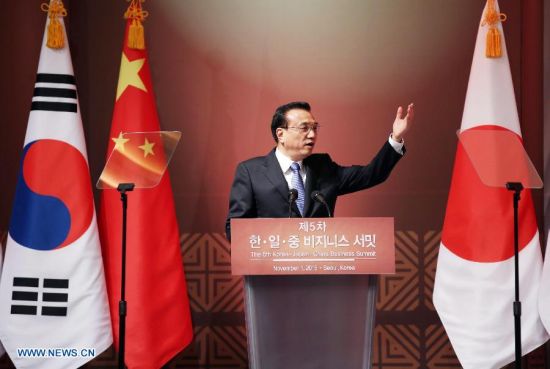 Chinese Premier Li Keqiang addresses the 5th Korea-Japan-China Business Summit in Seoul, South Korea, Nov. 1, 2015. (Xinhua/Liu Weibing)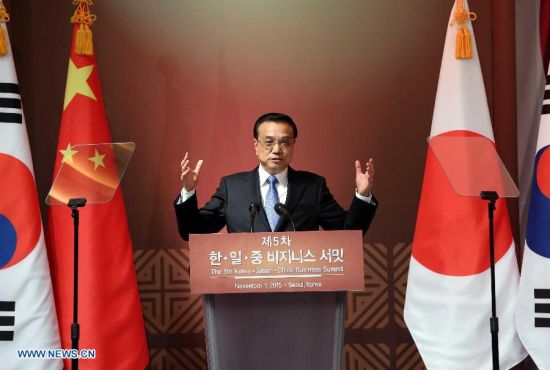 Chinese Premier Li Keqiang addresses the 5th Korea-Japan-China Business Summit in Seoul, South Korea, Nov. 1, 2015. (Xinhua/Yao Dawei)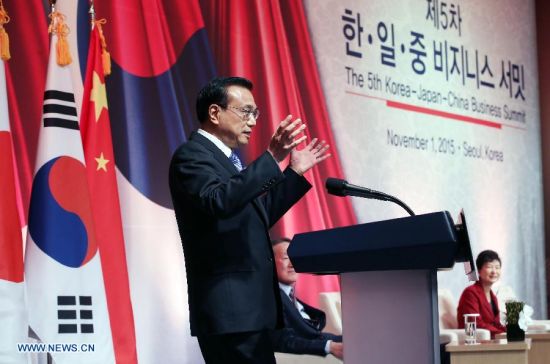 Chinese Premier Li Keqiang addresses the 5th Korea-Japan-China Business Summit in Seoul, South Korea, Nov. 1, 2015. (Xinhua/Liu Weibing)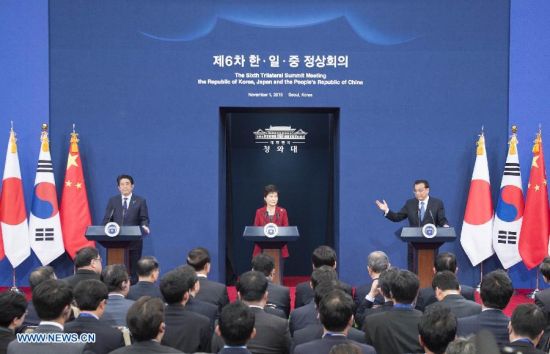 Chinese Premier Li Keqiang (R), Japanese Prime Minister Shinzo Abe (L) and South Korean President Park Geun-hye attend a press conference after the sixth China-Japan-South Korea leaders' meeting in the South Korean capital of Seoul, Nov. 1, 2015. (Xinhua/Wang Ye)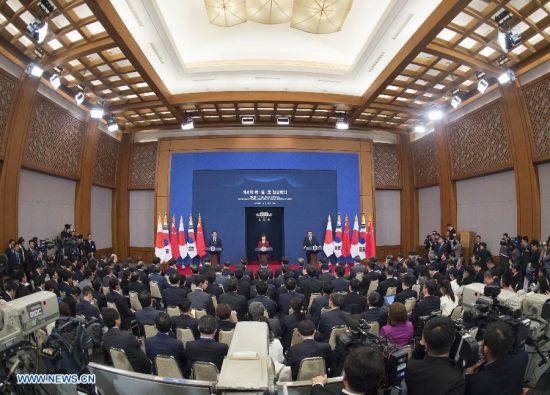 Chinese Premier Li Keqiang, Japanese Prime Minister Shinzo Abe and South Korean President Park Geun-hye attend a press conference after the sixth China-Japan-South Korea leaders' meeting in the South Korean capital of Seoul, Nov. 1, 2015. (Xinhua/Wang Ye)
Chinese Premier Li Keqiang attends a press conference after the sixth China-Japan-South Korea leaders' meeting in the South Korean capital of Seoul, Nov. 1, 2015. (Xinhua/Wang Ye)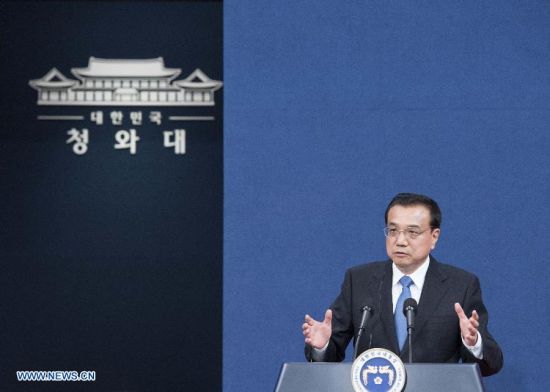 hinese Premier Li Keqiang attends a press conference after the sixth China-Japan-South Korea leaders' meeting in the South Korean capital of Seoul, Nov. 1, 2015. (Xinhua/Wang Ye)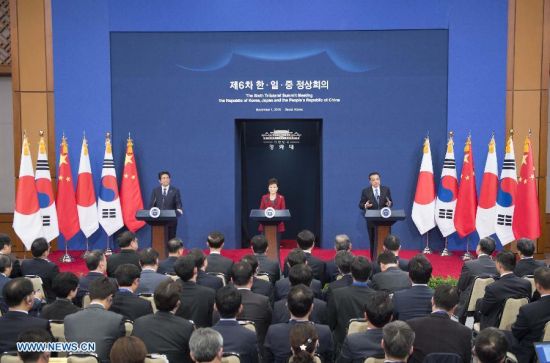 Chinese Premier Li Keqiang (R), Japanese Prime Minister Shinzo Abe (L) and South Korean President Park Geun-hye attend a press conference after the sixth China-Japan-South Korea leaders' meeting in the South Korean capital of Seoul, Nov. 1, 2015. (Xinhua/Wang Ye)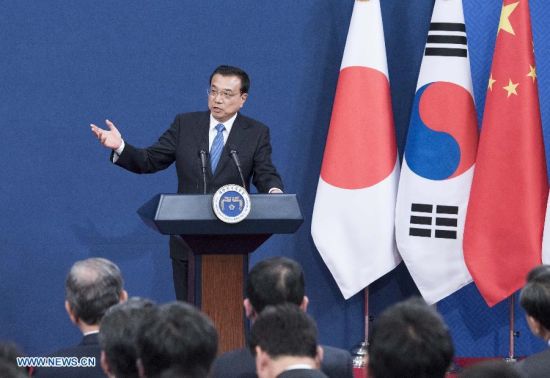 Chinese Premier Li Keqiang attends a press conference after the sixth China-Japan-South Korea leaders' meeting in the South Korean capital of Seoul, Nov. 1, 2015. (Xinhua/Wang Ye)
China, Japan and South Korea should expand trade and tap mutual investment potential to promote growth of the three East Asian neighbors amid weak economic growth worldwide, Chinese Premier Li Keqiang said on Sunday.
The proposal came as Li addressed the China-Japan-South Korea business summit hours after he met with South Korean President Park Geun-hye and Japanese Prime Minister Shinzo Abe in the widely-watched trilateral summit that had resumed after a three-and-half-year break.
The three countries should open their markets wider to each other, Li said.
Statistics show that China stands as the largest trading partner of Japan and South Korea, while Japan is China's second largest single-country trading partner and South Korea being the third, with the trade volume among them in 2013 adding up to over 681 billion US dollars.
The three countries, whose combined GDP accounts for 20 percent of that of the whole world, constitute one of the three largest economic blocks worldwide, along with the European Union (EU) and North America.
However, trade among them only accounts for around 20 percent of their combined volume of foreign trade, much lower than the 63 percent of the EU and 40 percent of North America, leaving much room for improvement.
Tripartite economic cooperation of China, Japan and South Korea, Li said, will benefit regional and global development as a whole.
He also urged the three countries to fast-track their protracted negotiation on the China-Japan-South Korea free trade zone (FTA) which started in 2012.
The next round of negotiation, scheduled at the end of this year, might include talks on commodity tariff reduction and services market access.
The Chinese premier called on the three countries to implement the trilateral agreement for promotion, facilitation and protection of investment, which was signed last year to tap the potential of mutual investment among them.
"As always, we welcome enterprises from Japan and South Korea to invest and start business in China," he said.
Li stressed that the three nations can carry out production capacity cooperation to achieve tripartite wins.
Underscoring the importance of innovation in the three countries' economic growth and industry competitiveness, he said that China, Japan and South Korea can build up synergies in their own development strategies to create new growth momentum.
Li also urged the three nations to enhance people-to-people exchanges to boost the number of visitors between them to 30 million by 2020.
Talking about the Chinese economy, Li said the world's second-largest economy needs annual growth of at least 6.5 percent in the next five years to meet the government's goal of establishing a "moderately prosperous society."
"At that time, China's GDP will reach 17 trillion dollars," he said.
Li's proposal on tripartite cooperation was echoed by a joint declaration issued by China, Japan and South Korea after the three-way summit.
The document said the three nations will make full use of the high complementarities and great potential of the three economies.
"We will further strengthen economic and trade relations, and deepen the convergence of interests," it said.
The three economies agreed to make efforts to accelerate the trilateral FTA negotiation to make it "comprehensive, high-level and mutually beneficial," according to the document.
China, Japan and South Korea will explore ways to strengthen trilateral cooperation in new industries such as healthcare, e-commerce and software, and bolster cooperation through information-sharing and policy coordination among their financial authorities to promote growth and maintain financial stability in the region, it said.
The three countries have also agreed to enhance cooperation in production capacity in the fourth-party market, science and innovation, energy, logistics, employment, food safety and intellectual property rights, read the joint declaration.