Radiation 'normal so far' as China evaluates impact of N.Korea's nuclear test
2016-01-07 00:22:26 GMT
2016-01-07 08:22:26(Beijing Time)
Global Times
China's Ministry of Environmental Protection (MEP) is evaluating the impact of the North Korean "hydrogen bomb" test, with radiation monitoring at the China-North Korea border area so far reported as normal.
Foreign ministry spokeswoman Hua Chunying said Wednesday that the MEP is analyzing the radiation data collected along the border.
"The radiation level is normal so far," Hua said.
"It's not the first time North Korean nuclear tests have caused earth tremors in our city, but we're still very concerned about the radiation caused by the test, as we fear it may be dangerous to our health," Han Yunqing, a resident of Yanji, told the Global Times Wednesday.
Yanji is only 10 kilometers from the China-North Korea border.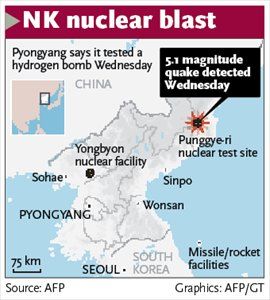 N Korea claims successful H-bomb test

Nuclear footsteps
According to China Central Television, during the North Korean nuclear test, an earthquake was felt by residents in the Yanji, Hunchun and Changbai areas of Jilin Province. A playground at a Jilin high school cracked due to the tremors, which led to the immediate evacuation of all students, interrupting an examination.
The test site, in the northeast of the country at the Punggye-ri nuclear site, is only 100 kilometers from the Chinese border.
The seismic activity caused by Wednesday's nuclear test was at a magnitude of 4.8 on an explosive power of 6 kilotons, the Xinhua News Agency reported.
Lü Chao, a researcher at the Liaoning Academy of Social Sciences, said the North Korean nuclear test will likely cause anxiety among Chinese residents living near the border.
"North Korean nuclear devices may not be optimized in their design, and the bomb materials may not be reliable yet. If there are any leaks [of radioactive material], it could have a serious impact on air and water quality near the border," Lü told the Global Times.
Pan Su, chief of the monitoring and emergency department at the National Nuclear Safety Administration, told thepaper.cn Wednesday that more than 20 monitoring stations have started taking samples, while experts are on their way to the northeast.
Questions remain
Despite its claims, North Korea's nuclear test may not have been a hydrogen bomb, since it requires sophisticated technologies which North Korea is unlikely to possess, experts said.
"It's hard to believe that North Korea can successfully develop a hydrogen bomb without other nations' help, since the country's industrial capability might not be enough to produce a hydrogen bomb," said Zhai Dequan, a research fellow at the China Arms Control and Disarmament Association.
"Developing a hydrogen bomb requires sophisticated technologies, so the so-called hydrogen bomb is likely a mini-type nuclear device, somewhere between a conventional one and a hydrogen bomb," said Jin Qiangyi, director of the Asia Research Center at Yanbian University.
A South Korean military official said on Wednesday that North Korea conducted another ejection test of a ballistic missile from a submarine last month which seemingly ended in failure, adding that it is expected to take "considerable time" for the secretive country to master submarine-launched ballistic missile-related technology, the Yonhap News Agency reported.