Wealthy Cantonese bride dresses gold on wedding
2016-01-12 03:25:51 GMT
2016-01-12 11:25:51(Beijing Time)
SINA English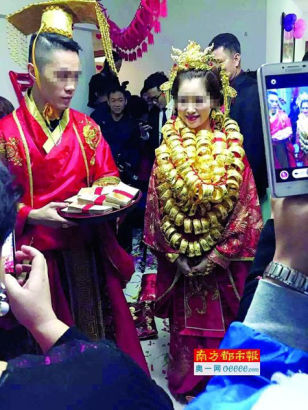 The bride and groom on a luxurious wedding in Sanxiang county, Zhongshan city of Guangdong province on January, 11, 2016.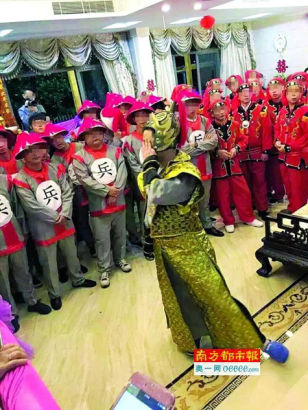 The groom was dressed in a Qin-style costume, while his friends and relatives were wearing the uniform of soldiers at Qing Dynasty.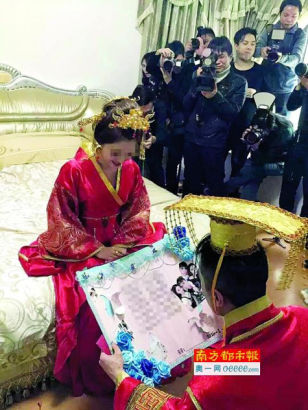 The groom read vows to the bride.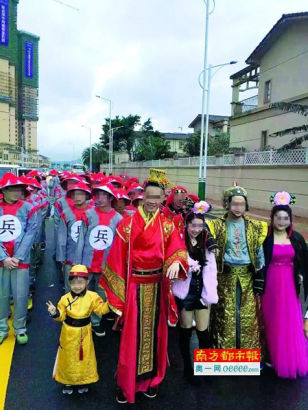 The groom escorted the bride with friends and relatives.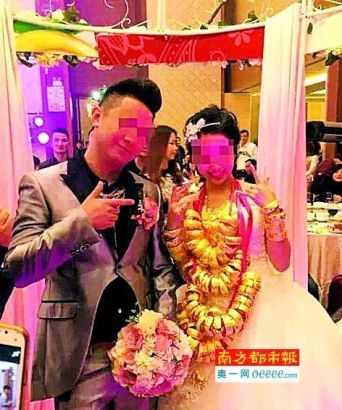 The groom was said to come from an affluent family in Macao.
Luxury cars, historical costumes, stacks of cash and piles of jewelry. This is the wedding of a young couple from wealthy families in Sanxiang county, Zhongshan city of Guangdong province.
"I thought they were making a movie, with all those people dressed up like that, but they said they were friends and relatives escorting the bride," said Mr. Yang, who lives in the neighborhood.
Ironically, Yang found that the groom was wearing a general-like costume from Qin Dynasty, while the relatives were all dressed in soldier uniforms of Qing Dynasty -- the time difference was almost 2,000 years.
The bride was wearing gold bangles all over her chest and belly. Her hair was also bounded by a golden crown. Photos also showed that there were stacks of 100-yuan bank notes and pieces of jewelry in her family.
It is learned that the groom is from a rich family in Macao, and only the cash gift that he presented to the bride was 2.8 million yuan ($ 444,444). But this was not confirmed.