US seeks 'interests of exchange' with China after latest cruise near Nansha Islands
2017-08-11 01:56:32 GMT
2017-08-11 09:56:32(Beijing Time)
Agencies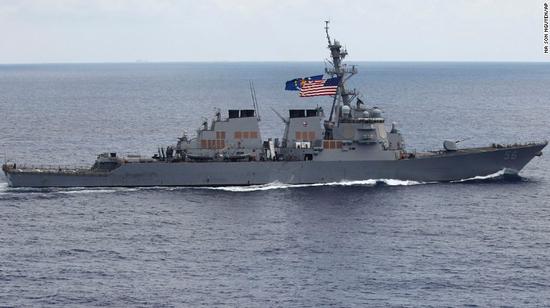 The USS John S. McCain, shown in 2011. It sailed close to a Chinese man-made island on Thursday in a "freedom of navigation" operation in the disputed South China Sea.
Chinese experts said the US wants to trade for China's cooperation on the Korean Peninsula issue by hyping its naval operations in the South China Sea, after a US Navy destroyer carried out a "freedom of navigation operation" on Thursday within 12 nautical miles of an island of the Nansha Islands.
US officials, speaking on condition of anonymity, were quoted by Reuters as saying that the USS John S. McCain traveled close to the Meiji Reef in the Nansha Islands, among a string of islets, reefs and shoals on Thursday.
It was the third "freedom of navigation operation" conducted during US President Donald Trump's presidency.
"By adding presence in the South China Sea, the Trump administration wants to tell China that it could hype the South China Sea issue as well as play it down if China cooperates more with the US on the North Korea nuclear issue. This is the 'interests of exchange,'" Liu Weidong, a research fellow at the Institute of American Studies of the China Academy of Social Sciences, told the Global Times on Thursday.
The Trump administration has always wanted China to rein in North Korea and it has expressed its disappointment, Liu said, adding that the US should be aware that China will not fully cooperate with the US.
"The US' wrong strategy lies at the heart of the North Korea issue and it is a problem between the US and North Korea. China has firmly implemented all resolutions made by the UN Security Council. China's role in solving the problem has been noted and it will not trade with other countries," Zhang Junshe, a senior research fellow at the PLA Naval Military Studies Research Institute, told the Global Times.
The US also thinks it responded to some Southeast Asian countries, who expect more US involvement on the South China Sea issue, Liu said, noting the friction between China and Vietnam on the just-concluded ASEAN meetings.
A scheduled meeting between the foreign ministers of China and Vietnam was canceled on the sidelines of ASEAN meetings, Reuters reported.
"The US is the trouble maker in the South China Sea and has undermined regional stability," Zhang said.
The Korean Peninsula nuclear issue is an urgent security issue between China and the US, but Sino-US ties cover wider fields. And the issue will not lead to a confrontation between the two sides, Liu said.
Tensions have risen after North Korea carried out two nuclear tests last year and two inter-continental ballistic missile (ICBM) tests last month, prompting a round of tough UN sanctions which have angered Pyongyang. Pyongyang has threatened to teach the US a "severe lesson," Reuters reported.