Xi, Duterte meet on strengthening China-Philippines ties
2017-11-12 03:46:52 GMT
2017-11-12 11:46:52(Beijing Time)
Xinhua English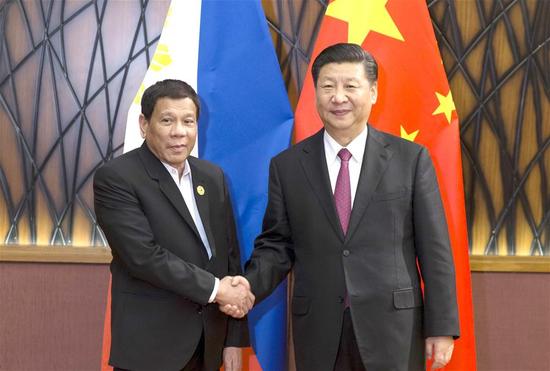 Chinese President Xi Jinping (R) meets with Philippine President Rodrigo Duterte in Da Nang, Vietnam, Nov. 11, 2017. (Xinhua/Fei Maohua)
DA NANG, Vietnam, Nov. 11 (Xinhua) -- Chinese President XiJinping met here Saturday with Philippine President Rodrigo Duterteon strengthening bilateral ties on the sidelines of theAsia-Pacific Economic Cooperation Economic Leaders' Meeting.
Xi said that since Duterte's visit to China in October lastyear, bilateral ties have opened a new chapter.
With the two countries' cooperation enhanced, China-Philippinesrelations have seen healthy and stable development, bringingtangible benefits to both peoples and contributing to the region'speace and stability, he added.
Xi said good-neighborliness and friendliness is the rightdirection guiding China-Philippines relations, and China, togetherwith the Philippines, is willing to continue considering thebilateral ties from a strategic and long-term perspective,enhancing political mutual trust, deepening cooperation andbringing more benefits to the two peoples.
Xi said the 19th National Congress of the Communist Party ofChina (CPC) concluded last month set the goal for China for aperiod in the future.
China's development needs an environment of lasting peace andstability, he added, noting that China will continue the road ofpeaceful development, as well as opening up and win-wincooperation.
China will treat neighboring countries with amity, sincerity,mutual benefit and inclusiveness, pushing forward the building of acommunity with a shared future for mankind, said Xi.
He said relations between the two countries stand on a newstarting point, adding that they should enhance high-levelexchanges, so as to ensure the development of bilateral relationson a right track.
He said the two sides should align the Belt and Road Initiativewith the Philippines' development strategy, and deepen practicalcooperation in infrastructure, agriculture, investment and otherareas.
Xi said China is willing to offer assistance to the Philippineson poverty reduction, and continue support for the Philippinegovernment's effort to safeguard national security.
Xi also said China is to work with ASEAN countries to maintainpeace and stability, as well as development and prosperity in theSouth China Sea region.
Noting the great importance of bilateral ties, Duterte said thePhilippines regards China as a sincere friend and is grateful forChina's assistance on economy, anti-terrorism and maintainingstability.
He said the Philippines is willing to properly handle maritimeissues through bilateral channels in accordance with consensusreached by the two sides. Enditem