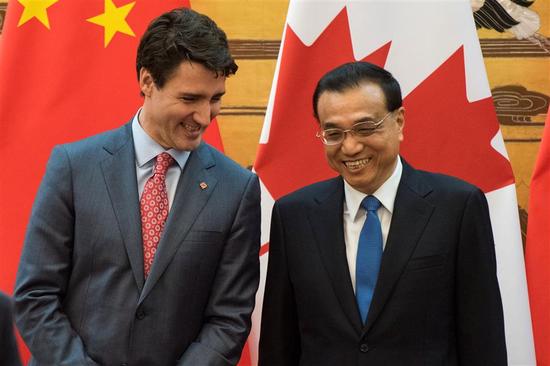 Chinese Premier Li Keqiang (right) and Canadian Prime Minister Justin Trudeau share a light moment during a signing ceremony at the Great Hall of the People in Beijing yesterday.
Chinese Premier Li Keqiang and visiting Canadian Prime Minister Justin Trudeau signed three trade agreements yesterday as Ottawa tries to diversify commercial ties amid tough NAFTA negotiations with Washington.
At a ceremony in the Great Hall of the People in Beijing, the two leaders signed an action plan on energy cooperation as well as two memoranda of understanding on food products and a "Canada learning initiative."
"The opportunities for deepening our economic and people-to-people ties are tremendous," Trudeau said in opening remarks.
"Canada is deeply interested in further engagement and trade across the Pacific and I know we're going to continue to have wonderful and fruitful discussions," he added.
Li told Trudeau it was rare for China to have such a "close, intimate relationship" with another nation. "China-Canada relations are indeed headed toward a golden stage," he said.
Li visited Ottawa in September last year, when the two sides agreed to double bilateral commerce by 2025.
Li said the two countries will continue to work on exploratory talks and feasibility studies for a trade agreement, and his discussions with Trudeau had also touched on human rights and the rule of law.
Mutural understanding
"Both sides should view that, due to the different national circumstances, it is only natural that we don't see eye-to-eye on some issues. As long as we act on the principles of mutual respect, equality and mutual benefit, then we can seek mutual understanding and further promote this bilateral relationship," Li said.
Trudeau said Canada was committed to "pursuing progressive trade that benefits everyone," both with China and other economic partners, describing that as "trade that puts people first and reflects Canadian values, especially when it comes to labor, the environment and gender."
"We believe that done properly, a trade agreement will benefit both countries, creating jobs, strengthening the middle class and growing our economies," Trudeau said. "It's an opportunity that makes sense for Canadian businesses. Canada is and always has been a trading nation, but the landscape of trade is shifting and we need to adjust to it."
During the December 3-7 official visit, Trudeau will meet government and business leaders as part of Canada's concerted push to diversify its trade, the bulk of which is currently with the United States.
Trudeau will meet President Xi Jinping today.
Accompanied by four ministers, Trudeau started yesterday with a visit to a social media giant where he talked up the advantages of travel to Canada.
Canadian beer and wine
At Sina, owner of the popular Twitter-like Weibo microblogging service, Trudeau took part in a panel discussion that touched on Canadian tourism attractions, as well as the nation's beer and wine.
Next year marks the China-Canada year of tourism and Canada is hoping to double the number of Chinese tourist arrivals.
Ties between the two countries have long been close, and under Trudeau, the two heads of government have agreed to meet annually in addition to holding a range of dialogues on various issues.
The visit to China is Trudeau's second since he came to power two years ago, and comes as trilateral talks with the US and Mexico to revamp the North American Free Trade Agreement appear to be headed toward a deadlock. Canada and Mexico staunchly oppose US proposals for a NAFTA sunset clause and canceling the pact's trade dispute mechanism.
Washington has adopted a more protectionist tone under President Donald Trump and his "America First" policy.
China, meanwhile, has openly courted increased trade with Canada, including calling for a free trade deal.
China is currently Canada's second-largest trading partner, far behind the US, with annual bilateral trade worth more than Can$85 billion (US$67 billion).
China largely imports wood and agricultural products, ore, fuels and seafood from Canada, while Canada imports machinery, furniture and sporting goods and textiles from China.
Trudeau is popular in China, where citizens have affectionately nicknamed him "Little potato," as his surname sounds similar to the word "potato" in Mandarin. His father, who established diplomatic ties with China in 1970, was named "senior potato."
Some Internet users on domestic social media platforms focused on Trudeau's appearance, with one commentator describing him as "the most handsome foreign leader."