China, Mekong countries have huge potential for cooperation
2018-01-12 01:46:27 GMT
2018-01-12 09:46:27(Beijing Time)
Xinhua English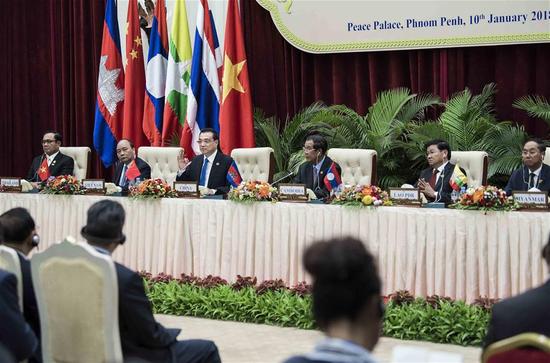 Chinese Premier Li Keqiang attends the second Lancang-Mekong Cooperation (LMC) leaders' meeting in Phnom Penh, Cambodia, Jan. 10, 2018. (Xinhua/Zhang Duo)
BEIJING, Jan. 11 (Xinhua) -- China and five Mekong Rivercountries have huge potential for economic and trade cooperation,the Ministry of Commerce (MOC) said Thursday.
Trade between China and the five Mekong countries, which includeCambodia, Laos, Myanmar, Thailand and Vietnam, has seen rapidgrowth, MOC spokesperson Gao Feng said at a press conference.
"In the first 11 months of 2017, the trade volume between Chinaand the Mekong countries reached 200.9 billion U.S. dollars, up 16percent year on year, higher than the overall growth rate ofChina's foreign trade, indicating huge potential," Gao said.
China is increasing investment in Mekong countries, with directinvestment in the non-financial sector up 25 percent year on yearto reach 3.2 billion U.S. dollars, according to Gao.
China is the largest source of foreign investment for Cambodia,Laos, Myanmar, and the third and fourth-biggest source for Thailandand Vietnam in 2017, respectively, said Gao.
Chinese enterprises have also made progress in constructingeconomic and trade cooperation zones in as well as infrastructurecooperation with the Mekong countries, according to Gao.
"China is Cambodia's biggest trading partner and largest sourceof imports, and the value of bilateral trade reached 5.27 billionU.S. dollars in the first 11 months of 2017, achieving the annualgoal of 5 billion U.S. dollars set by leaders of the two countriesin advance," Gao said.
As the largest source of foreign investment for Cambodia,China's investment reached 12.57 billion U.S. dollars by the end ofOctober last year, accounting for more than one-third of thecountry's total, data from the Council for the Development ofCambodia showed.
Chinese Premier Li Keqiang attended Wednesday the secondLancang-Mekong Cooperation (LMC) leaders' meeting in Cambodia,which approved a five-year action plan (2018-2022), charting thecourse for the LMC's development into the next decade.
Initiated by China in 2014, the LMC framework spansconnectivity, production capacity, cross-border economiccooperation, water resources management, and agriculture andpoverty reduction.
The first LMC leaders' meeting was held in Sanya of China'sHainan Province in March 2016. The Lancang River originates on theQinghai-Tibet Plateau in southwestern China. It is called theMekong River as it flows through Myanmar, Laos, Thailand, Cambodiaand Vietnam before emptying into the sea. Enditem