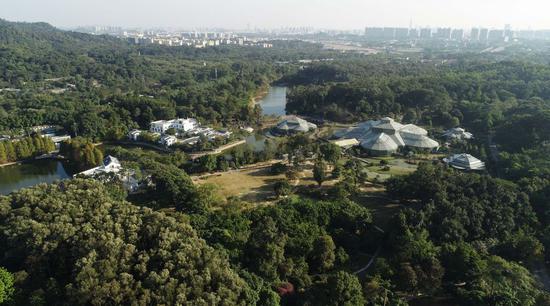 Aerial photo taken on Dec. 3, 2019 shows a view of the South China Botanical Garden in Guangzhou, south China's Guangdong Province. (Xinhua/Deng Hua)
GUANGZHOU, Dec. 4 (Xinhua) -- For many ordinary Chinese, the Amazon rainforest represents the most pristine and perilous side of nature, conjuring the images of exotic pythons and piranhas. But for Chinese scientists, it is a new frontier of foreign cooperation.
As South China Botanical Garden, a leading institute for plant and ecological research in China, marked its 90th anniversary on Wednesday, many praised its work with the Amazon in recent years.
The institute, which has been training scientists in Amazon countries since 2008, has shed light on China's evolution from a latecomer in botany research to a key contributor to biodiversity study in the Amazon Jungle.
BEARING FRUITS
The rainforest in South America's Amazon basin is home to about one-tenth of the world's plant species. For centuries, The 550-million-hectare jungle has been a hotspot of global botany research.
In 2006, Peru proposed to work with China on biodiversity. The South China Botanical Garden, located in the southern province of Guangdong, was selected as the Chinese partner.
"South China boasts a climate that is comparable to that in the Amazon, so we were indeed the right institute to take up the challenge," recalled Ren Hai, director of the botanical garden.
It is probably the first time Chinese botanists cast their vision abroad, Ren said, as China, a latecomer in this field, had mainly focused on its own plant resources prior to the 21st century.
Two years later, the cooperation was officially launched in China with a three-week training course for Peruvian researchers, followed by joint field research in the Amazon Jungle.
Since then, the garden has signed cooperation agreements to train biodiversity professionals for universities and research institutes in South American countries like Colombia, Ecuador and Bolivia.
Yu Yan, deputy director of project management and foreign affairs department of the garden, said their training courses have been attended by over 100 young researchers from Amazon, African and Southeast Asian countries in the past decade.
In 2015, building on the findings of several joint research projects, a laboratory was established in Peru, co-founded by the South China Botanical Garden and the Peruvian National University of San Marcos, to research and develop plants of high economic and agricultural value.
Marinoli Rivas, professor of biological sciences at the National University of San Marcos, first studied at the South China Botanical Garden six years ago. She had been expectant of the study after having read many botanical papers authored by Chinese scientists.
"Peru has its shares of the Amazon rainforest and the Andes, both rich in fauna and flora, so there is really a lot of work to do in my country," the professor said. "I believe the joint lab is bearing fruits and providing much support to Peruvian researchers."
HIGHER EXPECTATIONS
Chinese cooperation on Amazon's biodiversity research is thriving as the international community places higher expectations on China's green development, said Ge Xuejun, a professor with the joint lab.
China is among the first signatories of the document Convention on Biological Diversity, also called the Biodiversity Treaty, created in 1992 to promote the conservation of biodiversity and sustainable use and equitable sharing of genetic resources.
"As a developing country, China's experience in implementing long-term scientific research programs with limited funds may be conducive to other developing countries," Ge said.
Botanists attending Wednesday's ceremony recognized China's contributions to global biodiversity research with its abundant natural resources, increasing investment in scientific research and a fast-growing legion of young researchers, as well as its cooperation model that stresses mutual benefit and reciprocity.
Ren on Wednesday highlighted global cooperation in the garden's next 10-year plan, including with its counterparts in South America and other global plant conservation institutes.
The institute will also hold training courses every two years to share Chinese experience with plant conservation scientists in Amazon countries and others in the developing world.