Cooperation only right choice for humanity in war with virus
2020-03-26 06:21:22 GMT
2020-03-26 14:21:22(Beijing Time)
Xinhua English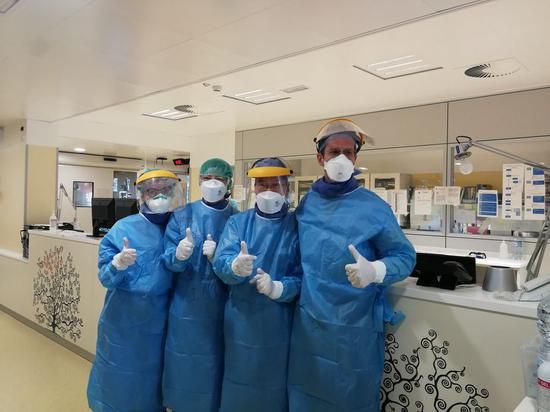 Chinese medical team experts and Italian doctors pose for a photo in Padua, Italy, March 18, 2020. (Chinese Medical Team/Handout via Xinhua)
BEIJING, March 25 (Xinhua) -- As the novel coronavirus epidemic further extends its global reach, a united and coordinated response is in urgent need. The Group of Twenty (G20) has an important role to play in the fight, just as it did in the global financial crisis in 2008.
Virus knows no borders and no country could win the battle alone. When millions of lives and the global economy are in peril, not a second should be squandered. The G20, which accounts for two-thirds of the world's population and about 85 percent of the global GDP, should lead the way in addressing medical and economic problems and restoring confidence.
A special G20 leaders' video summit on responding to the COVID-19 pandemic will be held on Thursday. Chinese President Xi Jinping will attend in Beijing.
The world has seen enough blame game and finger-pointing since the outbreak of the pandemic. The pointless bickering comes at the cost of an efficient and effective response to the pandemic. It is high time for the G20 to build consensus to inject positive energy into global cooperation to fight the common enemy of mankind.
In the war against the virus, China has firmly upheld the vision of building a community of a shared future for mankind. China has and will continue to share medical supplies, therapeutic and treatment experiences, and solutions with the world. As the epidemic situation in China eases, China will be able to spare more resources to help other countries within its capacity.
The G20 should bring the international community together quickly. Member countries should enhance unity and jointly meet challenges and boost the confidence of the international community.
G20 members should make every effort to properly handle domestic prevention and control. China will do its best to provide timely help to countries in difficulties. It is hoped that G20 members will help each other and cooperate closely to jointly safeguard international public health safety.
The pandemic has taken a heavy toll on the global economy. It is critical for G20 members to strengthen macroeconomic policy coordination, adopt necessary fiscal, monetary and structural policies, promote market openness, and ensure the open, stable, safe and smooth operation of global supply chains.
An important lesson the world has learned from past crises is that a global crisis should be met with a global response. Uncoordinated or unilateral actions by a single economy will produce limited effects and could lead to a vicious cycle of "beggar-thy-neighbor" policies.
The G20 summit is held at a time when the global fight against the COVID-19 has come to a critical moment. The health of millions of people is at stake. We hope and believe the G20 meeting will inject new confidence and energy into the ongoing anti-pandemic efforts.