China donates another batch of material to PNG to help fight against COVID-19
2020-05-13 04:14:05 GMT
2020-05-13 12:14:05(Beijing Time)
Xinhua English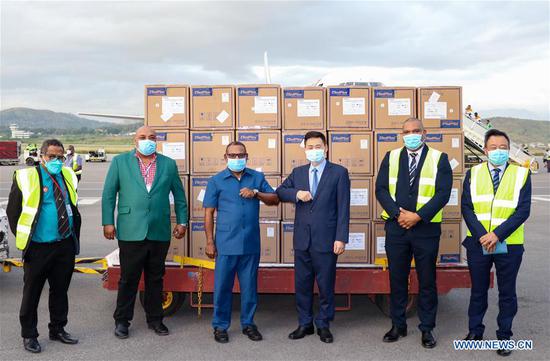 Chinese Ambassador to Papua New Guinea Xue Bing (3rd R) and Foreign Minister of Papua New Guinea Patrick Pruaitch (4th R) attend the donation ceremony in Port Moresby, Papua New Guinea, May 11, 2020. A batch of materials donated by China to help Papua New Guinea fight against COVID-19 arrived at the capital city of Port Moresby on Monday afternoon. (Chinese Embassy in Papua New Guinea/Handout via Xinhua)
SYDNEY, May 12 (Xinhua) -- A batch of materials donated by China to help Papua New Guinea fight against COVID-19 arrived at the capital city of Port Moresby on Monday afternoon.
The 11 tons of protective equipment were donated by the Chinese government, the provincial governments of Fujian and Guangdong in south China, overseas Chinese and Chinese enterprises, according to the Chinese embassy in PNG.
The equipment was the second batch of materials sent to PNG, which showcased the support from the Chinese side, said Chinese Ambassador to PNG Xue Bing, who attended the donating ceremony with PNG Foreign Minister Patrick Pruaitch.
Pruaitch expressed gratitude for the assistance and said the international community needed to have more unity and cooperation to cope with the pandemic. Enditem