US Consulate General in Chengdu ordered to close
2020-07-28 05:56:58 GMT
2020-07-28 13:56:58(Beijing Time)
Sina English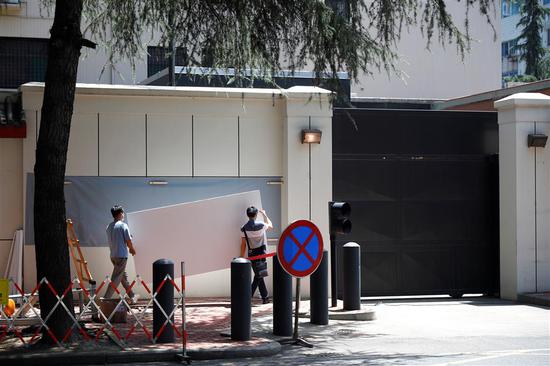 Workers carry a white screen to cover the signage outside the former US Consulate General in Chengdu, Sichuan Province, on Monday.
At 10am on Monday, as required by China, the US Consulate General in Chengdu was closed. Relevant Chinese authorities then entered through the front entrance and took over the premises, the Chinese Foreign Ministry said on its website.
On July 24, the ministry informed the US Embassy in China of its decision to withdraw its consent for the operation of the consulate, a "legitimate and necessary response" to an earlier US unilateral provocation of demanding that China close its Consulate General in Houston.
The American flag was no longer flying at the consulate having been lowered at 6:18am on Monday, according to a video shot by a journalist and shared by state broadcaster CCTV on its Twitter-like Weibo account.
Video footage published on Monday by the US Embassy on Weibo showed US Marines in dress uniform lowering and folding the Stars and Stripes from the front of the consulate, before handing it to consul-general Jim Mullinax.
A US State Department spokesman said the mission's diplomats and their dependents would leave China by August 27.
At midday on Monday, police removed a roadblock that had restricted access to the Chengdu facility, and dozens of passersby stopped to take photos and videos. "We feel very sad about the breaking down of the relationship between China and US," said a bystander outside the facility who said his surname was Li.
Gray sheet-like material was placed over the spot near the entrance where a plaque had been affixed, and over the place where there was large lettering saying "US Consulate General."
"Today, we bid farewell to the US Consulate in Chengdu. We will miss you forever," the US Embassy in Beijing posted on Weibo.
In a separate statement, the consul-general posted that his mission had provided services to more than 200 million people in southwest China, and had given thousands of visas every day to Chinese students and tourists.
The Chengdu consulate opened in 1985 and had almost 200 employees, including about 150 locally hired staff, according to its website. It was not immediately clear how many had been working there at the time of its closure, after US diplomats were evacuated from China because of the coronavirus pandemic.
Chinese foreign ministry spokesperson Wang Wenbin later on Monday dismissed media reports saying the US closure of the consulate was aimed to crack down on theft of commercial secrets, engagement in illegal activities and even espionage over a long period, and served to deter staff working at other Chinese consulates from similar activities, quoting interviews with high-ranking US officials.
"The US remarks are groundless accusations, and are purely slander and defamation," Wang said.
As the first consulate general set up by China after the establishment of diplomatic ties, China's Houston consulate has been committed to promoting mutual understanding among various communities and cooperation in various sectors between the two countries, which has won recognition from various communities in the south of the United States, Wang said.
(Agencies)