Senior CPC official urges BRICS experience-sharing on governance
2020-12-04 03:01:29 GMT
2020-12-04 11:01:29(Beijing Time)
Xinhua English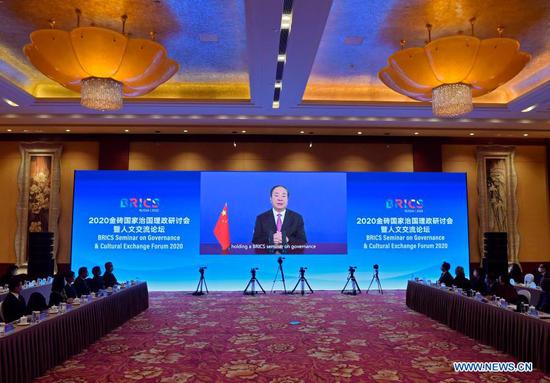 Huang Kunming, a member of the Political Bureau of the Communist Party of China (CPC) Central Committee and head of the Publicity Department of the CPC Central Committee, delivers a keynote speech at the opening ceremony of the 2020 BRICS governance seminar and cultural exchange forum via video link in Beijing, capital of China, Dec. 3, 2020. (Xinhua/Yue Yuewei)
BEIJING, Dec. 3 (Xinhua) -- A senior official of the Communist Party of China (CPC) on Thursday called for strengthened experience-sharing among BRICS countries on matters of governance.
Huang Kunming, a member of the Political Bureau of the CPC Central Committee and head of the Publicity Department of the CPC Central Committee, made the remarks via video link at the opening ceremony of the 2020 BRICS governance seminar and cultural exchange forum.
The fifth plenary session of the 19th Central Committee of the CPC has drawn up the blueprint for China's development over the next five years and even through to the year 2035, fully reflecting the latest developments of Chinese President Xi Jinping's important thoughts on governing the country, Huang said.
The new stage of development is a scientific judgment of China's current situation, he said, adding that the new development philosophy is a clear guide for summarizing domestic and foreign development experiences and opening up a new chapter in modernization. Constructing a new development pattern is an inevitable choice for China to deepen reform and expand opening-up in an all-round way in the new era, he said.
It is hoped that all parties will join hands in fighting against the COVID-19 pandemic, promoting recovery and development, and enhancing pragmatic cooperation in such fields as governance, culture, sports, art, film and youth, Huang said.
The seminar and forum, co-organized by the Publicity Department of the CPC Central Committee, the China Foreign Languages Publishing Administration, the Guang Ming Daily, Rossiyskaya Gazeta and the Russia-China Friendship Association, gathered more than 150 participants from BRICS members. Enditem