Stranded sperm whale was pregnant, baby died
2017-03-17 03:51:01 GMT
2017-03-17 11:51:01(Beijing Time)
Xinhua English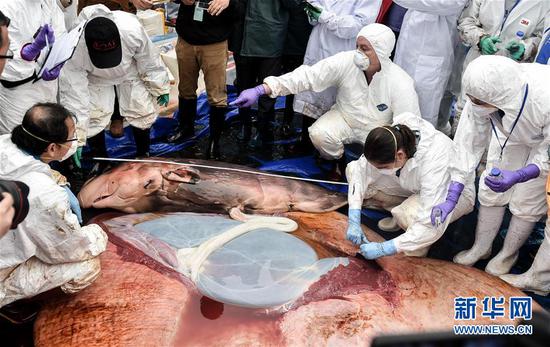 The stranded sperm whale found in Daya Bay, Guangdong province was found pregnant during autopsy. Unfortunately, the baby sperm whale was dead.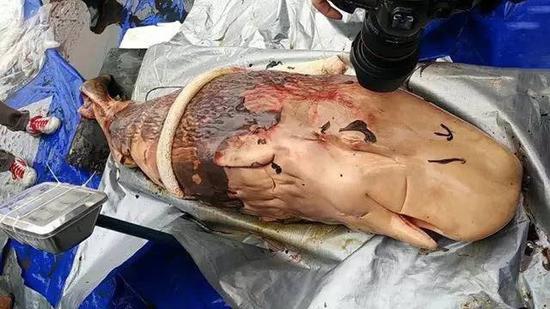 The embryo was male, weighs 110.5 kg and was 2 meters long. This is the first sperm whale placenta found in the world, according to Tong Shenhan, chief of the Institute of Animals in land and water of Xiamen.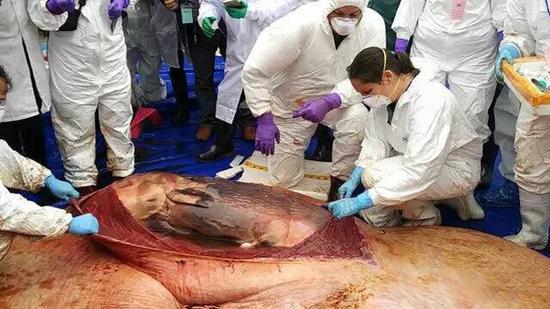 The discovery is significant to the rescue and protection of sperm whales. The fetus is also going to be dissected, which is very difficult and is expected to take a month.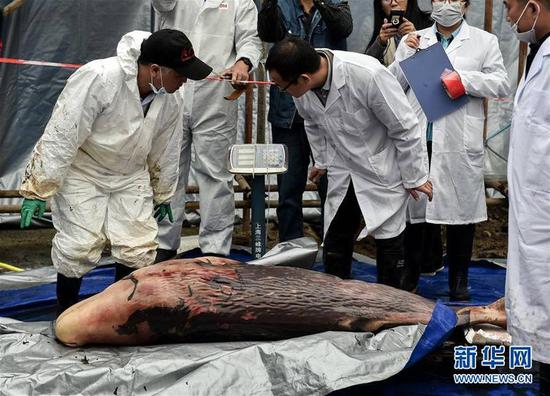 A panel consisted of 20 specialists from Sun Yat-sen University and Hong Kong Ocean Park have taken samples form the sperm whale's skin, fat, muscle, blood and milk. They had also treated the guts. In the next two days, the bones and muscles are going to be separated. Photo shows experts weighs the sperm whale fetus.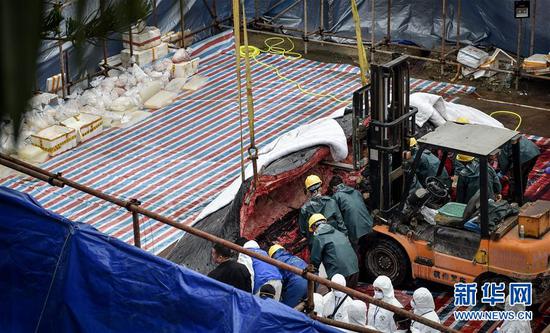 In the morning of March 16, a few experts unexpectedly found milk in the breasts of the stranded sperm whale during the autopsy. Later, a giant millstone-shaped placenta was revealed at 14: 38 when the specialists opened layers of fat and cleaned clumps of dark blood. The 2.64-meter-long placenta was pulled out by 14 people together.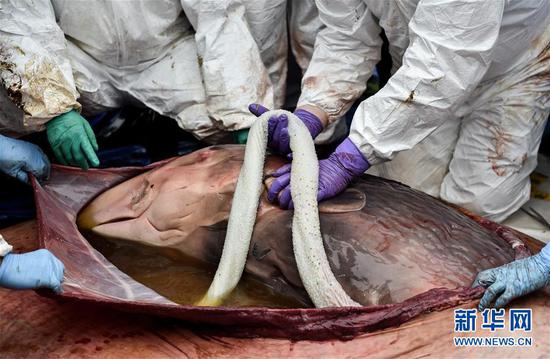 The fetus was taken out of the placenta at 15: 53, after the placenta was cleaned. The fetus was dead, with umbilical cord on its belly.
Photo shows experts and assistants measure length of the whale fetus.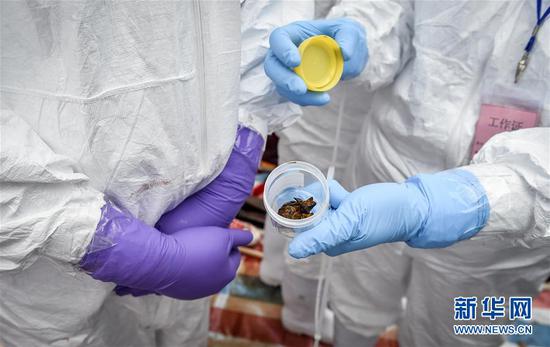 Huizhou city, where the sperm whale was found in its waters, has invited experts of related subjects from all over the country to carry on research and analyze the cause of the sperm whale's death, so as to provide more worthy data and theories. Meanwhile, an exhibition hall about sperm whales is going to be established in the city, to raise public awareness of ocean protection.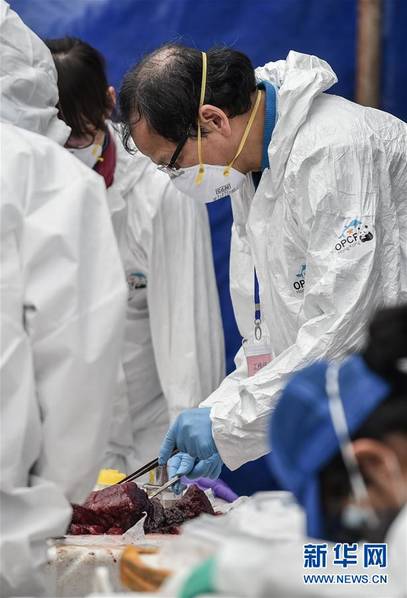 The sperm whale had stayed in the Dayawan Bay for four days and three nights. It was first seen trapped in fishing nets. After being freed, authorities and zoologists tried to guide it back to the deep sea. However, it continued to swim in shallow waters off Shenzhen and Huizhou cities and was confirmed to have been stranded near the wharf on Tuesday afternoon. People from Huizhou, Shenzhen and Hongkong all participated in the rescue, and it was in national focus through media coverage.Photo shows staff members from Hong Kong Ocean Park taking samples.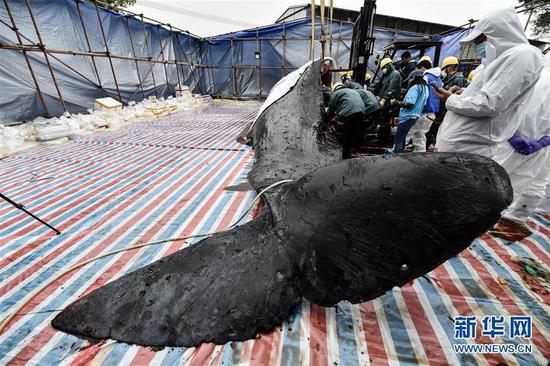 After being confirmed death, the adult female whale was measured to be 10.78 meters long and weighed 14.18 tons.