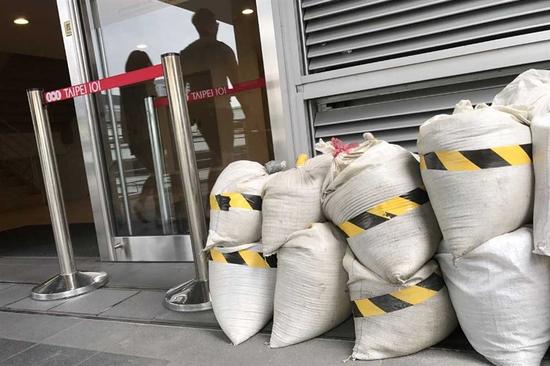 Sandbags are seen outside landmark building Taipei 101 in Taiwan's capital city yesterday as the island braced itself for the arrival of Typhoon Talim. — Reuters
TAIWAN issued a warning to ships and airlines canceled some flights yesterday as the island braced for the arrival of Typhoon Talim. It is expected to hit cities in the north, including the capital city of Taipei, before hurtling toward China's mainland, potentially as a super typhoon.
Talim was expected to gain in strength as it sweeps toward Taiwan's northern cities, lashing them with strong wind and heavy rain, the weather bureau said.
The brunt of the storm would be felt today, when it is expected to slam into the north and northeast of the island with sustained wind speeds of up to 137 kilometers per hour and gusts of up to 173 kph, the bureau said.
"Typhoon Talim has been changing course and is not entirely predictable. It's been expected to hit Taiwan directly, but its trajectory has altered further northward and eastward," said William Lai, head of the island's executive authority.
"But at this point our emergency operation center has not lowered its level of alert," he said.
On the Chinese mainland, more than 200,000 people in Fujian and Zhejiang provinces have been evacuated, Xinhua news agency said.
Talim could make landfall tonight along Zhejiang's northern coast as a strong typhoon, packing gusts of up to 48 meters per second, the China Meteorological Administration said. It could also strengthen into a super typhoon with winds of 52 meters per second (187 kph).
The agency maintained an orange warning — the second-highest in a four-tier system for severe weather.
Away from Shanghai
Shanghai may escape Talim's worst, forecasters said, as it is expected to move away from the city.
After reaching the East China Sea, Talim is set to make a turn and move northeast tomorrow morning, running across the middle and northern part of Zhejiang, according to Shanghai Meteorological Bureau.
Due to the peripheral influence of Talim, Shanghai will be windy today and tomorrow but only residents in coastal areas have been warned to be braced for gales.
As a precautionary measure, the city's flood prevention headquarters has planned for primary and middle school students to be evacuated if winds get stronger.
Outdoor billboards, traffic signs and glass walls, meanwhile, will be checked to ensure they can cope with any storm.
The city has put 82 mobile water pumping vehicles and 100 personnel squads on stand-by.
The Shanghai Railway Administration has suspended ticket sales for 391 trains due to depart, arrive or pass Shanghai between now and Saturday.
Today and tomorrow will be overcast in the city, with intermittent showers downtown but heavy downpours in eastern and southern coastal areas.
The winds and rain are expected to cease on Saturday.
Weekend temperatures will range between 23 and 27 degrees Celsius.
Thanks to the wind from the sea, Shanghai had a clear sky yesterday, and good air quality will continue to the weekend, the environmental protection bureau said.
Meanwhile, this year's 19th typhoon, Doksuri, has formed. At 5am yesterday, its eye was above the South China Sea, about 970 kilometers southeast of Sanya city in Hainan Province.
It is expected to intensify to a strong typhoon and brush past the southern coast of Hainan late today or early tomorrow.
Facing twin typhoons, provinces in their way have been on high alert for rain, storm surges, flash floods and landslides.
As many as half a million people may need to be evacuated if the storm intensifies, according to media reports.
Hainan has suspended trains in and out of the island province over the next few days, while ships and offshore workers have been told to seek shelter.
Hong Kong-based Cathay Pacific Airways said flights to and from Sanya may be affected tomorrow.
Doksuri, known as Maring in the Philippines, dumped heavy rain on Manila and nearby provinces earlier this week, causing widespread flooding and landslides.
Doksuri is not expected to affect Shanghai.