March 29, 2021 - The United Nations in China hosted a conversation with SDG Advocate Professor Jeffrey Sachs together with the Asian Infrastructure Investment Bank (AIIB) titled "The SDGs Decade of Action and the shifting Global Landscape".
High-level attendees from government, the diplomatic community, think tanks and business convened both in-person and virtually to discuss China's remarkable economic and social progress, and China's commitment to share these gains and lessons with the international community. Organizers aimed to encourage a better understanding of China's implementation of the 2030 Agenda at home and abroad, especially with the African continent.
"China shows a path for how it is possible to make profound transformations for well-being in a short period of time. China can and should be a decisive leader in the Sustainable Development Goals", said Sachs during his keynote remarks.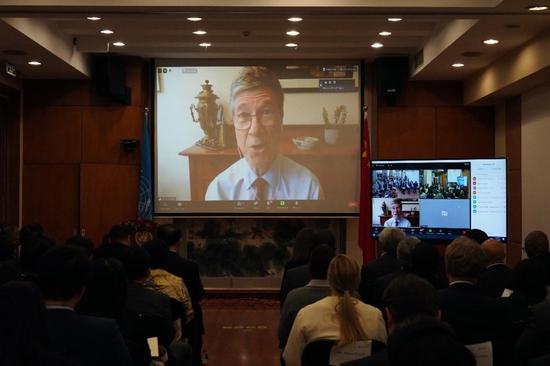 Pictured: Jeffrey Sachs
Sachs emphasized the need for China to focus on the remaining challenges, including protecting the gains of poverty reduction, closing gaps between rural and urban areas, and the necessary transformations required to achieve China's pledge of carbon neutrality by 2060.
"The agenda is enormous, to keep inequalities restrained, to ensure no one is left behind, and to attend to the manifold environmental crises. We need a new kind of development strategy, one that is more holistic, more goal-based, and taking in long-term objectives. I can't think of a country better than China at this approach", said Sachs.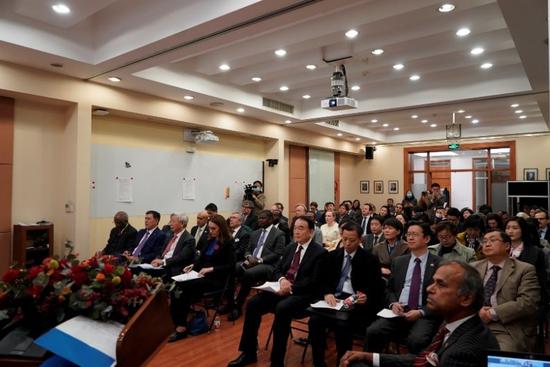 Pictured: Attendees at UN China compound
The conversation also sought to examine how the UN should redefine its cooperation with China in this rapidly evolving context, the opportunities to be seized and the challenges to be addressed.
"We are in a race for the Sustainable Development Goals. This is an important moment for us to converge and connect for the prospects that lie ahead", said Siddharth Chatterjee, UN Resident Coordinator in China, at his opening remarks for the event.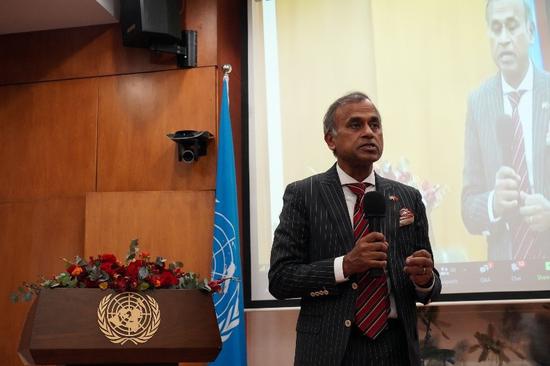 Pictured: Siddharth Chatterjee
Highlighting his past work as UN Resident Coordinator in Kenya on maternal mortality in collaboration with companies such as Huawei, Merck USA, Phillips, GlaxoSmithKline, Safaricom Foundation and Kenya Healthcare Federation, Chatterjee stressed the importance of partnerships with the public and private sector in spurring human development as part of the China-Africa relationship.
"The new frontier of change is going to be Africa", said Chatterjee.
Attendees mentioned China's increasing role on the global stage, prominently displayed by its support in international financing and infrastructure projects such as the Belt and Road Initiative.
"When China wants to do something, it will get it done. China practices multilateralism by deeds, not by words", said Jin Liqun, President of AIIB.
"The SDGs are of great importance, and we hope that AIIB can play a role in boosting the 2030 Agenda alongside our core values as a lean, clean and green institution." Added Jin in his remarks.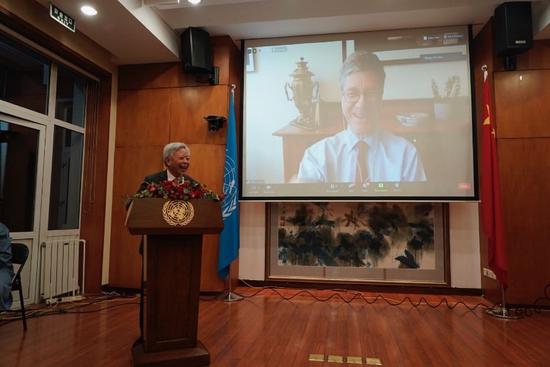 Pictured: Jin Liqun
Following remarks from Sachs, attendees were invited to join a moderated discussion on the issues raised and the importance of international cooperation in the context of the 2030 Agenda.
"COVID-19 has shown us that going it alone does not work. Multilateralism remains the way forward. We share one planet, we share one future, we must stand and act as one", said Li Baodong, Secretary-General of the BOAO Forum for Asia.
Pictured: Li Baodong
"Moving in the spirit of South-South Cooperation can not only reap benefits for Africa at large, but benefit China too on a win-win basis. Here the UN can be the connector", said Martin Mpana, Ambassador of Cameroon to China.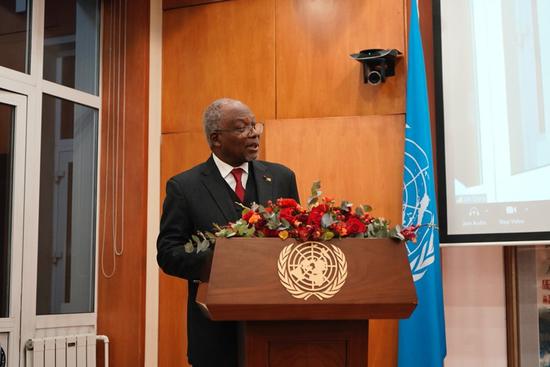 Pictured: Martin Mpana
"No country can achieve the 2030 Agenda on its own. This is not just a task for government, but for the whole of society", said Signe Brudeset, Ambassador of Norway to China.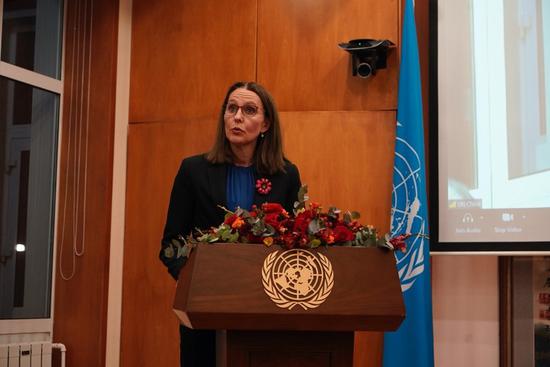 Pictured: Signe Brudeset
Representatives from the Government of China were in attendance, with officials from the Ministry of Commerce (MOFCOM) and the Ministry of Foreign Affairs (MOFA) participating in the moderated discussions.
"MOFCOM hopes to team up with the UN in China in line with its development framework and strengthen South-South Cooperation", said Yu Benlin, Director General of the Department of International Trade and Economic Affairs, MOFCOM.
"Together we have a lot to achieve", said Huang Yiyang, Deputy Director General of the Department of International Economic Affairs, MOFA.
Pictured: Yu Benlin
Participating attendees from the Government of China also include the Ministry of Agriculture and Rural Affairs, the National Food and Strategic Reserves Administration, the China International Development Cooperation Agency, and the China International Council for the Promotion of Multinational Corporations.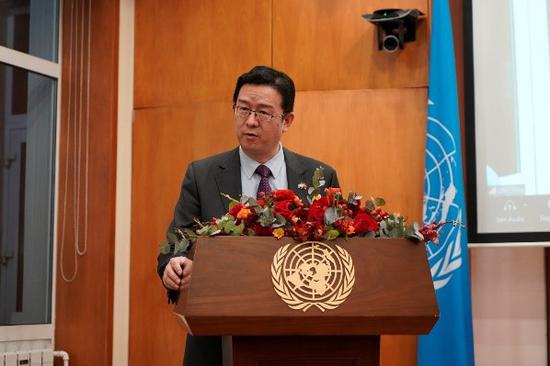 Pictured: Huang Yiyang
The United Nations in China and the Asian Infrastructure Development Bank wishes to thank Professor Jeffrey Sachs and attendees for the fruitful discussion and look forward to facilitating similar conversations in the future on these important issues.
For further information, please contact:
Louise Xi LI, Head of Communications, UN Resident Coordinator's Office in China
Tel: +8610-85320725, Email: xi.li@un.org
About Jeffrey D. Sachs
Jeffrey D. Sachs is a University Professor and Director of the Center for Sustainable Development at Columbia University, where he directed the Earth Institute from 2002 until 2016. He is also Director of the UN Sustainable Development Solutions Network and a commissioner of the UN Broadband Commission for Development. He has been advisor to three United Nations Secretaries-General. He spent over twenty years as a professor at Harvard University, where he received his B.A., M.A., and Ph.D. degrees. He has authored numerous bestseller books, most recently A New Foreign Policy: Beyond American Exceptionalism (2018). Sachs was twice named as Time magazine's 100 most influential world leaders and was ranked by The Economist among the top three most influential living economists.
About SDG Advocates
The SDG Advocates are 17 inspiring, influential people raising global awareness of the Sustainable Development Goals (SDGs) and the need for accelerated action. They use their unique global platforms to raise ambition around the SDGs and reach the most vulnerable first. SDG Advocates are strong public figures dedicated to peace, prosperity and the planet, rallying behind the vision of a better world and inspiring others to do the same.
About UN System in China
The UN System in China consists of over 20 UN entities in China. All UN entities in China work in partnership with governmental and non-governmental organizations at various levels to support the Government to implement its national development objectives as well as Internationally Agreed Development Goals. The UN System will continue to support China to realise the 2030 Agenda for Sustainable Development and to realise innovation-driven, coordinated, green, open, and shared development.
About Asian Infrastructure Investment Bank
The Asian Infrastructure Investment Bank (AIIB) is a multilateral development bank whose mission is financing the Infrastructure for Tomorrow—infrastructure with sus-tainability at its core. AIIB began operations in Beijing in January 2016 and have grown to 103 approved members worldwide. AIIB is capitalized at USD100 billion and Triple-A-rated by the major international credit rating agencies. Working with partners, AIIB meets clients' needs by unlocking new capital and investing in infrastructure that is green, technology-enabled and promotes regional connectivity.