Tourists visit the Jingshan Park in Beijing, capital of China, Oct. 3, 2012. (Xinhua/Wang Junfeng)
Tourists visit the Confucius Temple in Nanjing, capital of east China's Jiangsu Province, Oct. 1, 2012. (Xinhua/Wang Xin)
Tourists visit the Bund area in Shanghai, east China, Sept. 30, 2012. (Xinhua/Pan Huaqing)
Tourists visit the Tian'anmen Square in Beijing, capital of China, Oct. 1, 2012. (Xinhua/Hu Guolin)
Tourists visit Nanjing Road in Shanghai, east China, Oct. 4, 2012. (Xinhua/Zheng Xianzhang)
"Golden Week" justifies title with rise in tourism revenue
China's "Golden Week" holiday justified its title with a rise in tourism revenue, National Tourism Administration (NTA) statistics showed Sunday.
The country's 119 major scenic spots received a total of 34.25 million visitors during the eight-day holiday, up 20.96 percent from the corresponding period last year. Tourism income surged by nearly a quarter from 2011 to 1.77 billion yuan (278.39 million U.S. dollars), the NTA said.
Foreign media: China's Golden Week shrouded in "horrors"
By Yuan Yue, Sina English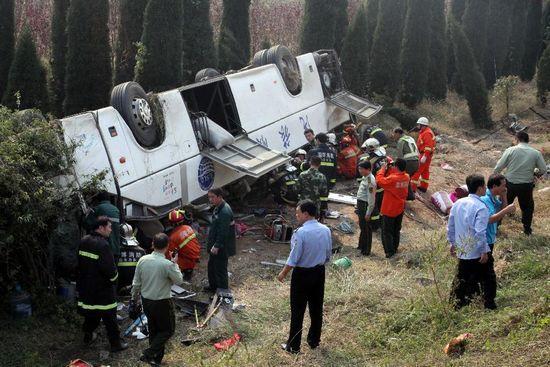 Two separate road accidents killed 19 people in China on Sunday as the weeklong National Day holiday ended. (Photo/Xinhua)
As the longest Golden Week in China's holiday record, from September 30th till October 7th, came to its end, stories surrounding the Chinese holiday have become "special coverage" in the eyes of foreign media.
It is a "horror" story, goes Los Angeles Times, the U.S. newspaper, "with daylong traffic jams, heaps of trash and restaurateurs gouging customers".
However, more foreign media see this as an economic indicator, "sending out mixed signals", or forecasting "a brighter future of Chinese economy".
But at least, says CNBC, "it brings cheer for China's economy", as "the traffic gridlock tells a story that official data don't". Outside the country, the shopping spree of Chinese people is even described as "a good rain after a long drought" by the South Korean media.
Apart from sweet stories of happiness and family reunion, the record long holiday has also witnessed tragedies over the past week, as a landslide killed 18 schools pupils and a local farmer entrapped in the quake-hit Yiliang County in China's southwest Yunnan Province, and a collision between two passenger boats off Hong Kong left 39 people dead.
During the 8-day-long holidays, China reported 68,422 cases of road accidents, a year-on-year decrease of 24.1 percent, according to the traffic bureau under the Ministry of Public Security.
Among those accidents, 2,164 involved casualties, a 46.2% decrease from the same period last year. These accidents killed altogether 794 people, injured 2,473, and led to direct economic losses worth 13.25 million yuan (2.1 million U.S. dollars), which dropped by 46.4 percent, 47.9 percent and 37 percent, respectively, year-on-year.
In eastern China's Shandong Province, a bus crash Sunday on an expressway near Zibo City killed 14. The bus is thought to have come into contact with a car, causing it to change direction, cross the central divide and collide with an oncoming bus which then veered off the road, killing at least 14 people on board. A total of 40 people from both buses were injured. The second bus rolled over as it fell down a slope off the expressway.
In south China's Guangdong Province, seven people died and another three were injured in a nine-vehicle pile-up on the morning of October 5th.
Another rear-end accident was reported along the Ying-Rui Highway in Ningdu County, Jiangxi Province in South China, where five people were killed, and two were injured. The five victims are a family of four from Hongkong and a local.
Related:
China's tourism industry reaps golden harvest
China's fire situation in combo-holiday "stable"
Holiday travel rush puts squeeze on patience