Chinese president inspects PLA garrison in Macao
2014-12-20 15:03:18 GMT
2014-12-20 23:03:18(Beijing Time)
Xinhua English
Chinese President Xi Jinping (R), also general secretary of the Central Committee of the Communist Party of China and chairman of the Central Military Commission, meets with officers of the Chinese People's Liberation Army Garrison in the Macao Special Administrative Region (SAR) in Macao, south China, Dec. 20, 2014. (Xinhua/Li Gang)
MACAO, Dec. 20 (Xinhua) -- Chinese President Xi Jinping on Saturday urged soldiers of the Chinese People's Liberation Army (PLA)'s Macao Garrison to unswervingly uphold the principle of "one country, two systems" and safeguard the region's prosperity and stability.
Xi, also general secretary of the Central Committee of the Communist Party of China and chairman of the Central Military Commission, also required the soldiers to perform defense duties in accordance with the Basic Law and the Garrison Law of the Macao Special Administrative Region (SAR).
Xi, who arrived here Friday to attend celebrations marking the 15th anniversary of Macao's return to China and the inauguration of the SAR's fourth-term government, made the remarks during an inspection to the PLA Macao Garrison on the Taipa Island.
Xi praised the troops' resolute implementation of the orders of the Central Military Commission, their continued efforts for self-improvement and faithful performing of obligations.
The garrison, responsible of Macao's defense since in 1999, has portrayed a good image of the PLA and won widespread acclaim from local people for its major contribution to Macao's prosperity and stability, Xi noted.
Xi emphasized the significant role and glorious mission of the PLA Macao Garrison's as a symbol of China's national sovereignty, and urged the soldiers to further enhance training and management.
The president also called on them to love Macao and the motherland and make selfless devotions for the benefit of the Macao people.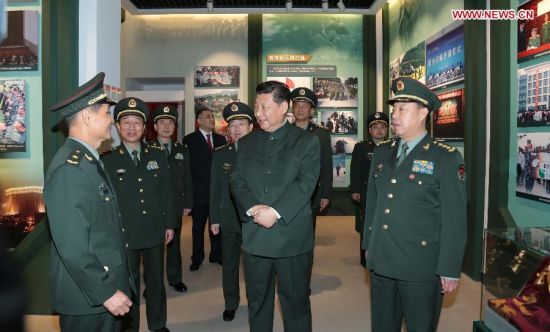 ����Chinese President Xi Jinping, also general secretary of the Central Committee of the Communist Party of China and chairman of the Central Military Commission, visits a history museum of the Chinese People's Liberation Army Garrison in the Macao Special Administrative Region (SAR) in Macao, south China, Dec. 20, 2014. (Xinhua/Li Gang)