Family members break down during the cremation of earthquake victims in Bhaktapur, near Kathmandu, on Sunday. NIRANJAN SHRESTHA/ AP
President, premier and foreign minister extend deep condolences to victims of weekend disaster
The first rescue team sent by China arrived in Nepal on Sunday at the scene of the devastating earthquake that has killed more than 2,000 people.
The team flew in as the central government in Beijing mobilized support and with more rescuers on their way to the Himalayan nation.
The magnitude-8.1 quake struck the landlocked country on Saturday afternoon and also jolted part of China's Tibet autonomous region.
Nepal national police spokesman Kamal Singh Bam said that to date 2,152 deaths have been reported and about 5,000 injuries.
In Tibet, the quake left at least 18 people dead and had affected more than 200,000 by Sunday, Xinhua reported.
Shortly after the disaster struck, President Xi Jinping, Premier Li Keqiang and Foreign Minister Wang Yi offered their deep condolences to victims. Xi also expressed his confidence that the government in Nepal will tackle the disaster and said China is willing to provide all necessary assistance.
On Saturday, Foreign Ministry spokesman Hong Lei said in a statement, "The Chinese government extends sincere sympathy to the countries concerned and stands ready to provide assistance."
A 62-strong China International Search and Rescue Team left for Nepal early on Sunday morning and later arrived in Kathmandu, the capital.
Shankar Koirala, Nepal's joint secretary in the Office of the Prime Minister and Council of Ministers, described the team's arrival as "timely assistance". Later on Sunday, the team spent about four hours in the northwest of Kathmandu and rescued its first survivor, a 20-year-old man.
The Blue Sky Rescue Team under the Red Cross Society of China also assembled its first group of rescuers in Guangzhou, Guangdong province, and was flying to Nepal on Sunday evening. The Red Cross team took part in relief efforts after Super Typhoon Haiyan hit the Philippines in 2013.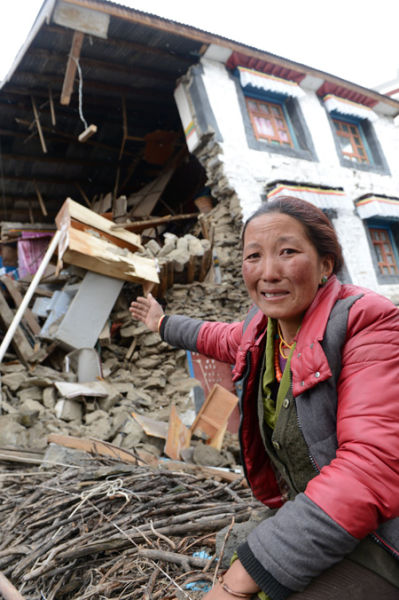 A villager weeps in front of her ruined home in Nyalam county in China's Tibet autonomous region. JOGO/XINHUA
Yuan Shan, head of the team, told China Daily that its Tibetan division left for Nepal by road on Saturday night.
The Chinese government is providing humanitarian aid worth 20 million yuan ($3.2 million) to the Nepal government.
In Beijing on Sunday, a government coordination meeting was held among senior officials from key departments.
In addition to enforcing relief efforts and delivery of humanitarian aid, the meeting also ordered all damaged expressways to be restored between Tibet and Nepal.
As the death toll mounted, the United States and European nations sent emergency teams to support those scrambling to find survivors in Kathmandu and in rural areas that were cut off.
On Sunday, Pakistan sent two military transportation planes carrying relief supplies, search and rescue teams and a mobile hospital to Nepal.
India, Bangladesh, Bhutan and other countries have also been affected by the quake to varying degrees, with casualties and property damage reported.
A search and rescue team from Singapore was also heading to Nepal, while a 70-strong emergency services team from Japan departed on Sunday.