Premier Li Keqiang talks with Colombian President Juan Manuel Santos in Bogota, Colombia on May 21, 2015. [Photo/Xinhua]
Premier muses about coffee, ping pong and inviting soccer stars to China
With plenty of ceremony, Chinese Premier Li Keqiang and Colombian President Juan Manuel Santos pledged to deepen their nations' economic and cultural ties on Thursday during an official meeting in the South American nation's capital.
"Although the two countries are far apart, their economic cooperation has great potential, especially when Colombia is in a rebuilding process at the moment and is in need of infrastructure construction," Li said at a press conference after the meeting.
China and Colombia signed 12 agreements, including deals in infrastructure construction and more cooperation in industrial capacity.
"China is willing to import more agricultural products from Colombia, such as coffee," Li said. "If time permits, I'd like to play ping pong with President Santos.
"On the other hand, China is willing to see more Colombia soccer players and coaches come to China and help us improve in that field," the premier said in a reference to China's ambitions to improve its soccer prowess.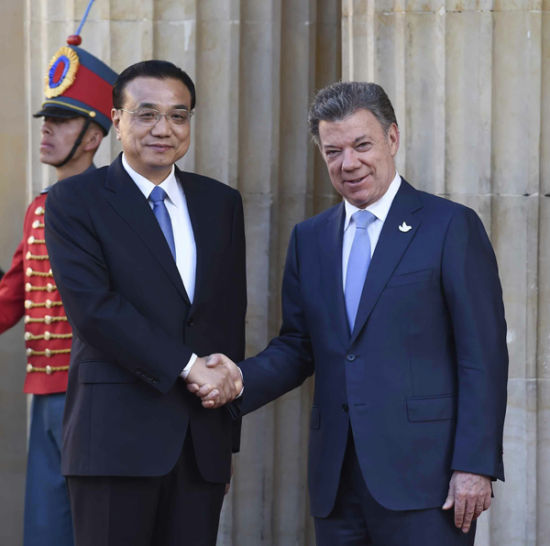 Premier Li Keqiang shakes hands with Colombian President Juan Manuel Santos. [Photo/Xinhua]
Santos said Li is the highest-level Chinese leader to visit the country in 30 years, and the trip will be a milestone in bilateral ties.
"Colombia highly values China's influence in the Asian-Pacific region," Santos said.
Li also sent condolences to the victims of the recent deadly landslide in Salgar, in northwestern Colombia, and pledged support. Colombia, located in the northwest of the South American continent near Venezuela and Brazil, lowered its annual economic growth target this year to 3.5 percent to 4 percent from an earlier target of 4.8 percent, as slumping oil prices have hit the country's economy.
Bilateral trade with China has grown from $22 million in 1980 to $15.6 billion in 2014, and China has become Colombia's second-largest trade partner, with a focus on mining, telecommunications and infrastructure.
Li is scheduled to hold a cultural seminar with Chinese and Colombian scholars on Friday, before heading to Peru, the third leg of his four-nation trip, which concludes in Chile.
Tang Jun, deputy head of the Institute of Latin American Studies at Zhejiang International Studies University, noted that Colombia has seen its trade with China grow rapidly in recent years, while that with the US, a traditional ally, has been sluggish.
"Future highlights for China-Colombia industrial cooperation may include those in mineral mining and processing, agricultural processing sectors, mechanical and electronic products," Tang said.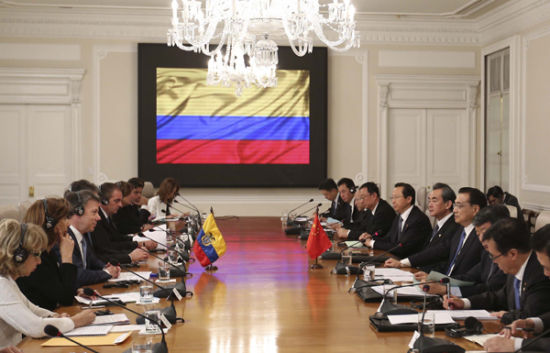 Premier Li Keqiang meets with Colombian President Juan Manuel Santos.[Photo/Xinhua]
As bilateral economic and trade ties grow closer, the cultural link will need greater emphasis, Tang suggested. He noted that Colombian literature is a symbol of Latin America, as exemplified by the writer Gabriel Garcia Marquez.
"Marquez has exerted direct, great influence upon contemporary Chinese literature, including Mo Yan, who will attend the event during Li's visit," Tang said. "That's why they arranged such a seminar on culture in Colombia."