China's top political advisory body starts annual session
2017-03-03 08:21:13 GMT
2017-03-03 16:21:13(Beijing Time)
Xinhua English
China's top political advisory body started its annual session Friday in Beijing, ushering in a political high season that will continue with the opening of the country's top legislature Sunday.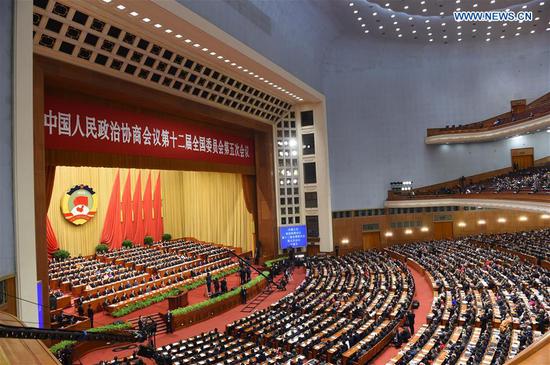 The fifth session of the 12th National Committee of the Chinese People's Political Consultative Conference (CPPCC), China's top political advisory body, opens at the Great Hall of the People in Beijing, capital of China, March 3, 2017. (Xinhua/Yang Zongyou)
Yu Zhengsheng, chairman of the Chinese People's Political Consultative Conference National Committee, delivered a work report to more than 2,000 political advisors who gathered to discuss major political, economic and social issues in the world's most populous nation and second-largest economy.
Top Communist Party of China and state leaders Xi Jinping, Li Keqiang, Zhang Dejiang, Liu Yunshan, Wang Qishan and Zhang Gaoli attended the opening meeting at the Great Hall of the People.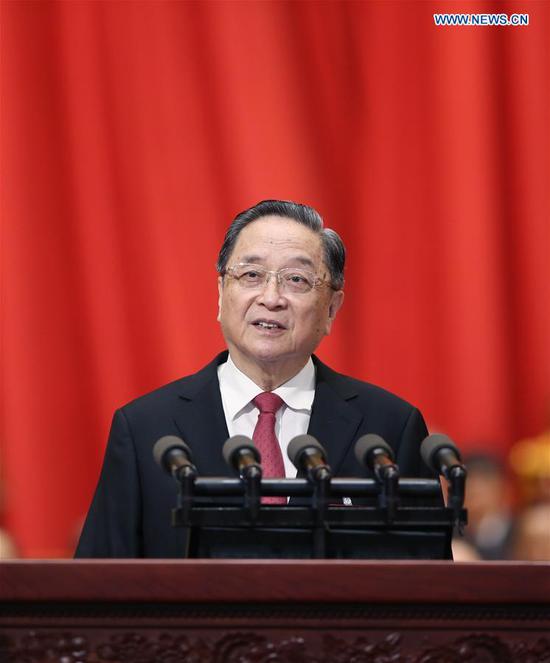 Yu Zhengsheng, chairman of the National Committee of the Chinese People's Political Consultative Conference (CPPCC), delivers a report on the work of the CPPCC National Committee's Standing Committee at the fifth session of the 12th CPPCC National Committee at the Great Hall of the People in Beijing, capital of China, March 3, 2017. The fifth session of the 12th CPPCC National Committee opened in Beijing on March 3. (Xinhua/Yao Dawei)