Macao to continue to safeguard national security: chief executive
2018-04-16 02:20:30 GMT
2018-04-16 10:20:30(Beijing Time)
Xinhua English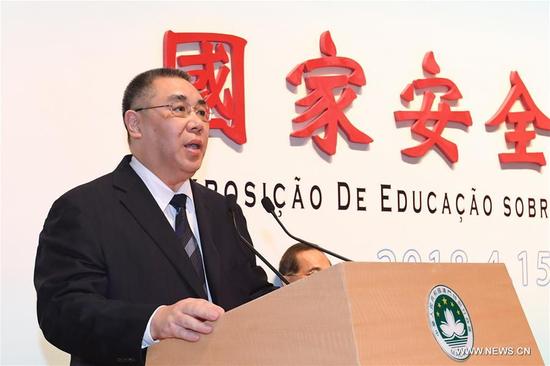 China's Macao Special Administrative Region (SAR) Chief Executive Chui Sai On addresses the opening ceremony of an exhibition to mark the country's third National Security Education Day in Macao, south China, April 15, 2018. (Xinhua)
MACAO, April 15 (Xinhua) -- The Macao Special Administrative Region (SAR) government will continue to safeguard national security, which is also the responsibility and obligation of each Macao resident, chief executive of the Macao SAR Chui Sai On said here on Sunday.
Chui made the remarks at an exhibition marking the country's third National Security Education Day.
The Macao SAR is obliged to maintain the principle of "one country" when it is concerned with national security, Chui said, adding that only with the overall security and stability of the country, can Macao SAR ensure the prosperity and development and the well-being of its residents, ensure the steady progress of the principle of "one country, two systems," and contribute to the realization of the great rejuvenation of the Chinese nation.
Zheng Xiaosong, director of the Liaison Office of the Central People's Government in Macao SAR, said in his address that Macao compatriots have the tradition of loving both the motherland and Macao, hoping that Macao compatriots can enhance their awareness of national security and uphold national sovereignty, security and development interests and maintain long-term prosperity and stability of Macao.
The National Security Education Day, which falls on April 15 each year to raise awareness of national security among the public, was designated by the National Security Law passed by the Standing Committee of the National People's Congress (NPC) on July 1, 2015. Enditem