Vice premier urges Guangxi to expand foreign economic cooperation
2018-09-14 02:19:03 GMT
2018-09-14 10:19:03(Beijing Time)
Xinhua English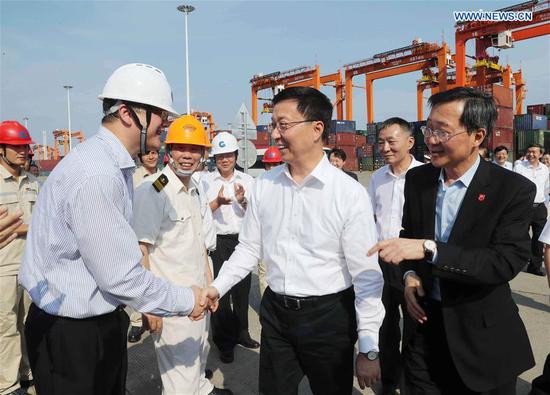 Chinese Vice Premier Han Zheng, also a member of the Standing Committee of the Political Bureau of the Communist Party of China Central Committee, visits a free trade port area in Qinzhou, south China's Guangxi Zhuang Autonomous Region, Sept. 12, 2018. Han made an inspection tour in Nanning, Qinzhou and Beihai from Sept. 12 to 13. (Xinhua/Liu Weibing)
BEIJING, Sept. 13 (Xinhua) -- Chinese Vice Premier Han Zheng on Thursday urged Guangxi Zhuang Autonomous Region, in south China, to make full use of its advantageous location and further expand foreign economic and trade cooperation.
During his two-day inspection tour in a free trade port area in Qinzhou, Han, also a member of the Standing Committee of the Political Bureau of the Communist Party of China Central Committee, stressed the importance of building a southbound trade and logistic passage that links the western regions in China with the member states of the Association of Southeast Asian Nations (ASEAN).
More efforts should be made to combine sea and rail transportation at ports in the Beibu Gulf to strengthen ocean-oriented foreign cooperation and connection with international markets, Han said.
In China-ASEAN industrial parks, Han called on the local government to foster a sound business and legal environment to attract overseas investment. He also encouraged foreign businesses to seize the opportunity to board the fast train of China's economic development.
Han also highlighted the need to implement tax and fee reduction as well as easier financing to alleviate the burden on private and small- and medium-sized enterprises so as to support the real economy and create a sound environment for private economy. Enditem