CPPCC holds Spring Festival reception for widows of late luminaries
2020-01-16 02:07:32 GMT
2020-01-16 10:07:32(Beijing Time)
Xinhua English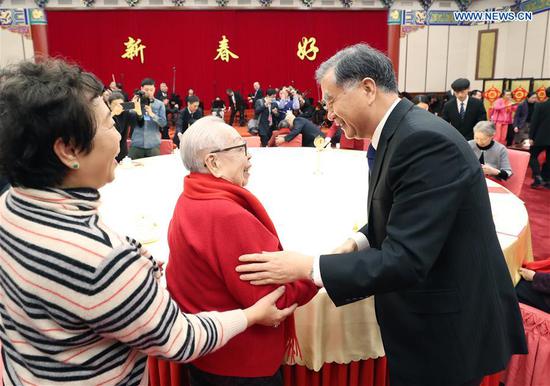 Wang Yang, a member of the Standing Committee of the Political Bureau of the Communist Party of China (CPC) Central Committee and chairman of the National Committee of the Chinese People's Political Consultative Conference (CPPCC), attends a Spring Festival reception for widows of late luminaries in Beijing, capital of China, Jan. 15, 2020. (Xinhua/Yao Dawei)
BEIJING, Jan. 15 (Xinhua) -- China's top political advisory body Wednesday held a Spring Festival reception for widows of late luminaries.
Zhang Qingli, vice chairman of the National Committee of the Chinese People's Political Consultative Conference (CPPCC), said at the reception that revolutionary forefathers and the comrades and friends who were close to the Communist Party of China are remembered as the country is about to achieve the first centenary goal of building a moderately prosperous society in all respects.
The women fought with their husbands and made important contributions to the united front work, the CPPCC and the country in general, Zhang said.
The ladies included Xu Huijun, widow of Zhu Guangya, a leading scientist in the development of nuclear weapons, Shu Yunyi, widow of Cheng Siwei, a renowned economist, and Wen Jieruo, widow of Xiao Qian, a famous writer and journalist.
Wang Yang, chairman of the CPPCC National Committee, attended the gathering.
Performances were staged at the reception.