Black swan couple refuse to eat after five eggs stolen
2017-02-09 06:33:02 GMT
2017-02-09 14:33:02(Beijing Time)
Ecns.cn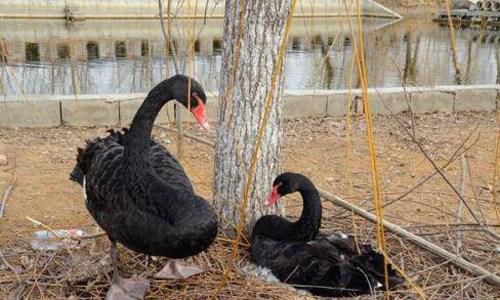 Two black swans have stopped eating for four days after five of their eggs are missing at a scenic spot in Taian City, Shandong Province. (Photo/1545ts.com)
Two black swans have stopped eating for four days after five of their eggs were suspected stolen from a scenic spot in Taian City, East China's Shandong Province, local media reported.
On Feb. 1, a keeper discovered that the birds were in a distressed state, stretching their long necks, making loud sounds and being more aggressive. Further scrutiny showed that five eggs were missing, said Li Yaming, a manager at the scenic spot.
A surveillance video at the site showed that two tourists, one man and one woman, were near the black swans for approximately half an hour, and seemed to motion toward the eggs after taking photographs.
Li said the tourists are suspected of stealing the eggs.
Swans are under second class animal protection in China. Because they pair for life, they are often seen as a symbol of eternal and faithful love in Chinese culture.
Both parents share the care of the nest. A typical clutch contains four to seven eggs that are incubated for about 36 days, and the birth rate is about 50 percent. Black swans will aggressively defend their nests with their wings and beaks.
Staff at the scenic spot also said the unfertilized eggs are not edible and cannot be incubated again. They can't be used for decorative purposes either, as they may burst in hot temperatures.
The scenic spot has reported the matter to police for further investigation.